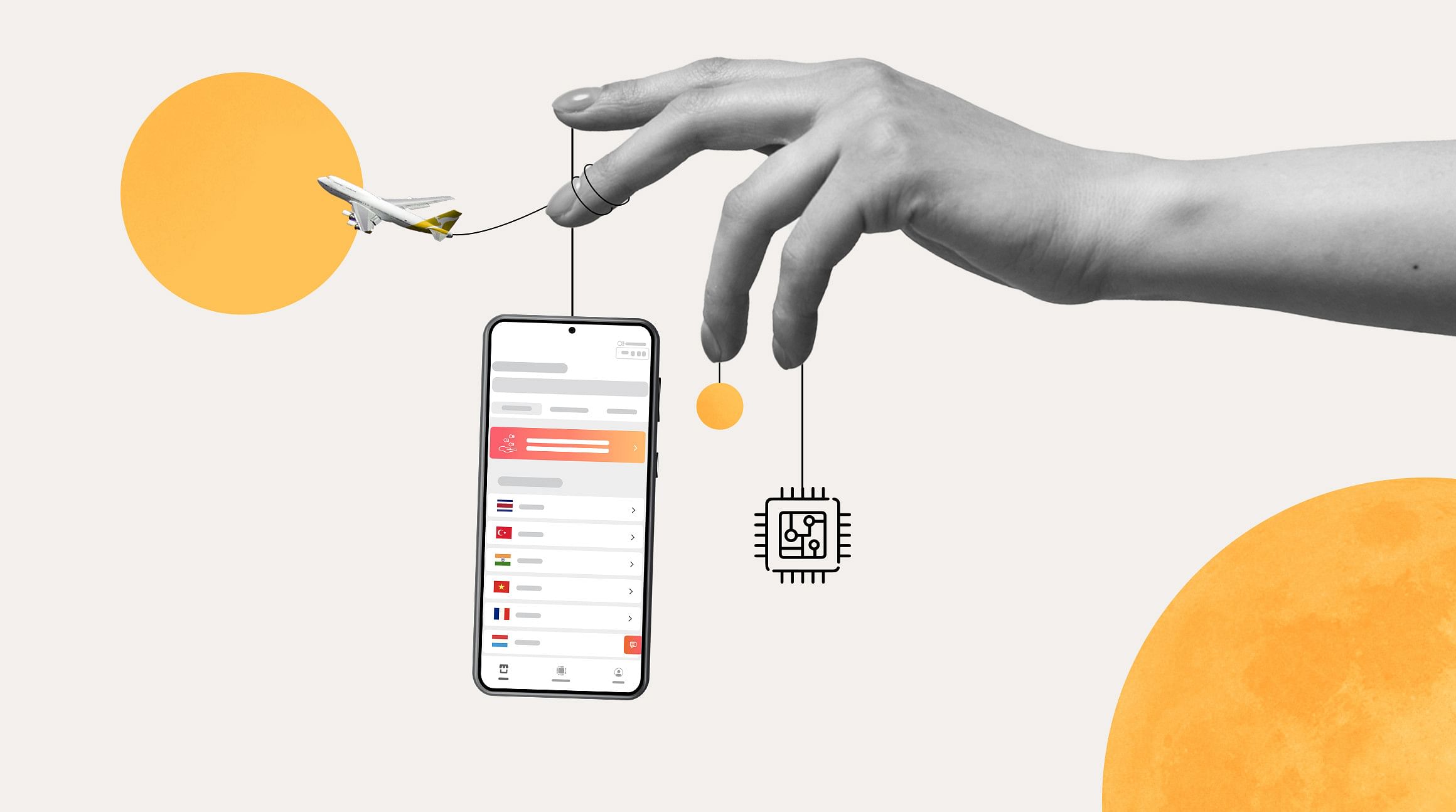 Have you heard about the benefits of using an eSIM when you travel but don't know where to start? We've got you. eSIMs are the next big thing in global connectivity and have quickly become the standard for travelers worldwide. In this guide, we'll teach you the ins and outs of using an eSIM on your Android phone, from checking if your smartphone is eSIM-compatible to installing an eSIM for your next trip.
You'll learn:
What Is an eSIM?
An eSIM is an embedded SIM. It's a reprogrammable chip that's built into your Android phone during manufacturing. It serves the same function as a physical SIM — it identifies you as a mobile subscriber and gives you access to a carrier's network. 
The difference is that an eSIM works 100% digitally. You can purchase an eSIM plan, install an eSIM profile on your Android phone, and instantly connect to a mobile network. There's no need to remove or insert a physical SIM to get a connection.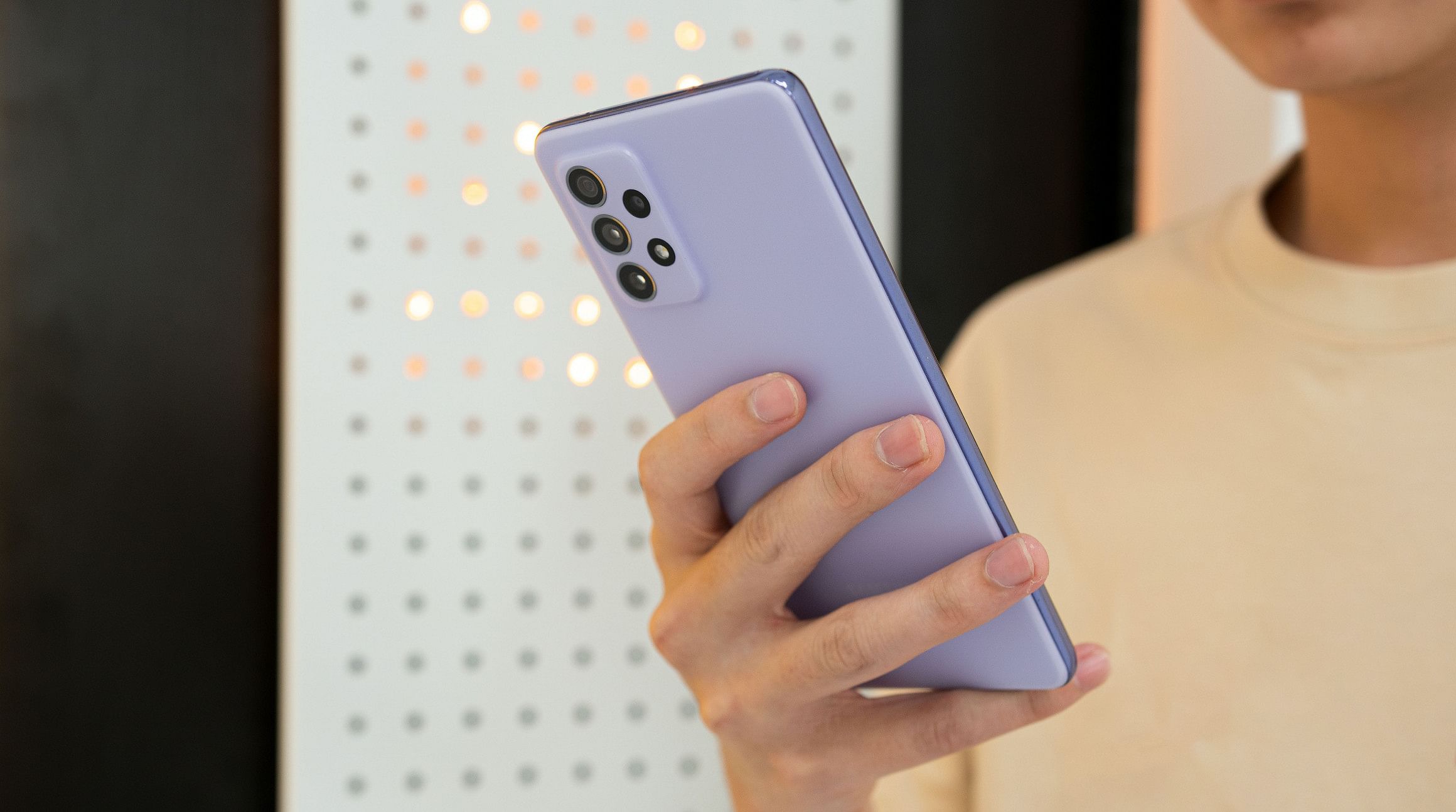 Which Android Phones Support eSIMs?
Many Android phones, including Samsung Galaxy and Google Pixel, support eSIM technology. However, Android is an open-source operating system, meaning any device manufacturer or mobile carrier can customize it. 
Whether your Android phone is eSIM-compatible depends on the model, where it was manufactured, and what carrier you use. The best way to find out is to check with the device manufacturer, reseller, or network provider. 
You can also dive into your Android settings. Follow these steps to determine if your Samsung Galaxy, Google Pixel, or other Android device has eSIM capabilities.
Does My Samsung Galaxy Support eSIM?
Go to Settings > Connections.
Tap SIM Card Manager. 
If "Add eSIM" is available, your Samsung supports eSIM.
Does My Google Pixel Support eSIM?
Go to Settings > Network & Internet.
Tap eSIM Cards.
If Connect to a Mobile Network has a "Download a SIM instead?" option, your device is eSIM-compatible. 
Other Android Devices
Go to Settings.
Tap About Phone.
Tap Show EID.
If you see an EID number, your phone is eSIM-compatible.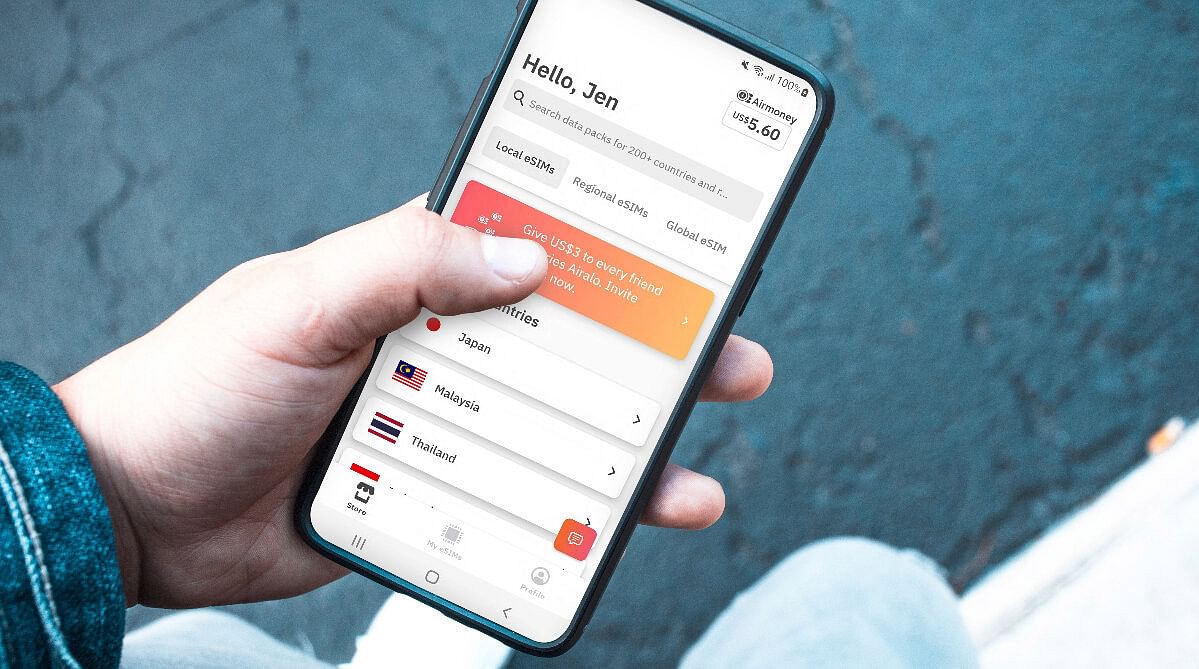 How Many eSIMs Can I Store On an Android Phone?
An eSIM works 100% digitally, so there's no physical limit (e.g., number of SIM trays) to how many plans you can install on your device. The number of eSIMs you can store on your phone comes down to your device manufacturer and storage capacity. Most Android devices allow you to have five to seven eSIM profiles, with one active at a time.
How To Set Up an eSIM on Android 
Ready to add an eSIM to your Android phone? First, you'll need to purchase an eSIM plan. You can get one from your carrier or an eSIM provider (like Airalo!). Keep in mind that your phone must be unlocked if you choose a plan from a provider other than your carrier. 
Once you've purchased an eSIM plan, you can go to your Android phone's settings to install the eSIM:
Go to Settings > Connections.
Tap SIM card manager.
Select Add mobile plan.
You can add the eSIM to your phone in one of two ways:
Scan a QR code: Scan the QR code sent by your carrier or eSIM provider and follow the step-by-step instructions to install it.
Enter an activation code: Tap Enter manually and follow the on-screen instructions to enter an activation code and install the eSIM on your device.
How To Turn an eSIM On and Off
You can store multiple eSIMs on an Android device, making it easy to turn an eSIM on and off depending on where and when you travel. But how do you keep track? The first step is to label your eSIM plans in your Android settings. Here's how:
Go to Settings > Connections.
Tap SIM Manager.
Tap the eSIM you want to rename.
Tap Name and enter a custom label (e.g., Italy eSIM).
Tap Done to save your changes.
When you arrive at your destination, you can hop into your device's settings, turn on your eSIM plan, and connect to a local network. Follow these steps to turn on your eSIM plan:
Go to Settings > Connections > SIM Manager.
Toggle your eSIM plan ON.
Scroll down to Preferred SIM or Primary SIM and select your eSIM plan for mobile data. You can also choose it for calls and texts if your eSIM plan includes these features.
Go to Settings > Connections > Mobile Networks and toggle Data Roaming ON.
When you return from abroad, you can follow the same steps to turn off your eSIM line and switch back to your primary (home) network.
When To Remove an eSIM From Your Android Phone
Suppose your eSIM has expired, and you don't plan to return to the destination. In that case, you can deactivate it to remove it from your Android phone. Here's how:
Go to Settings > Connections.
Tap SIM Manager.
Tap the eSIM you want to remove.
Tap "Remove" or "Delete eSIM"
Keep in mind that some eSIMs can only be installed once. You'll want to be absolutely sure you don't need to use the eSIM again before deleting it from your device.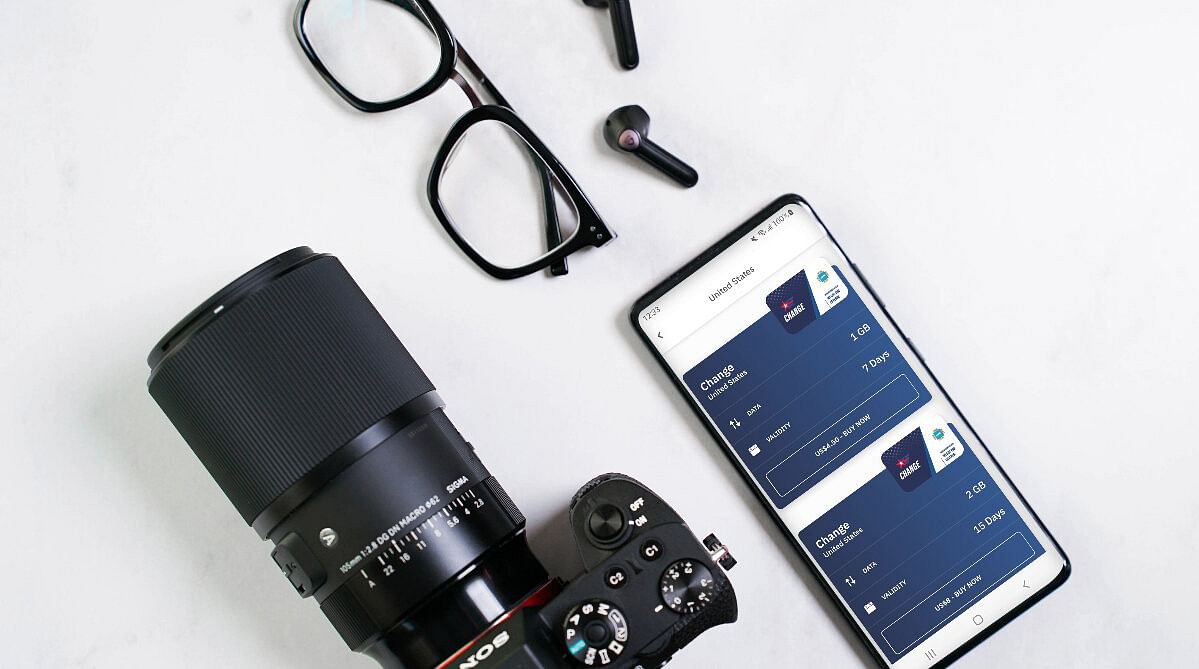 Benefits of Using an eSIM From Airalo
Using an eSIM is a game changer for travel connectivity. Here are some advantages of installing an eSIM on your Android device before you travel abroad.
Stay connected wherever you travel. Find eSIM plans for 200+ countries and regions worldwide. 
No roaming fees. Airalo eSIM plans are prepaid, so you'll only pay for the data, calls, and texts you purchase upfront or top-up during your travels. 
Top up on the go. You can track and top up your data, calls, and texts right from the Airalo app.
Connect like a local. We work with local providers to ensure you get the best prices and mobile coverage during your trip.
Contact us 24/7. Our support team is available around the clock to answer your eSIM questions.
Earn rewards. The Airalo Loyalty Program gives you cashback rewards for every eSIM purchase. 
Ready to use an eSIM on your Android phone? Visit the Airalo website to get an eSIM for your next trip!