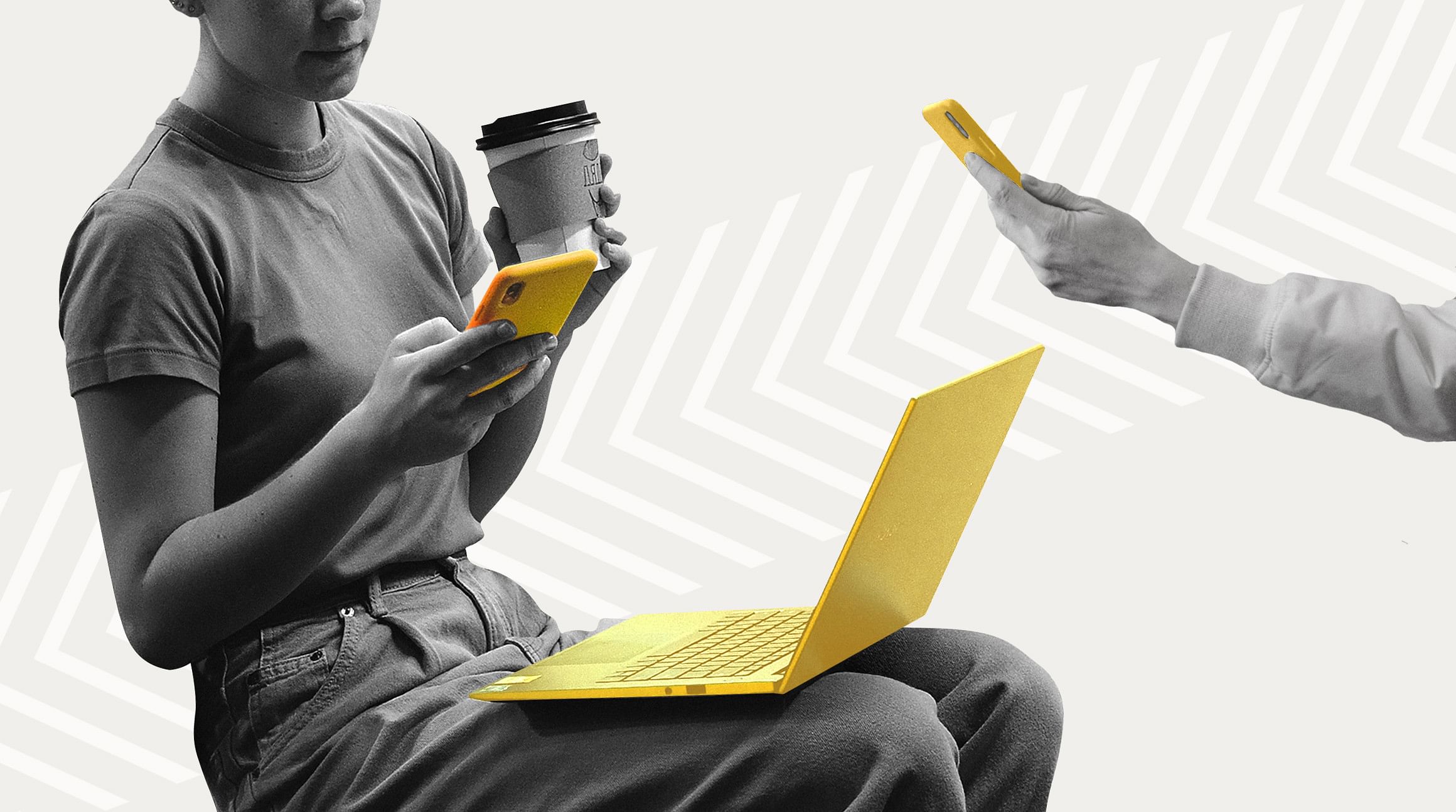 eSIMs make it easy to keep a connection on your smartphone when abroad. But what about your other devices? What if you're without Wi-Fi and need an internet connection on your laptop or tablet? 
Good news — you can tether your eSIM data to another device! With a few simple steps, you can set up a mobile hotspot and share your eSIM data with another device nearby. Read on to learn how.
What Is Data Tethering?
Tethering is when you use your phone's data to connect another phone, tablet, or laptop to the internet. This shares your secure internet connection with nearby devices, allowing them to use your network to get online. The tethered connection is sometimes called a mobile, personal, or Wi-Fi hotspot.
You can tether data via Wi-Fi, Bluetooth, and USB. Let's explore each one.
Wi-Fi Tethering
Wi-Fi tethering is when you use your mobile data to create a Wi-Fi connection for other devices. Any laptop, computer, or smartphone within range of your device will list the connection as a potential Wi-Fi network. Your phone will generate a password you can share to manage which devices have access. 
Wi-Fi tethering is a quick and convenient way to share your data with other devices, like your personal laptop or tablet. However, it uses a lot of battery power — it's a good idea to charge your phone before you tether data. 
Bluetooth Tethering
Bluetooth tethering is the same process as setting up a Wi-Fi hotspot (which we did above). But this time, the connection is through Bluetooth technology. Bluetooth tethering is slower than Wi-Fi tethering but better for battery life. 
USB Tethering
USB tethering is when you use a USB cable to connect your device to another smartphone, tablet, or laptop. It is the strongest and most direct internet connection but can tax your device. Doing it with another smartphone is best to avoid draining your battery.
What Is a Mobile Hotspot?
When you share your data with other devices, your phone becomes a hotspot. You must have data and a mobile network connection to set up a mobile or personal hotspot. That connection comes from your phone's SIM or eSIM.
What Is an eSIM?
An eSIM (or digital SIM) is an embedded SIM card. It's a chip that's built into your device's hardware and connects you to a mobile network. If your device is eSIM-compatible and carrier-unlocked, you can download an eSIM data plan, install it on your device, and connect to a supported network. 
How to Set Up a Hotspot: SIM and eSIM
Setting up a hotspot is simple, and the setup is the same whether you use a SIM or eSIM to access data. Here's how to set up Wi-Fi, Bluetooth, and USB tethering and connect another device to your network.
From Wi-Fi 
How to set up a personal hotspot:
Go to your phone's Settings
Tap Cellular
Turn on your Personal Hotspot
Name your phone and create a password
How to connect another device:
Open your other device's list of Wi-Fi networks.
Pick your phone's hotspot name
Enter your phone's hotspot password
Tap Connect
From Bluetooth
How to setup a Bluetooth connection:
Go to your phone's Settings
Tap Bluetooth
Turn on your Bluetooth connection
Pair your devices and ensure Bluetooth is turned on for each one
How to connect another device:
In your list of paired devices, tap the device you want to share your connection with (e.g., your tablet)
Once it's linked, it will show as a "Connected" device
With a USB Cable
Plug your phone into the device you want to connect via a USB cable
Go to your phone's Settings
Tap Portable Hotspot or Personal Hotspot
Find the menu that says USB Tethering and turn it on
Your connected device will now share your phone's data connection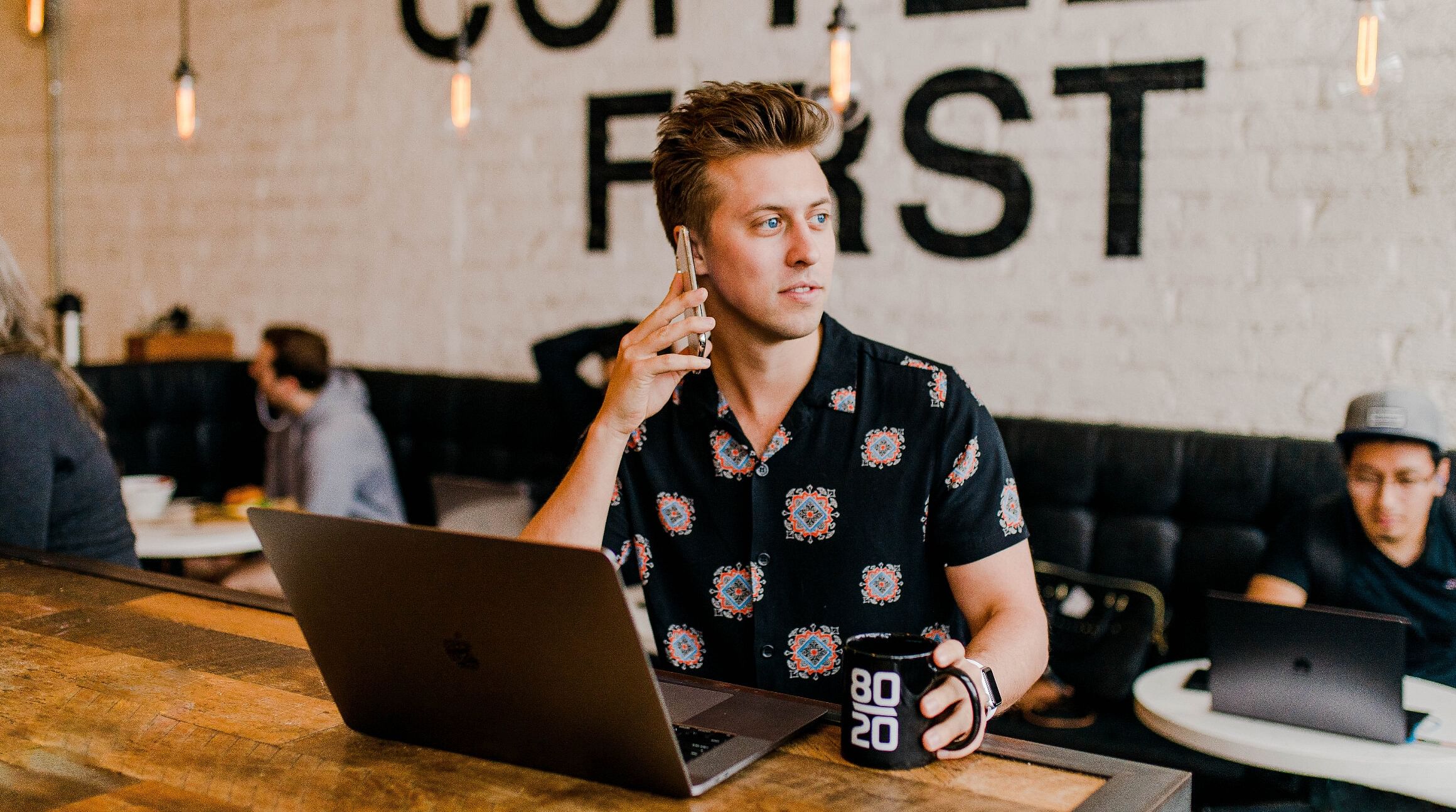 Data Tethering Limitations
Mobile data service varies from carrier to carrier. Depending on your provider, there may be hidden costs or a tethering fee for sharing your data. Always consult your provider if you need clarification on your data limits.
eSIMs from Airalo come with pre-loaded data. There are no hidden costs or tethering fees, but you can only tether as much data as you've purchased. You can top up your data in the Airalo app if you run low.
Using your phone to create a personal hotspot demands much more power than everyday mobile use. It can drain your phone's battery life pretty quickly. And if your service provider limits shared data, they might reduce your wireless speed as you reach your data cap. Be careful — it's easy to use up a month's worth of data in a single afternoon if you're streaming videos or tuning into a webinar!
Things to Consider When Data Tethering 
Here are a few things to remember while tethering:
Your plan will use more data: Your tethered connection shares your data with other devices. Unless you have an unlimited data plan, tethering will take up some of your allocated data. Be careful which devices you share your hotspot password with, as the data they use will come out of your plan. 
There's a limited range: Mobile devices can only connect to your phone's hotspot if they're nearby. The range will vary from phone to phone and network type. Typically, any device within 10 feet will be able to connect.
Tethering takes up battery life: Tethering uses more power than everyday mobile usage. When tethering, turn off any apps or internet-based services you don't need. And try to keep your tethering time short. If you're working from a cafe or hotel lobby, consider plugging in your phone while you tether data.
Tethering With an Airalo eSIM
If you're using the Airalo app and want to tether data from your eSIM plan, here are a few more things to consider.
Global carrier services vary across regions: If you're using a global eSIM from Airalo, your wireless speed will vary across our global providers. Your network and connection will differ depending on where you are in the world and can range from 5G, 4G, LTE, and 3G. Before tethering, you may want to consult which network you'll be using by looking at your eSIM's "Additional Information" tab.  
Tethering speeds will vary across regions: Even within one country, carrier speeds can vary depending on local infrastructure. If you're in an area with slower network speeds, remember your tethering speed will also be affected.
You're all set to tether your eSIM data! Browse the Airalo store to stay connected with an eSIM during your next trip!