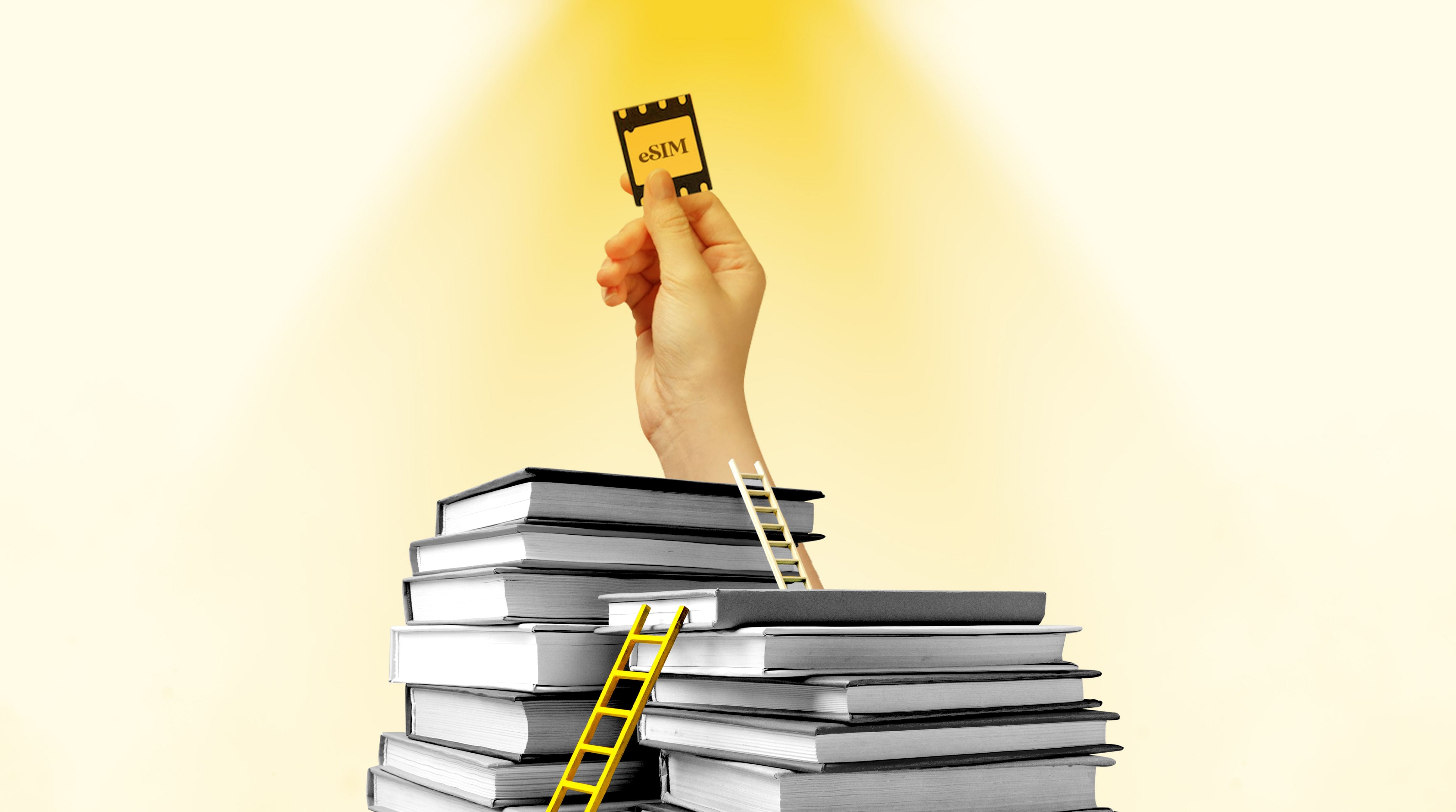 New to the world of eSIMs? Welcome! With more and more phones becoming eSIM-capable, hundreds of thousands of people are switching to digital eSIM packages. If you aren't sure where to begin, you've come to the right place. This guide will cover everything you need to know about using your first eSIM.
In this article: 
What is an eSIM?
Let's start with the basics: What is an eSIM, anyways? In short, an eSIM is an embedded SIM card — a chip that's built directly into your mobile device. You can think of it as a fully digital SIM that allows you to seamlessly connect to and switch between data plans and operators with no removal required. 
This means:
You no longer need to find a SIM vendor while traveling
You no longer need to pay outlandish roaming fees from your home provider
You can access data the moment you land
Browse from Airalo's 190+ data plans.
SIM vs. eSIM: What's the Difference?
Raise your hand if you've removed a SIM, taped it to the back of your phone, and crossed your fingers that it stays put. Us too. The key difference between a physical SIM and an eSIM is that the latter is built into your phone. Unlike a physical SIM which can be removed and swapped between devices, an eSIM is internal to your device. With an eSIM, the entire process is digital, making connectivity super accessible, more environmentally friendly, and less stress-inducing.
Will an eSIM Work on My Device?
To use an eSIM with Airalo, your device needs to be unlocked. An unlocked phone is a phone that isn't under a contractual obligation — you're free to insert a SIM or activate an eSIM plan from any carrier you like. If your phone is locked, you'll only be able to use the SIM or eSIM given to you by your provider.
Typically, unlocked phones are owned outright by you. You can follow a few quick steps to check if your iOS device is unlocked and eSIM compatible. If you're unsure, we recommend contacting your carrier to learn more about your device's status.
How to Choose an eSIM
If your device is unlocked and eSIM-compatible, you're ready to choose an eSIM package! Airalo offers eSIM packages for individual countries and regions, as well as global data packages that can be used around the world. 
Here's how they differ:
If you select an individual country, your eSIM will only connect in that country (e.g., a German eSIM will only work in Germany)
If you choose a regional eSIM, it will only work in designated countries in that region (e.g., a Europe data plan will cover several European countries)
If you select a global data plan, it will work in the countries covered by the plan, regardless of their region (e.g., a global SIM will cover several countries around the world)
Most Airalo packages are data-based (unless specified by the plan). This means you won't be able to use call and text services but will have full access to data. Not to worry — you'll still be able to browse the internet, use most apps, and send and receive internet-based calls and messages.
eSIM Terms You Need to Know
It's a good idea to learn a bit of eSIM lingo ahead of picking a plan. Here's a list of key terms to keep in mind before you make a purchase.
Package Details
You'll find data, validity, and price information in your package details.
Data refers to the total amount of data preloaded on your eSIM (e.g., 1GB, 3GB, 5GB, etc.). Please note that once your plan is out of data, you'll need to top it up or download another eSIM package.
Validity refers to how long your preloaded data will be valid (e.g., seven days, 14 days, 30 days, etc.). Like data, once your validity period expires, you'll need to top up your eSIM or download another package.
Price refers to the value of the eSIM package (e.g., $5, $10, $15, etc.)
Within each package, you'll find an Additional Information section that details your network, plan type, and more. 
Network
The network section will tell you what provider(s) offer coverage for this plan. It will also note the speed of coverage (e.g., LTE, 4G, 5G, etc.).
Plan Type
Most Airalo eSIM plans are data only. However, the plan type section will clearly state what is included. If the package does offer a calling credit, you'll find out here!
Activation Policy
The activation policy will tell you the validity period for your plan begins. Some plans will activate immediately upon installation, while others will start once the eSIM connects to a supported network. 
If your activation policy says, it will "activate instantly as soon as the eSIM is installed," your validity period will start after installation. For this type of plan, we recommend waiting until right before you travel to install your eSIM. This will minimize any downtime and wasted coverage while you're in transit. 
If your activation policy reads, "the validity period starts when the eSIM connects to any supported networks," your plan won't activate until you reach your destination. For example, a German plan with a 7-day validity period will only activate once your eSIM connects to a network in Germany.
eKYC
eKYC stands for "electronically know your customer." Some countries and regions require you to submit and verify travel documents before downloading a data plan. If the plan you've chosen requires that you perform an eKYC check, it's best to complete it before your departure.
Top-Up Option
Most data plans will allow you to top up your package. This means you won't have to redownload and reinstall the eSIM when your data runs out. Instead, you can select another plan for the country or region you visit and easily activate it from the Airalo app or website. If your plan doesn't have a top-up option, you'll have to delete your expired eSIM and download a new package for that country or region. 
 
Now you know the basics about eSIMs and how Airalo's data plans work! If you have more questions, please visit our help center or reach out to us at [email protected].