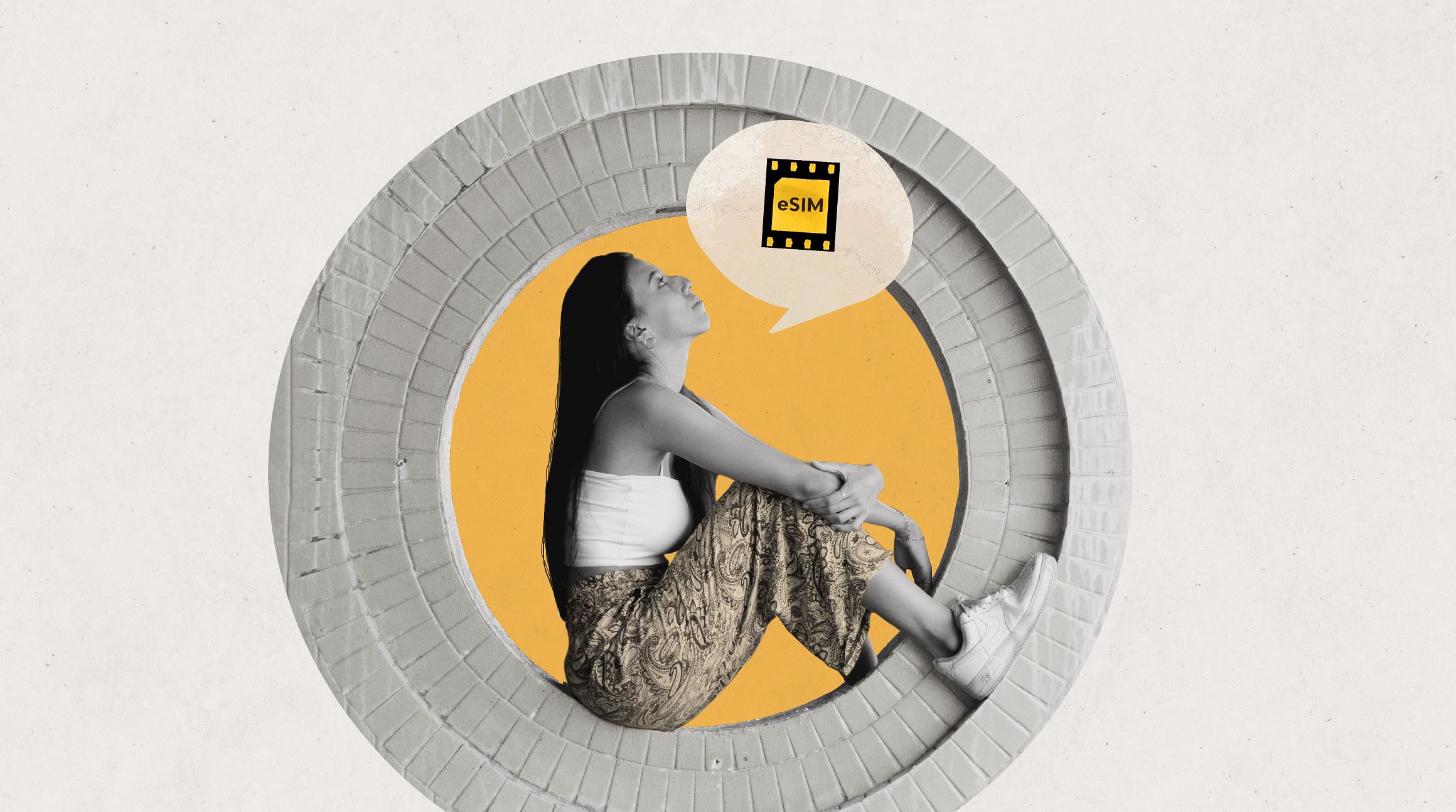 Dealing with SIM cards when traveling internationally can be a nightmare. Not only are they tiny, delicate pieces of hardware that are easily lost or damaged but getting your hands on a local card can sometimes prove tricky. So tricky, in fact, that maybe you've just given up and chosen to pay your service provider's pricey roaming fees.
Neither option is attractive, but there's good news – did you know that you can get mobile data abroad without ever putting a SIM card into your phone? Enter eSIMs, or embedded SIM cards. This convenient and affordable technology is gaining popularity among avid travelers, and for many good reasons.
Here are five benefits of eSIMs that you can take advantage of the next time you travel.
5 Surprising eSIM Benefits
An eSIM is a SIM card that's built into your device. Unlike a physical SIM, it's fused right into your phone's circuitry and can't be removed. Most eSIM-capable phones have Dual SIM technology — they have an eSIM as well as a slot for a physical SIM. This way, the eSIM functions as a secondary SIM that can provide data and coverage benefits when you're abroad. providing data and coverage ben
Here's why that's a game-changer.
1. You'll Stay Connected Anywhere
According to Ericsson, about 80% of the world's population has mobile phone coverage – specifically 4G. That means it's possible to have cellphone coverage pretty much anywhere there are people. Despite that, cell service ends at international borders for most people. That's true even if you pick up local SIM cards wherever you go. Even then, you'll still lack service at critical points in your trip when you're most likely to need it.
In contrast, the biggest benefit of an eSIM is that it's possible to get data almost anywhere in the world. (Airalo provides data plans for hundreds of countries and regions worldwide). That can even include data packs covering multiple countries, which you can purchase ahead of time while you plan the rest of your trip. Imagine getting off that long-haul flight and immediately having service. With an eSIM, you can.
2. You Won't Lose It
Removing your domestic SIM card when you travel is a surefire way to avoid accidental roaming charges. It's a good idea to do this unless you've got amazing international data coverage. Of course, that presents its own challenges. Remember the days of brainstorming the perfect place in your luggage to store your domestic SIM card so you won't forget where you've put it? Remember the dizzying panic when you landed back home and realized you threw out the backup wallet where you had hidden it?
That doesn't happen with an eSIM. One benefit of an eSIM is that it's stored on your device much like an app. Once you've downloaded it from the eSIM marketplace, it'll hang out on your phone until you activate it. Best of all? You can store multiple eSIMs at the same time, and they'll always be right there at your fingertips.
3. There's No Contract Required
Believe it or not, two-year cell service contracts were once the norm. Providers loved locking people into long-term contracts, never minding that it is simply inconvenient for their customers – especially when you travel a lot. While those are thankfully a thing of the past, it's still common to find providers hiding favorable prices and package options behind year-long contracts. That's annoying when you only need that international data option for a few months.
The benefit of an eSIM from Airalo shines in its ability to offer you exactly what you need and only for as long as you need it. You can choose between three, seven, or thirty-day plan options. It's even possible to mix and match these plans according to your travel itinerary. Likewise, if you've decided to stay longer in an area, topping up your eSIM with a new data plan is super easy. (Plus, you're charged nearly the same as local data plan prices. Yay!)
4. It's Secure
The eSIM is a relatively new technology, but it's already recognized as a secure alternative to traditional SIM cards. According to GSMA, eSIM provides the same level of security as traditional SIM cards.
Some skeptics of the eSIM point to the fact that the embedded SIM makes it difficult to remove in the event of a hacker gaining access to the phone. When a phone is hacked and taken over, it's usually done via a SIM card. With a traditional card, that control can be broken if the SIM card is removed. (Many phone manufacturers take advantage of additional encryption to protect against this.)
However, the embedded nature of the eSIM isn't a weakness. Since it can't be removed easily, it reduces theft and increases the likelihood that your phone will be recovered. Want an easy-to-track phone? Use an eSIM.
5. Keep Your Existing Phone Number
We rely on our phones for so much these days, from identity verification to keeping in touch with friends. Changing phone numbers is a hassle, especially when you're abroad. However, with an eSIM, you can keep your phone number. This is one eSIM advantage that frequent travelers love most.
This is because an eSIM doesn't conflict with your physical SIM card. Instead, you can switch back and forth between the two easily. You can even take calls on your domestic number while using the data available via your eSIM.
Say goodbye to updating everyone on your new phone number every six months. With an eSIM, you'll stay connected – to the network and your friends.
Ready to Get Connected? Go Anywhere with Airalo
The eSIM has many benefits which make it a convenient, flexible option for frequent, long-term travelers, and vacationers alike. We've covered five of the biggest advantages that travelers enjoy when they use them. From maintaining seamless connectivity abroad to retaining your phone number, an eSIM lets you simplify your travel logistics and stay focused on the adventure. Spend less time fiddling with hardware and more time having fun wherever you go – that's the biggest advantage that an eSIM delivers. 
Want to simplify travel? Check out the mobile data plans available for your next destination.