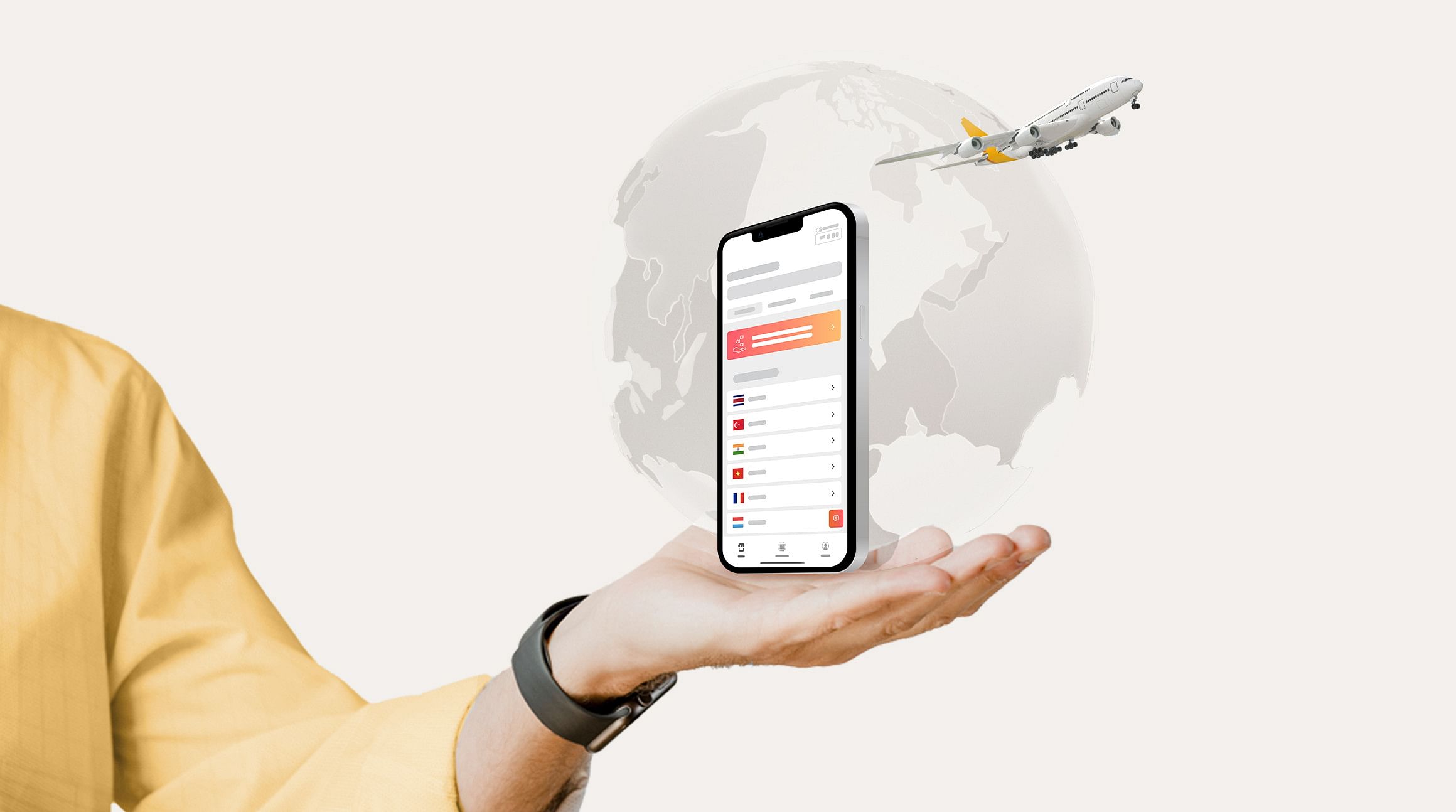 If you have an Apple device and want to set up an eSIM, you've come to the right place! Having an iPhone makes it super simple to use eSIM technology. Keep reading for a breakdown of Dual SIM technology, what it means for your device, and how to activate an eSIM on iPhone.
What Is Dual SIM Technology?
Dual SIM technology allows you to house more than one SIM and/or eSIM on your device and connect to two different networks simultaneously. Dual SIM is ideal if you have a personal and work number or travel frequently and want to switch between local data plans. 
In some cases, Dual SIM means you can use two physical SIM cards simultaneously. In others, you can use a physical SIM card and an eSIM on the same device. Some phones will even allow you to store multiple eSIMs at once.
How Does Dual SIM Work on iPhone?
iPhone XR and later use Dual SIM technology (note that depending on where you are in the world, your phone may or may not be eSIM-compatible). These iPhones allow you to use multiple physical SIMs and/or eSIMs simultaneously.
Here are a few ways to make the most of Apple Dual SIM:
Use separate voice and data plans (use your primary line for calling and texting and your eSIM to access data)
Set up a local data plan when you travel without having to remove and keep track of a physical SIM card
Maintain one number for personal calls and another for business calls 
Remember, you must have an unlocked phone to use data plans from two carriers. If your phone is locked, you'll need to ensure that both plans are from the same carrier for Dual SIM to work.
Is Your iPhone eSIM-Compatible?
To use an eSIM on iPhone, you'll need an iPhone XR or newer and iOS 12 or later. Follow these steps to see if your iPhone can support an eSIM (keep in mind that the steps may differ depending on your iOS version):
Go to your device settings
Tap "Cellular/Mobile Data"
If you see an option to "Add a Data/Cellular Plan," you have an eSIM
You can also check our complete list of eSIM-compatible devices here (note: some iPhones are incompatible with eSIM). Remember, your iPhone must be unlocked to use an eSIM from a different carrier.
How To Activate an eSIM on iPhone
If your iPhone is eSIM-compatible, you can get your first eSIM plan! Browse the Airalo store to find a data plan that suits your travel needs. You can choose from local, regional, and even global plans for your adventure. 
Once you've purchased an eSIM plan, you'll receive an email with detailed installation steps. We've also outlined them here! Follow these steps to activate an eSIM on iPhone (remember, they may differ depending on your iOS version):
Ensure you have a stable connection, preferably Wi-Fi.
Go to the My eSIMs tab on your Airalo app and tap Details.
Select Install eSIM/Access Data.
Tap on Install eSIM at the bottom of your screen to initiate the installation. (Note that you can't interrupt the installation process once it has started. If you try to go back to the previous step or close the app, you won't be able to install the same eSIM.)
Tap Add Cellular Plan.
Label the eSIM.
Choose the preferred default line to call or send messages (usually your home plan).
Choose the preferred line for iMessage & Facetime (also, usually your home plan).
Choose your Airalo eSIM plan as your default line for Cellular Data. Do not turn on Allow Cellular Data Switching to prevent charges on your other line.
Select your Airalo eSIM under Cellular Plans and ensure it is turned on.
Go to Network Selection and select the supported network.
Now, you should be able to connect to a local network in your destination.
eSIM Troubleshooting
Having connection problems? Try the following:
Turn on roaming (this needs to be on for your phone to switch to your eSIM).
See if you need to update your APN settings (if you do, your installation instructions will include a step-by-step guide).
Restart your phone.
You're all set to use your iPhone eSIM — now, you can easily stay connected wherever your travels take you. Get started with an Airalo eSIM!