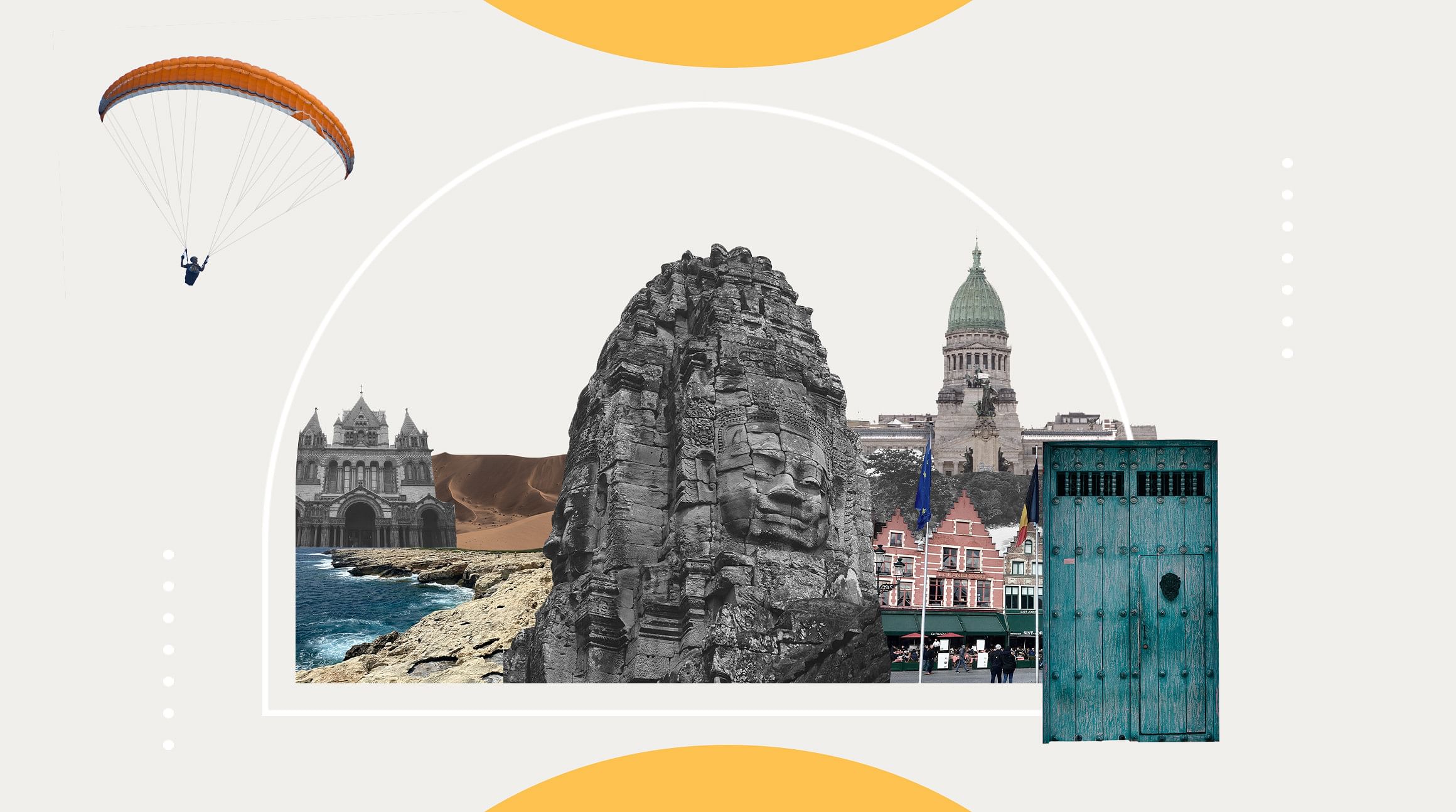 October brings cooler weather, autumn leaves, and harvest festivals in many corners of the globe. It's the perfect time of year to explore travel destinations in the northern and southern hemispheres. Bundle up for trips to cool-weather spots like Boston and Bruges, or escape the cold in warm-weather places like Sumba and Namibia. No matter where you choose, you're bound to have an epic adventure (that's relatively tourist-free). Follow along to discover our ten best places to travel in October.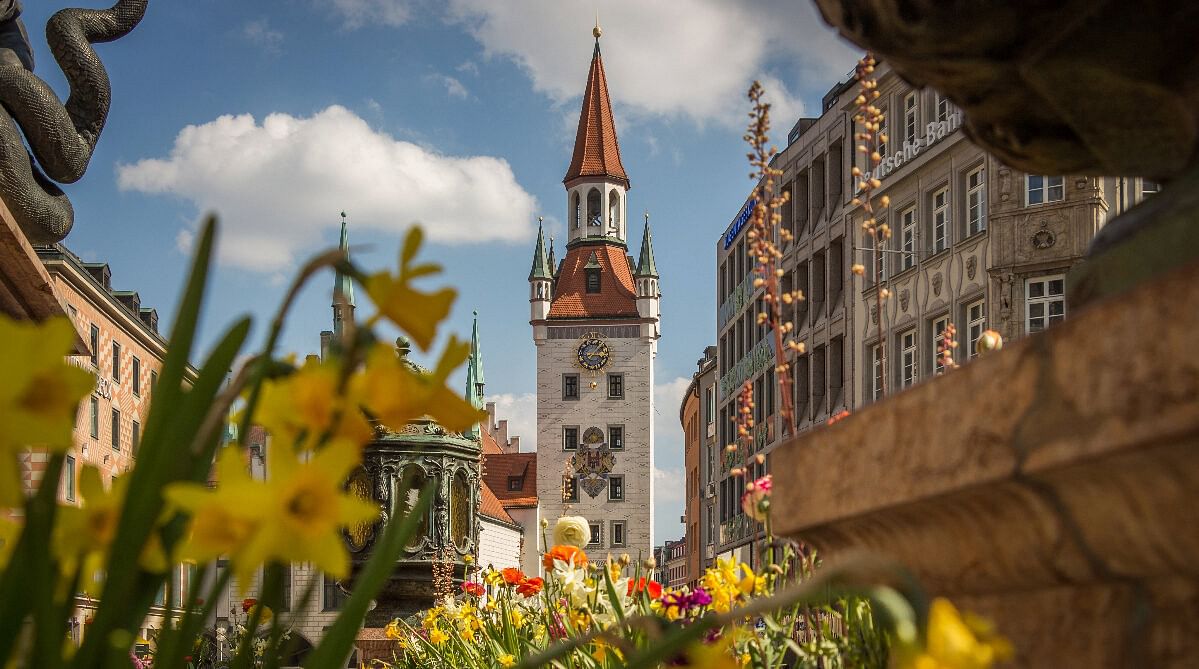 1. Munich, Germany
Munich, Germany, is first on our list of best places to travel in October. Oktoberfest runs from mid-to-late September to the first Sunday in October, making it the perfect time of year to experience the world's biggest beer festival. Put on your lederhosen and head to Oide Wiesn fairgrounds for beer gardens, brass bands, and traditional Bavarian games.
When you've had your fill, explore the Bavarian capital's medieval old town. Start in Mairenplatz, where you'll find the Old Town Hall (Altes Rathaus) and New Town Hall (Neues Rathaus) with its famous Glockenspiel. Visit the National Theater, one of the largest opera stages in the world, and Schloss Nymphemburg, an opulent palace with expansive grounds. For a day trip, head to the Bavarian Alps and stop in at Disney-like Neuschwanstein Castle — autumn foliage makes for an Instagrammable backdrop.
Planning a trip to Munich? Stay connected with a Germany eSIM.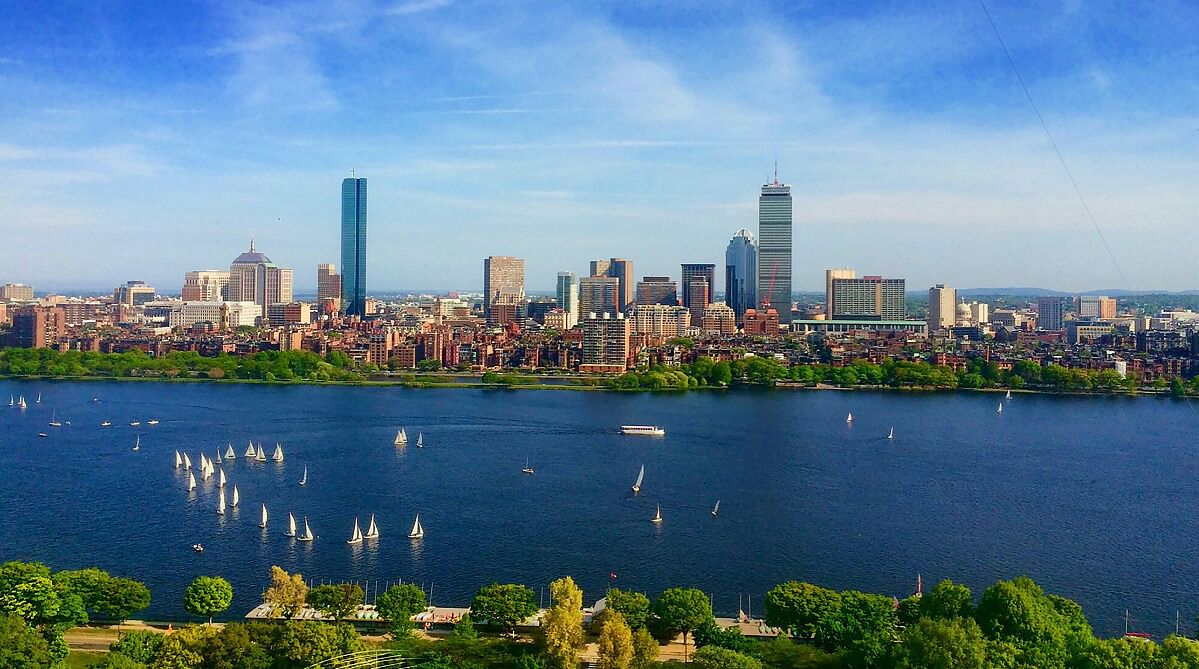 2. Boston, USA
October is the perfect time of year to visit Boston. Come fall, the historic US city has mild temperatures, gorgeous autumn leaves, and fewer crowds. Plus, the third week of October brings the Head of the Charles Regatta — three days of elite rowing races on the Charles River with hundreds of thousands of spectators. 
Boston is one of the oldest cities in America, and the best way to explore it is to stroll along the Freedom Trail. This four-kilometer walk through the city passes through 16 historical sites and landmarks, including the Boston Common, Paul Revere House, and Bunker Hill Monument. Boston is also a sports city, and a trip to Fenway Park, the oldest Major League Baseball stadium still in use, is well worth the trip. After a game, head to one of Seaport's harborside restaurants to tuck into oysters on the half shell, New England clam chowder, steamed clams, and lobster rolls.
Visiting Boston? Stay connected with a USA eSIM.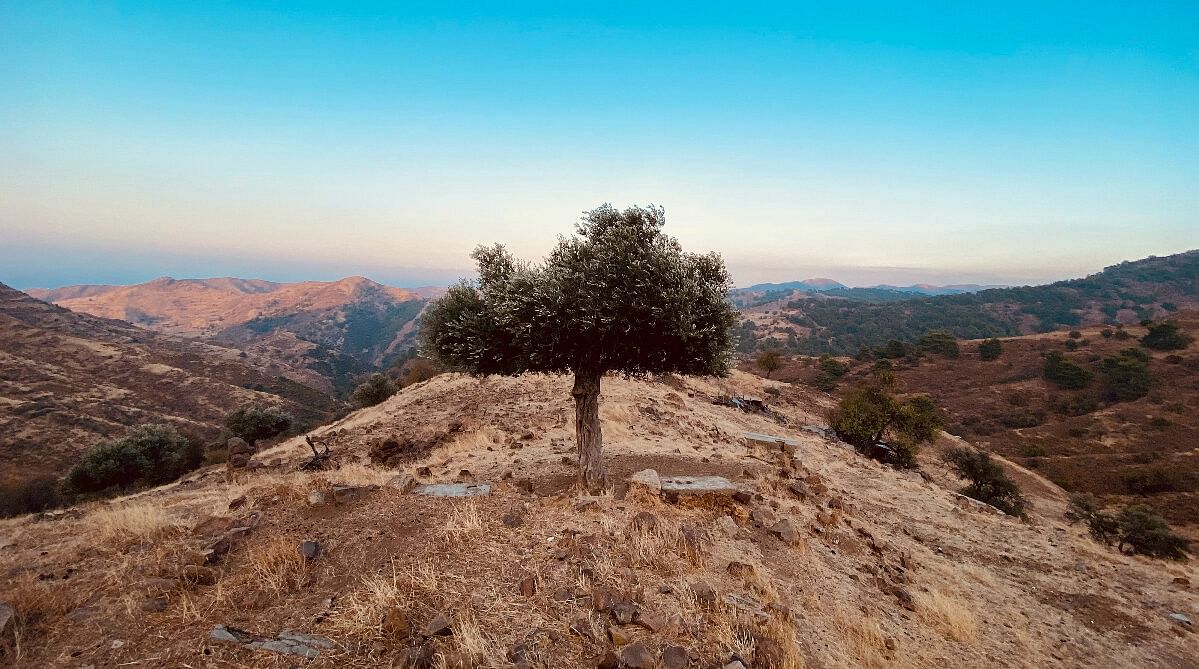 3. Cyprus
Next on our list of best places to travel in October is Cyprus. This Eastern Mediterranean island is famous for its pine forests, turquoise waters, and unique history. Here, you'll find ancient archeological sites alongside hilltop villages, vineyards, and some of Europe's most beautiful beaches. 
Start in the capital, Nicosia, to walk its snowflake-shaped ramparts and visit its many Venetian, Byzantine, and Ottoman landmarks. Follow the Green Line, a 300km UN-administered buffer zone that divides the city in two, and cross into North Nicosia to better understand Cyprus' past. Outside the city, there's plenty more to see, including UN-listed archeological sites like Choirokoita, Pafos, and the Painted Churches of Troödos. Beach bums will love Makronissos, Nissi Beach, and Fig Tree Bay — Blue-flag beaches with some of the clearest waters in the Mediterranean.
Stay connected with a Cyprus eSIM.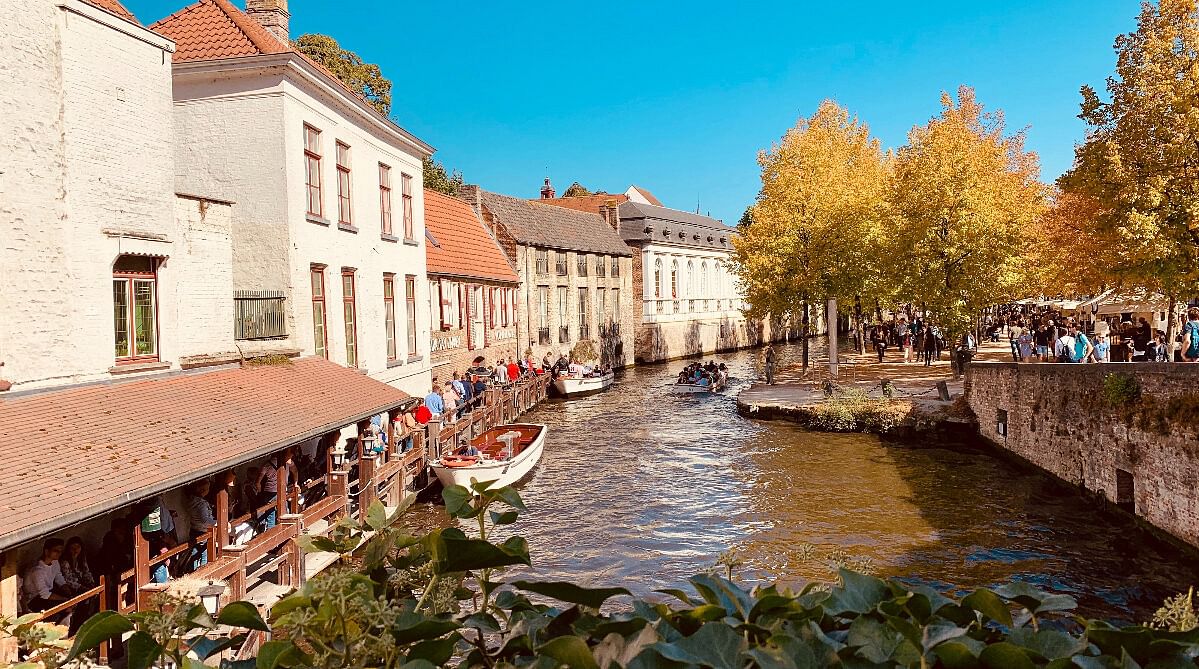 4. Bruges, Belgium
Another of the best places to travel in October is Bruges, Belgium. This fairytale-like city is one of Europe's best-preserved medieval towns. October will be chilly, but not yet rainy, making it the perfect time of year to bundle up and explore the super-walkable city. Wander the UNESCO-listed city center's cobblestone streets or cruise its canals to take it all in.
Start in Markt, the city's famous medieval plaza, which housed its first market in the year 958. The square is stunning, with step-gabled houses, neo-Gothic architecture, and horse-and-carriage rides. Climb 366 steps to the top of the Belfort, a 13th-century belfry, for a panorama of the city's red-tiled rooftops. And cruise the Groenerie, a lovely canal bordered by 17th-century residences, to the Lake of Love (Minnewater). Cross the Lover's Bridge and sneak a kiss to ensure your love is everlasting.
Taking a break in Bruges? Stay connected with a Belgium eSIM.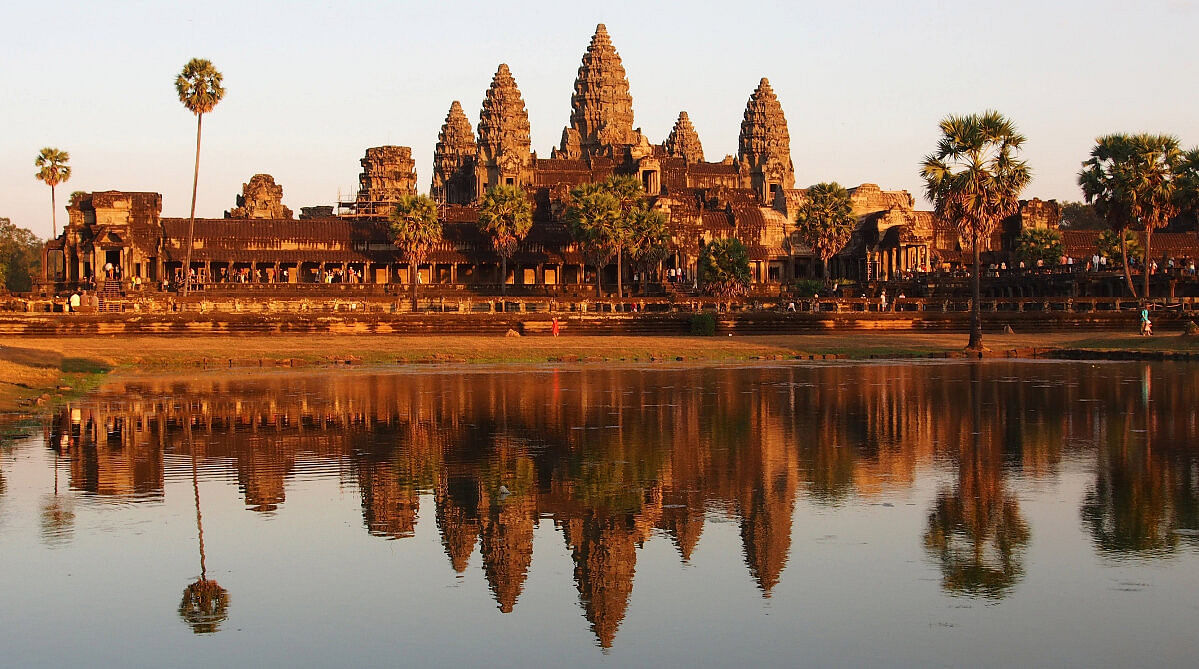 5. Siem Reap, Cambodia
October may be one of the wettest months in Siem Reap, but it's well worth the trip. Siem Reap is the home base for the legendary Angkor temples and is typically bustling with tourists. By October, the crowds have cleared, the landscape is lush, and you'll have the opportunity to experience Cambodia in all its glory.
Angkor Archeological Park is the highlight of any trip to Siem Reap. Angkor was the original capital of the Khmer Empire, and the park is home to Angkor Wat, Bayon, and Ta Prohm temples. UNESCO-listed Angkor Wat is the largest religious complex ever built, Bayon features 216 faces of Avalokiteshvara carved in stone, and Ta Prohm is a unique temple overgrown with trees and nature (Tomb Raider fans will recognize it immediately). After exploring Angkor, visit Tonlé Sap Lake, Southeast Asia's largest freshwater lake with colorful fishing villages on stilts. Foodies should make a trip to Pho Langka Market to try street food like Lort Cha (fried egg noodles), kralan (bamboo sticky rice), and chive cakes.
Exploring Siem Reap? Stay connected with a Cambodia eSIM.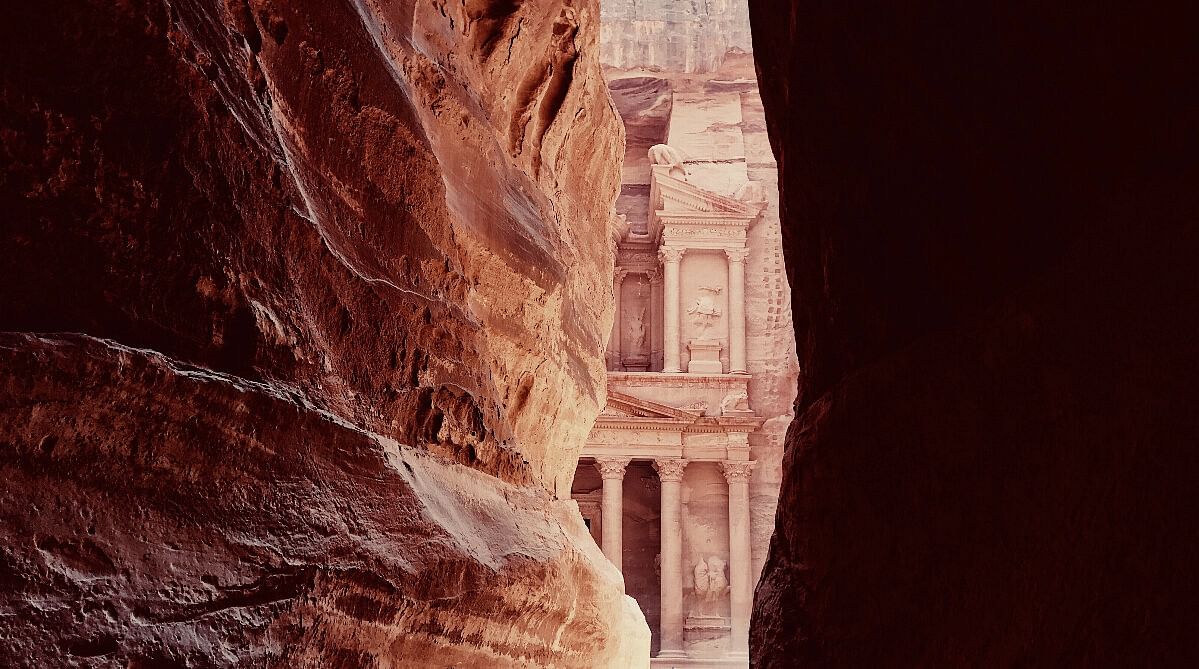 6. Petra, Jordan
Petra is next on our list of the ten best places to travel in October. The lost Nabataean city is a UNESCO World Heritage Site and one of the New Seven Wonders of the World. Also known as the "rose city," It dates back to 300 BCE when it was carved out of rust-colored sandstone mountains in the rugged Jordan desert. 
Your trip to Petra will start with the awe-inspiring Al Siq, a deep, narrow gorge that serves as the entrance to the ancient city. The 1200-meter journey leads you to Al-Khazneh (The Treasure), perhaps Petra's most iconic site. The 43-meter monument is carved into a rock face and is best seen at night when illuminated by hundreds of candles. Make your way to the High Place of Sacrifice for a spectacular view of Petra from above and climb the 800 stairs to Ad-Deir (The Monastery), an ideal place to watch the sunset over the landscape. 
Off on an adventure to Petra? Stay connected with a Jordan eSIM.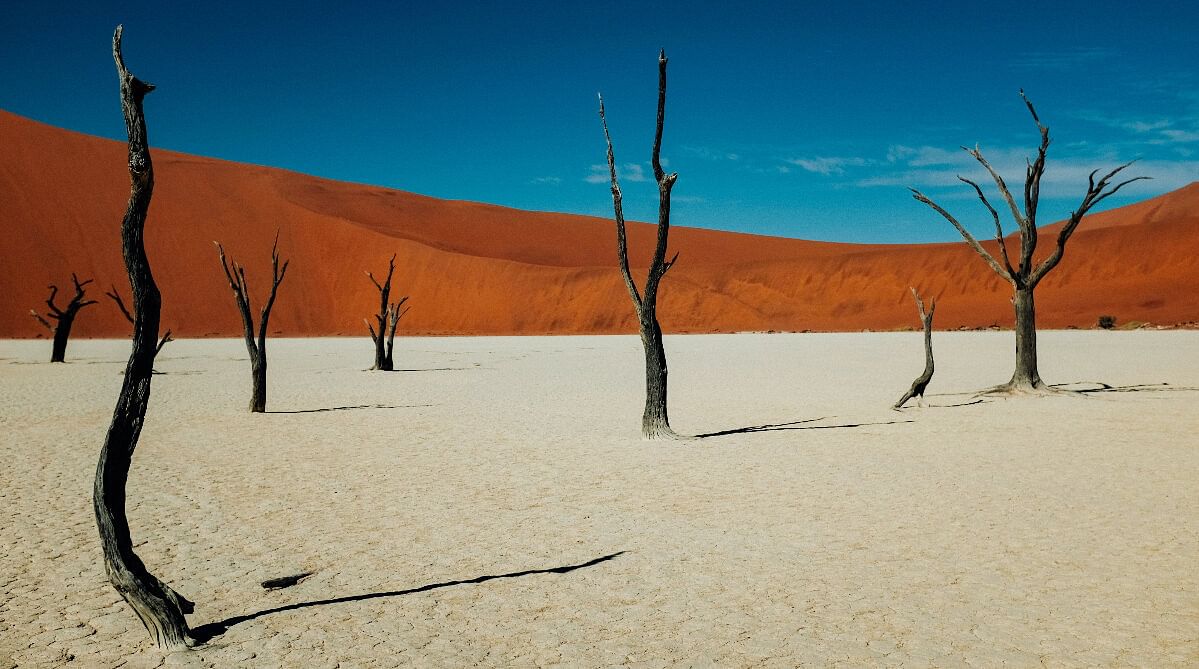 7. Namibia
Next up: Namibia. This African country makes our list of the best places to visit in October for its dramatic, otherworldly landscape. It's home to Africa's oldest desert, largest canyon, highest dunes, and over 1500 kilometers of stunning coastline. It's no surprise it consistently tops best in travel lists around the globe. 
Damaraland is a wildlife hotspot with elephants and lions that have adapted to its desert landscape. Head to Etosha National Park to see one of Africa's largest populations of black rhinos and Skeleton Coast National Park, famed for its shipwrecks. Outdoor enthusiasts will love Swakopmund for dune boarding, skydiving, and surfing. From here, you can visit Dune 7, Namibia's highest dune, rising 383 meters. Namib-Naukluft National Park is home to Namibia's most iconic scenes — Sossusvlei and Deadvlei. These stark white clay pans backed by ochre dunes and clear blue skies make for a truly spectacular setting.
Taking off to Namibia? Stay connected with a Namibia eSIM.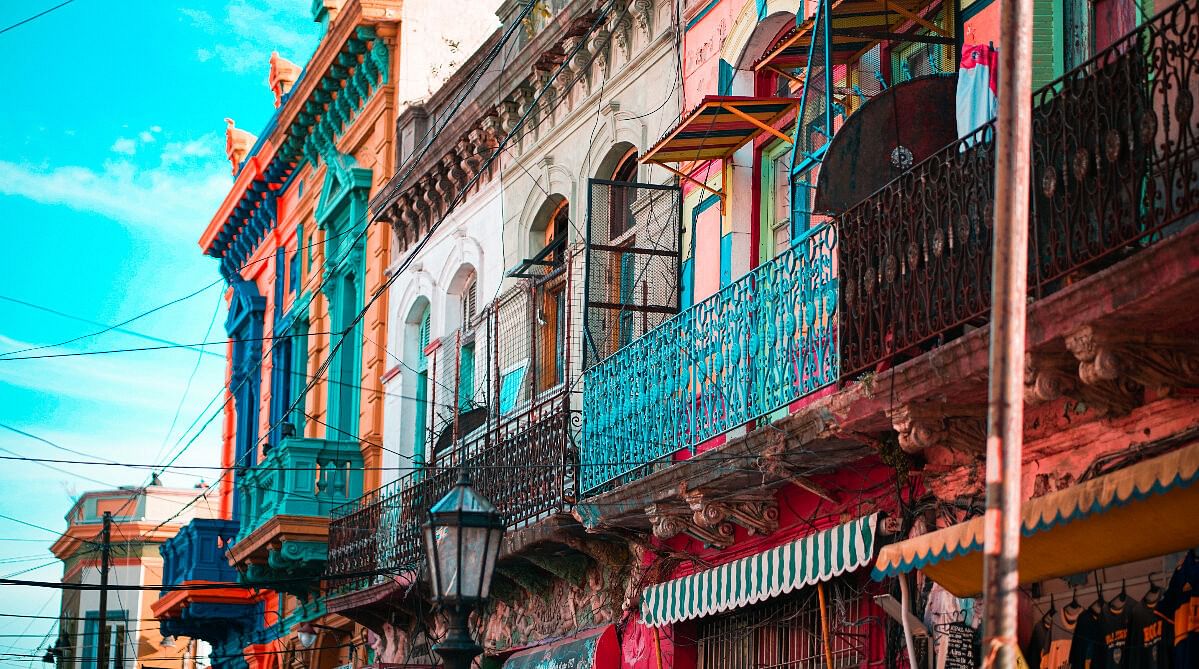 8. Buenos Aires, Argentina
Buenos Aires is another of the best places to travel in October. The Argentinian city is world-renowned for its gorgeous belle-époque architecture, hidden bars, epic food scene, and, of course, tango. Whether you're a foodie, history buff, or party-goer, Buenos Aires has something incredible to offer. 
Admire Barrio San Telmo's colonial architecture, crumbling villas, and tree-lined plazas, and visit the Sunday Fair for antiques, handicrafts, tango musicians, and street food. Wander Recoleta Cemetery's maze of narrow passageways lined with ornate mausoleums, statues, and 20th-century tombs, including one belonging to Evita. La Boca's vibrant El Caminito is a colorful street museum that showcases local artists. Be sure to stop at La Bombonera stadium to take in one of Argentina's favorite pastimes: football. And make your way to Palermo Soho and Palermo Hollywood for upscale cocktails and dining.
Visiting Buenos Aires? Stay connected with an Argentina eSIM.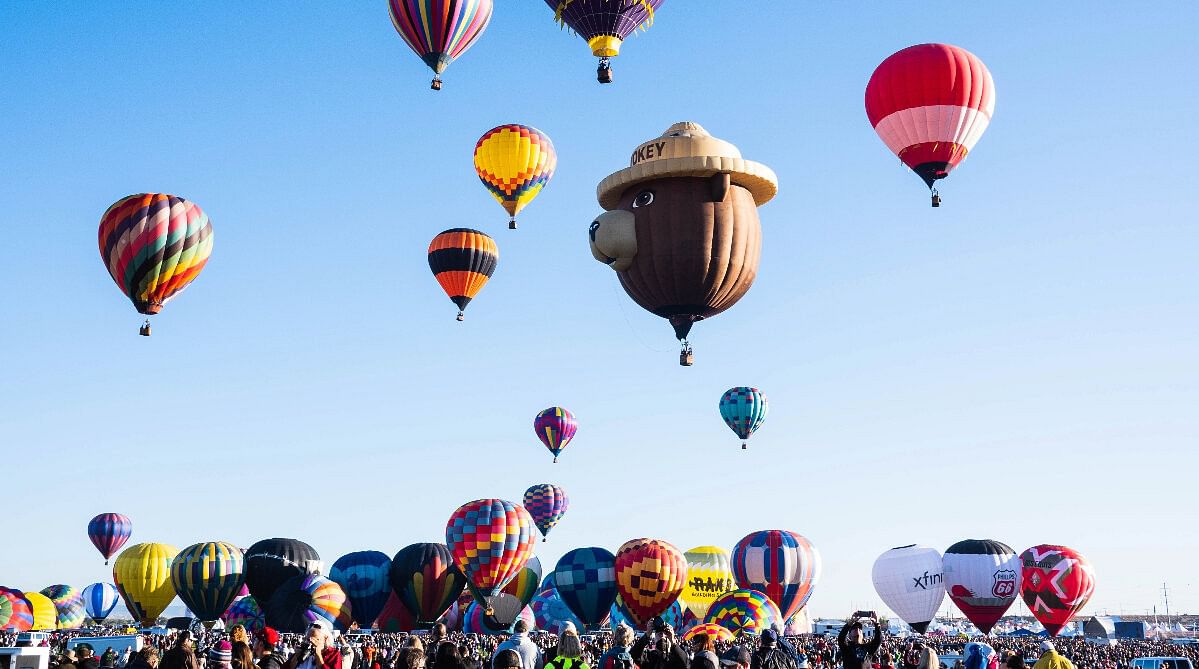 9. New Mexico, USA
New Mexico still has clear skies, sunny weather, and mild temperatures in October. This month brings the Albuquerque International Balloon Fiesta, the world's largest balloon festival and the most photographed event on the planet. Watch (and snap a photo) as 500 technicolor hot air balloons take off at sunrise.
New Mexico is known as the "Land of Enchantment." Its mix of Native American, Spanish, Mexican, and American cultural influences makes for a truly unique experience. While in Albuquerque, visit the Indian Pueblo Cultural Center, dedicated to preserving indigenous culture. The site has a cafe where you can try traditional foods and a gift shop to support indigenous artisans. In Santa Fe, you'll find one of the world's top art destinations at the foot of the Sangre de Cristo Mountains. Head to the central plaza for local arts and handicrafts and visit the Meow Wolf, Georgia O'Keefe Museum, and Chuck Jones Gallery.
Heading to New Mexico? Stay connected with a United States eSIM.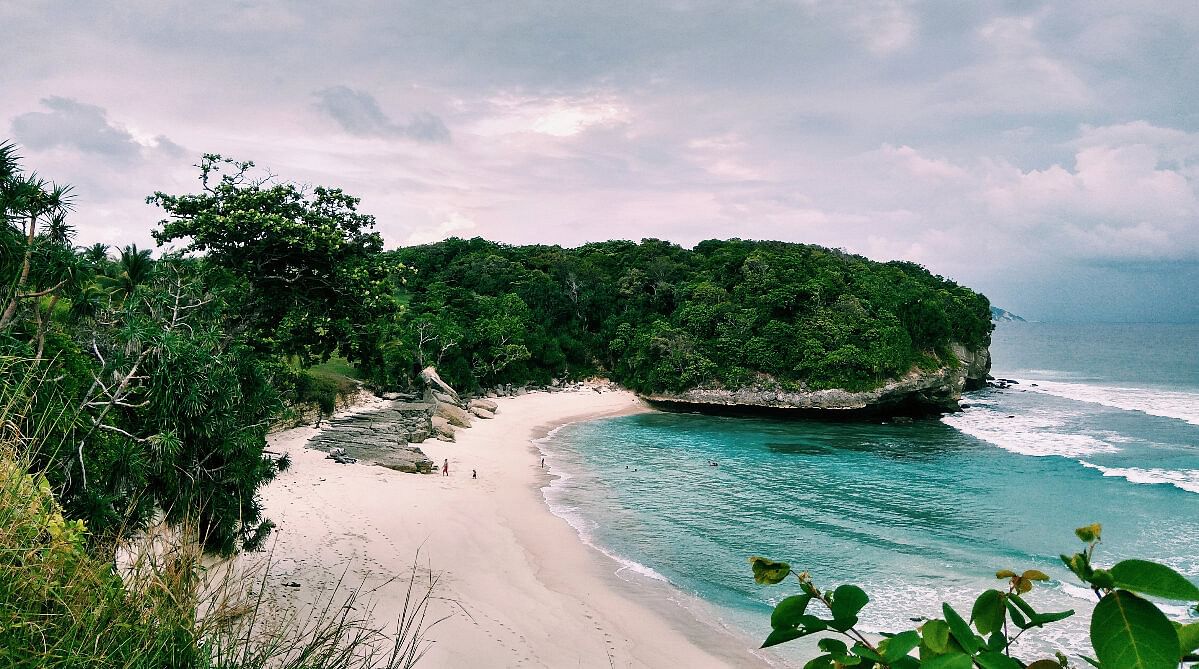 10. Sumba, Indonesia
Sumba is the most off-the-beaten-path destination in our list of the best places to travel in October. This seemingly untouched Indonesian island is located east of Bali, between the islands of Komodo and Sumbawa. Here, you'll find few tourists to disturb its raw, natural beauty and traditional hilltop villages.
Must-see attractions include Weekuri Lagon, a salt-water tidal lagoon with crystal-clear water, Mandorak and Bawana beaches, and Lapopu Waterfall. Be sure to add Prailiu or Kampung Tarung to your itinerary, traditional Sumba villages where you can experience how the Sumbanese have lived for centuries. You'll find thatched clan houses clustered around megalithic tombs, Uma Hori (where ceremonies are held), and traditional handicrafts like Tenan Ikat, a handwoven fabric featuring scenes with stylized horses, animals, and people.
Planning to visit Sumba? Stay connected with an Indonesia eSIM.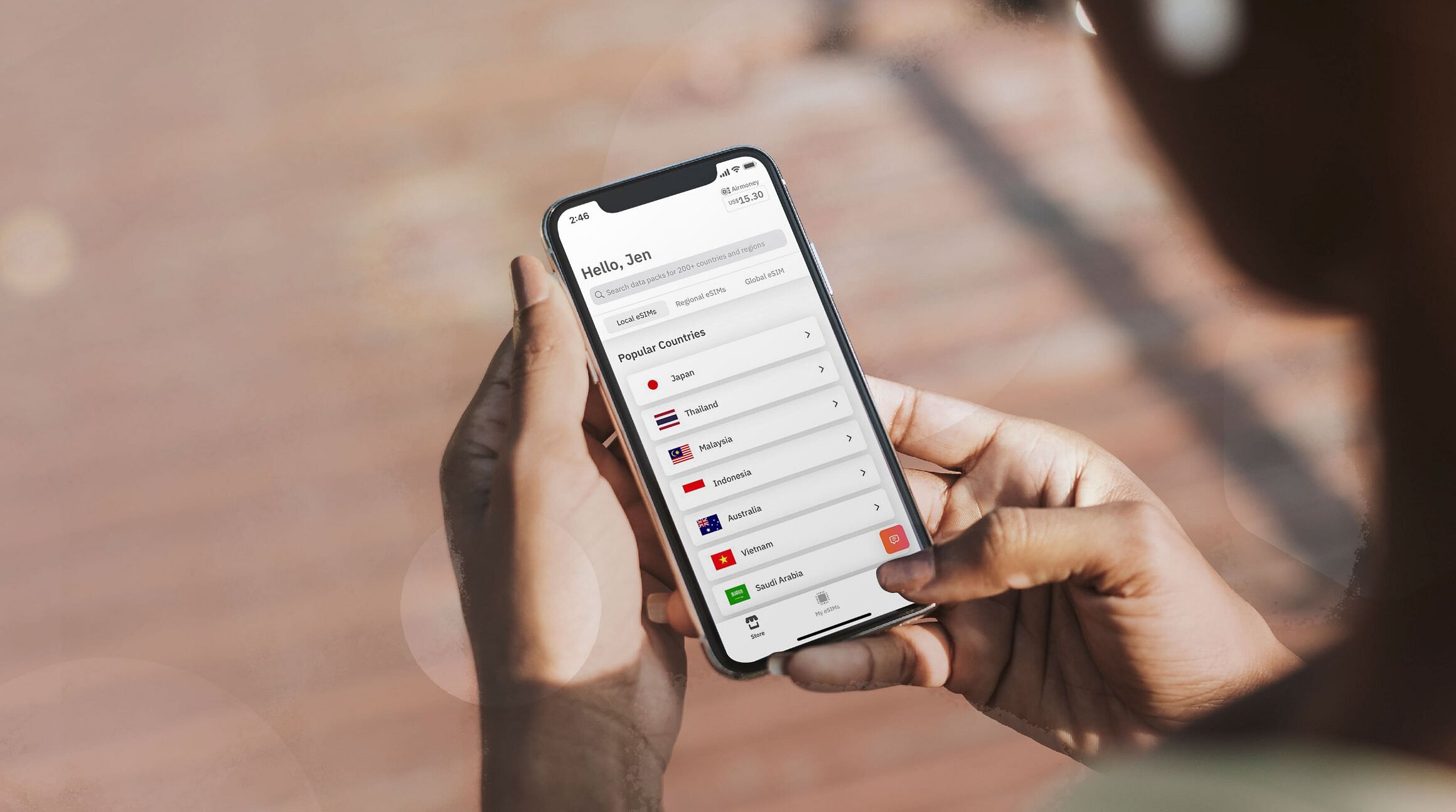 Stay Connected With an eSIM From Airalo
No matter where your travels take you, stay connected with an Airalo eSIM. Airalo gives you access to affordable eSIMs for 200+ countries and regions — including each of our best places to travel in October.
Why Airalo? Here are a few reasons to use an Airalo eSIM when you travel:
Connect to a mobile network within minutes of arrival.
Choose from flexible local, regional, and global data plans.
Eliminate the need to find a local SIM vendor.
Say goodbye to expensive roaming charges.
Store multiple eSIM data plans on your device.
Running out of data? Top up in the Airalo app.
Where will you travel in October? Choose an Airalo eSIM to stay connected during your trip.