If you're traveling to Georgia, get ready for an unforgettable trip. Georgia's unique combination of stunning landscapes, rich history, and delicious cuisine make it a must-see destination. Whether you're looking to relax on the shores of the Black Sea, trek through the majestic Caucasus Mountains, or explore ancient cities and churches, Georgia makes for an incredible travel experience.
In this guide, we'll cover everything you need to know to plan a trip to Georgia, including:
Best Time to Visit Georgia
Georgia is a year-round destination, and the best time to visit depends on the region you're traveling to. Georgia has a diverse landscape and climate, ranging from subtropical coastlines near the Black Sea to arid lowlands near the country's capital.
Spring (April to June) and autumn (September to November) are great times to visit. There are fewer tourists, and mild weather brings ideal conditions for outdoor activities like hiking.
The summer months (July and August) welcome peak tourist season. The weather is hot and dry, especially near the capital. This is the best time of year to hike in the mountains (where the weather's a bit cooler) and take a dip in the Black Sea.
The temperature chills in winter (December to February), making for ideal ski conditions. If you're hoping to hit the slopes, this is the best time of year to visit Georgia's ski resorts and explore the snow-capped mountains.
Top Georgia Attractions
Georgia's rich history, lively culture, and stunning landscapes make it a must-see destination with plenty to see and do. Here are the top five attractions to add to your Georgia travel itinerary.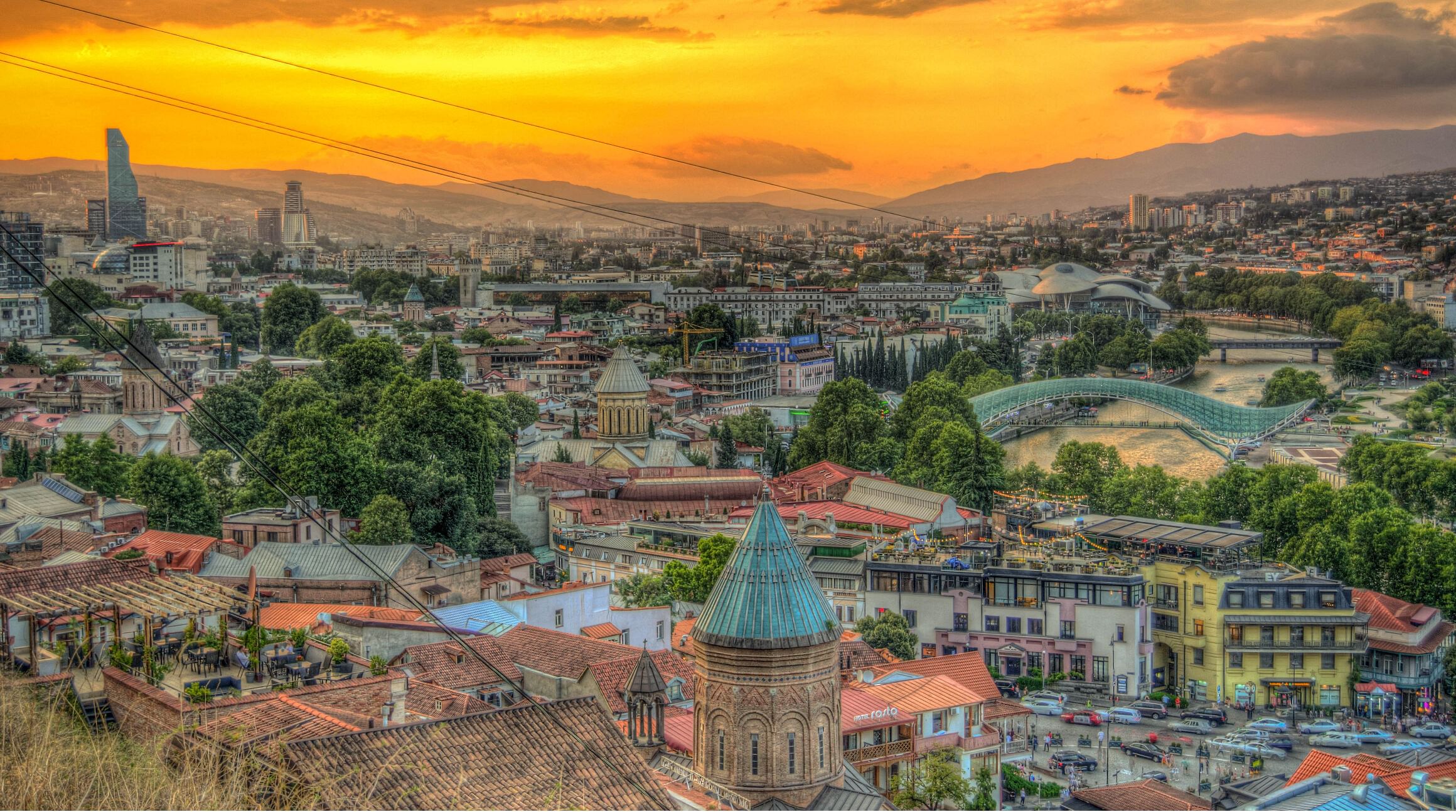 Tbilisi (Georgian Capital)
Tbilisi, the capital of Georgia, is located on the banks of the Mtkvari River. It's a maze of narrow streets and winding alleys surrounded by traditional wooden houses, cafes, beautiful Orthodox churches, and the Georgian National Opera Theater.
Stroll along Shardeni Street, famous for its lively atmosphere, and pop into its many galleries and restaurants. Visit the Georgian National Museum and Tsminda Sameba Cathedral, and take in the stunning view from the ancient Narikala Fortress.
Tbilisi means "warm place" and is known for the sulfur springs that surround the city. Visit Abanatubani, the bath district, to see its famous brick houses and relax in its sulfur bathhouses.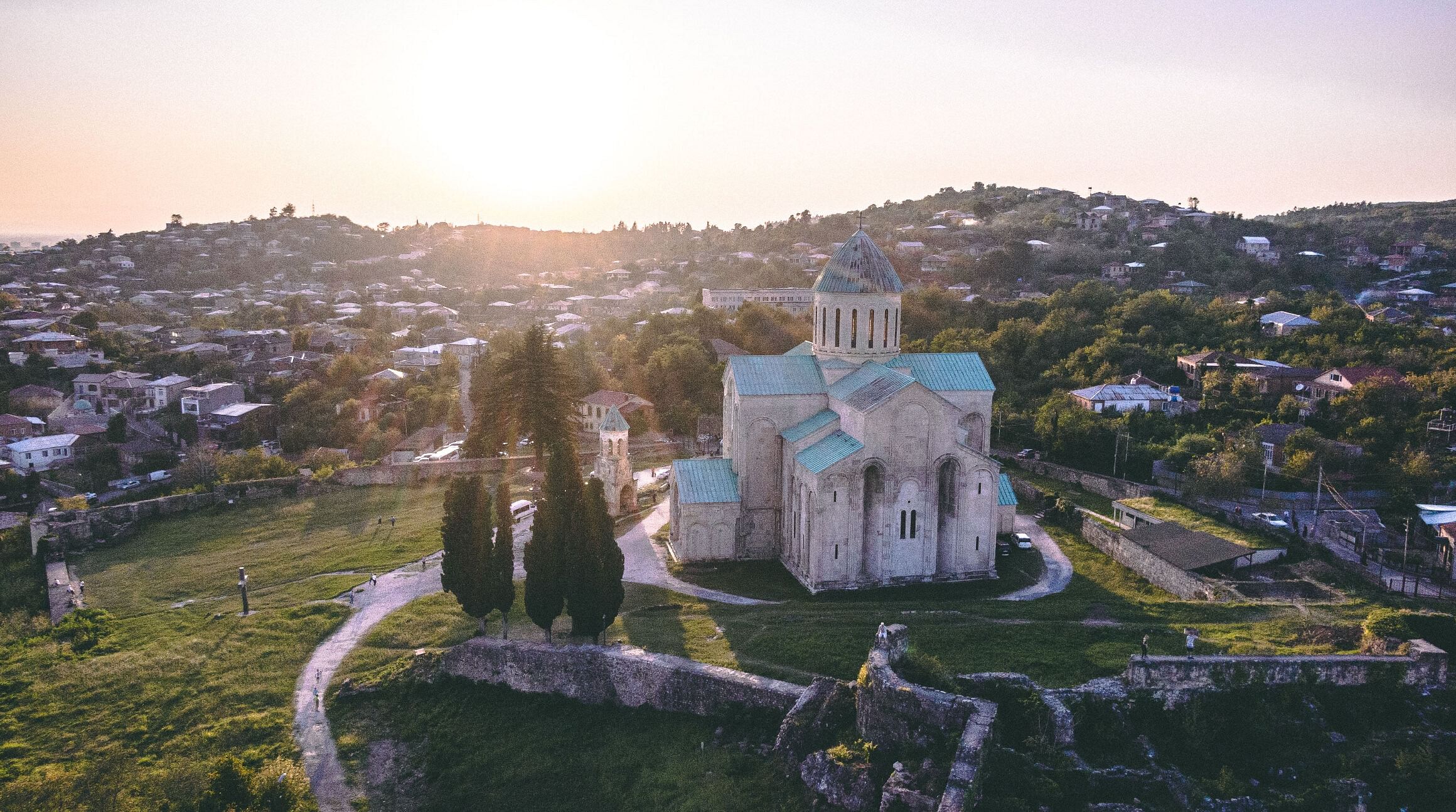 Kutaisi
Kutaisi is the second largest city in Georgia and its historical capital. It's located on the banks of the Rioni River and is a must-see for a trip to Georgia. And you can visit it directly upon arrival from David Bilder Kutaisi International Airport.
One of the city's main tourist sites is the famous Bagrati Cathedral, which dates back to the 11th century and is considered a symbol of Georgia's golden age. Take a day trip to the Gelati Monastery, a UNESCO World Heritage Site and once one of the country's religious, cultural, and educational centers.
Just a half hour from Kutaisi is one of Georgia's most popular tourist attractions, the Prometheus Cave. Take an hour-long guided tour to explore its magical halls filled with subterranean waterfalls and sail along the Komistavi River deep within the cave.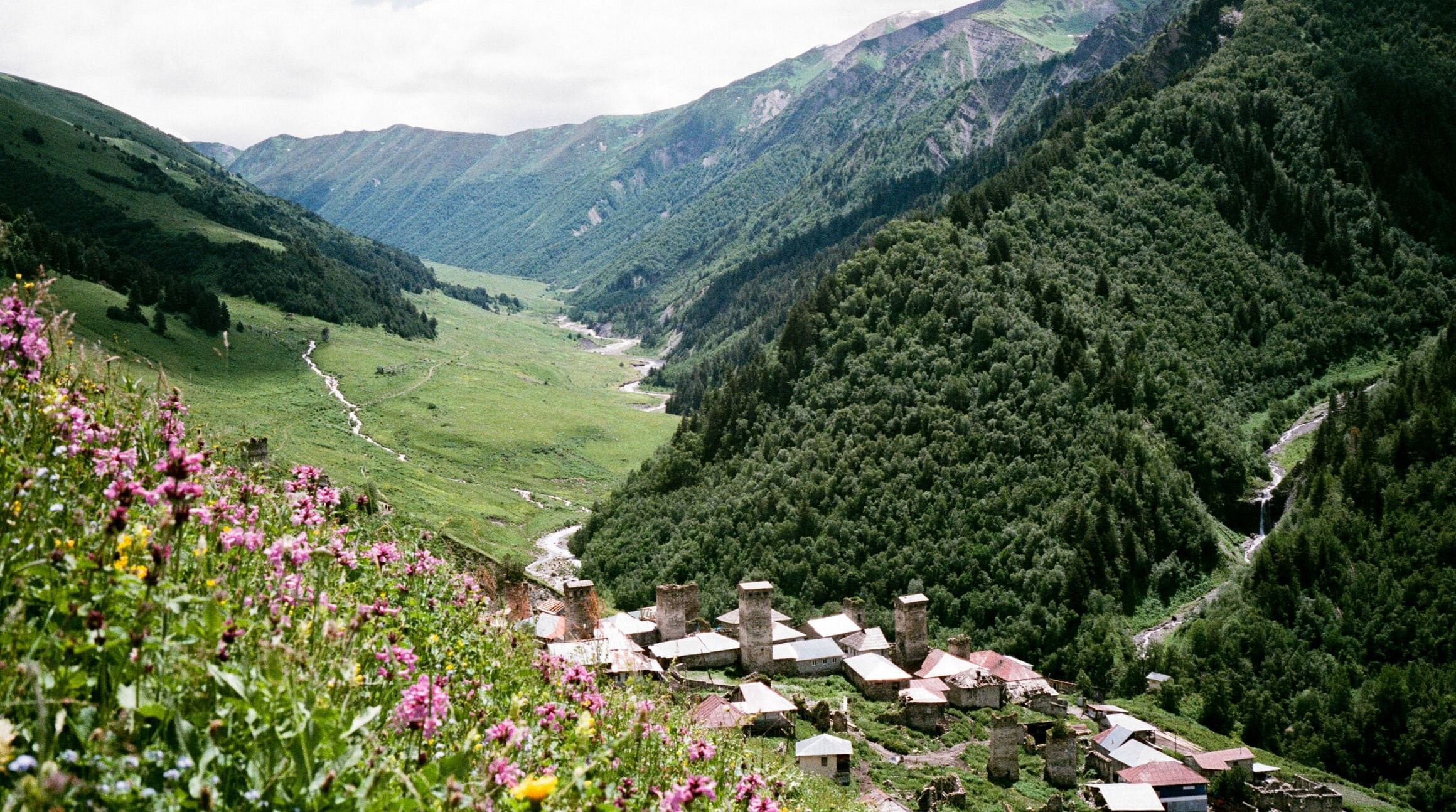 Svaneti
The remote, mountainous region of Svaneti is nestled in some of the most beautiful landscapes in Georgia. You can trek through the picturesque Caucasus Mountains, explore traditional Svaneti villages, and marvel at the 200 medieval tower houses spread across the landscape.
Visit the Svaneti Museum of History and Ethnography to learn about the region's rich cultural history and glimpse rare artifacts dating back to the 5th century BCE. Svaneti also offers excellent opportunities for mountaineering and exploring the picturesque mountains on horseback.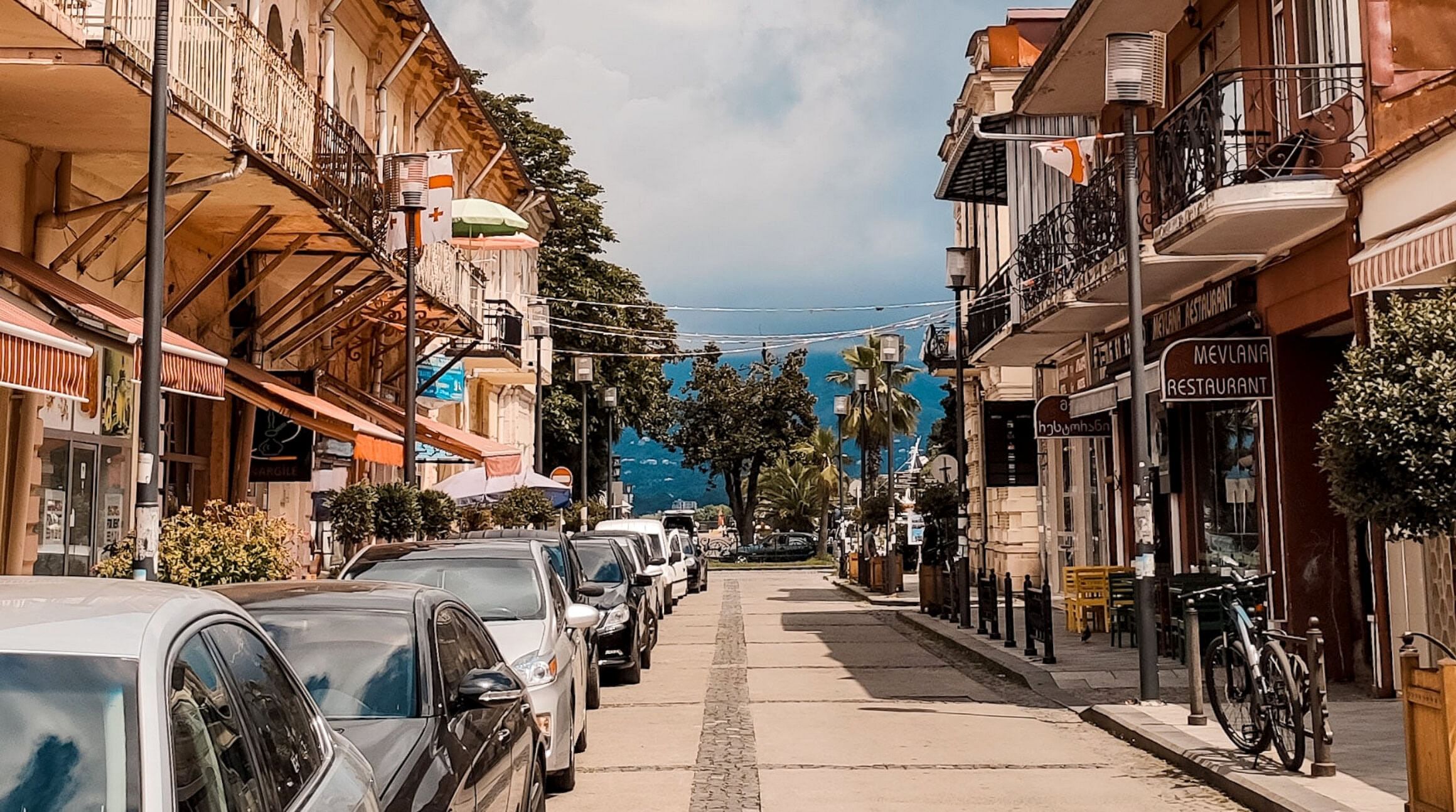 Batumi
This vibrant port city on the Black Sea coast is known for its stunning architecture, thriving nightlife, and beautiful beaches. Stroll along Batumi Boulevard, which stretches along the coastline and features lush gardens, artistic sculptures, and colorful buildings.
At lunchtime, head to the revolving restaurant in the Alphabet Tower for panoramic views of Batumi and the Black Sea. Afterward, visit the Botanical Garden, where you'll discover 5,000 species of plants from all around the world.
Source: National Parks of Georgia
Borjomi and Vardzia Caves
Borjomi is famous for its natural mineral waters and beautiful parks. The city is characterized by its stunning natural beauty and mountain scenery, making it an ideal destination for visitors who want to relax away from the crowds.
Stroll along Borjomi's picturesque streets and relax in its famous hot springs. Explore the neighboring Borjomi-Kharagauli National Park, which has some of the most beautiful landscapes in Georgia. The park covers more than 1.5% of the country and includes vast areas of forests, green meadows, and mountains.
Take a day trip from Borjomi to the Vardzia Caves, one of the oldest cave cities in the world. The complex includes about 500 caves, including churches and monasteries carved into mountain walls. If you love history, book a guided tour to discover the city's fascinating background. Nearby attractions like the Khertvisi Castle and Sabara Monastery offer even greater insight into Georgia's ancient history and cultural heritage.
Hidden Gems in Georgia
If you're looking to explore lesser-known destinations, here are five places to add to your Georgia itinerary.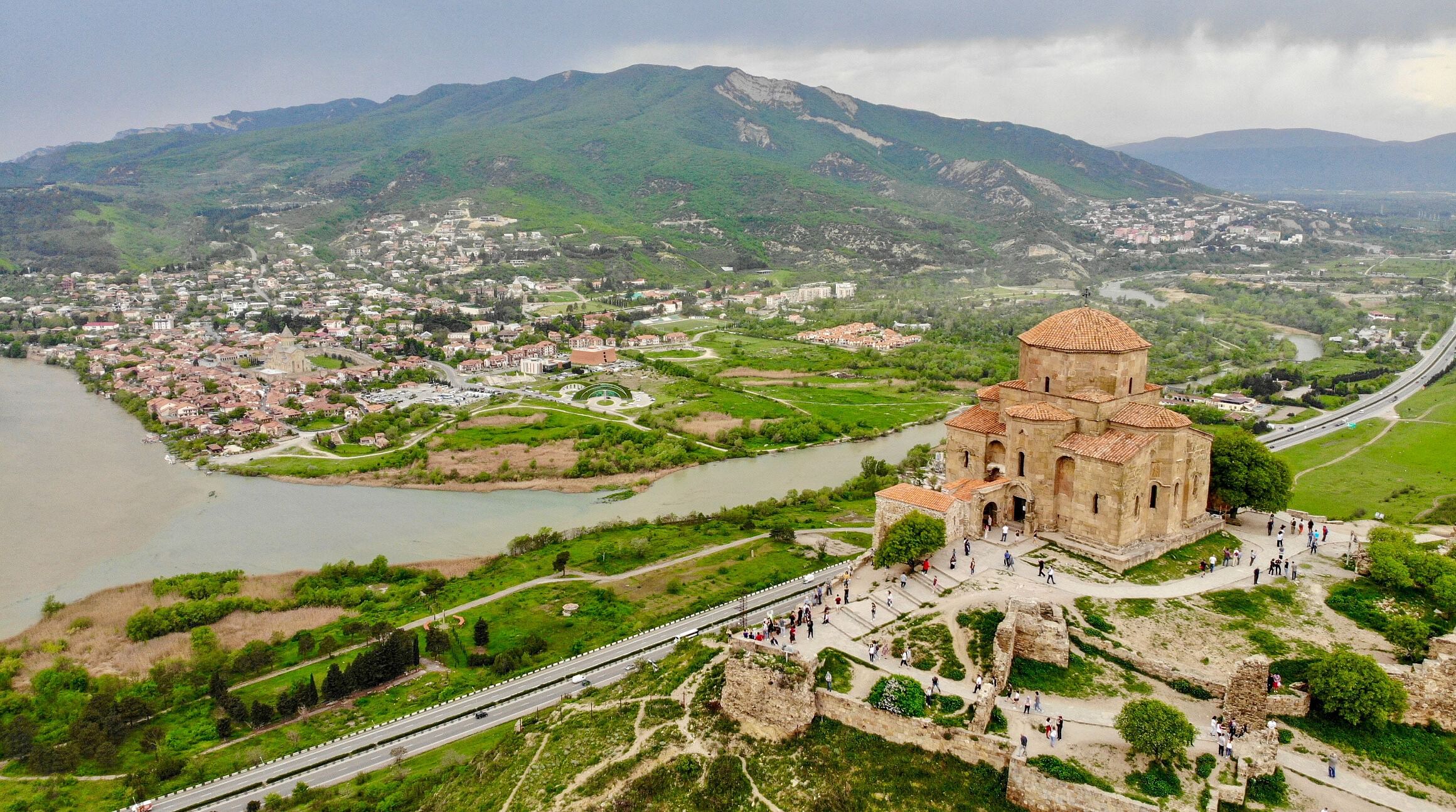 Mtskheta
Located a short drive from Tbilisi, this small town is one of the oldest continuously inhabited settlements in the world. It's home to three UNESCO Heritage Sites: the Jvari Monastery, Samtavro Monastery, and Svetitskhoveli Cathedral. Get lost in Mtskheta's ancient streets, visit the local markets, and enjoy traditional Georgian fare like lobio, a black bean stew served in clay jars.
Ushguli
Located in the Svaneti mountain range in northwestern Georgia, Ushgoli is one of Europe's highest inhabited settlements. The village is known for its natural beauty, mountain scenery, and traditional stone and wood architecture. Visitors can go hiking and skiing in the winter and explore the many churches and historical sites surrounding the village.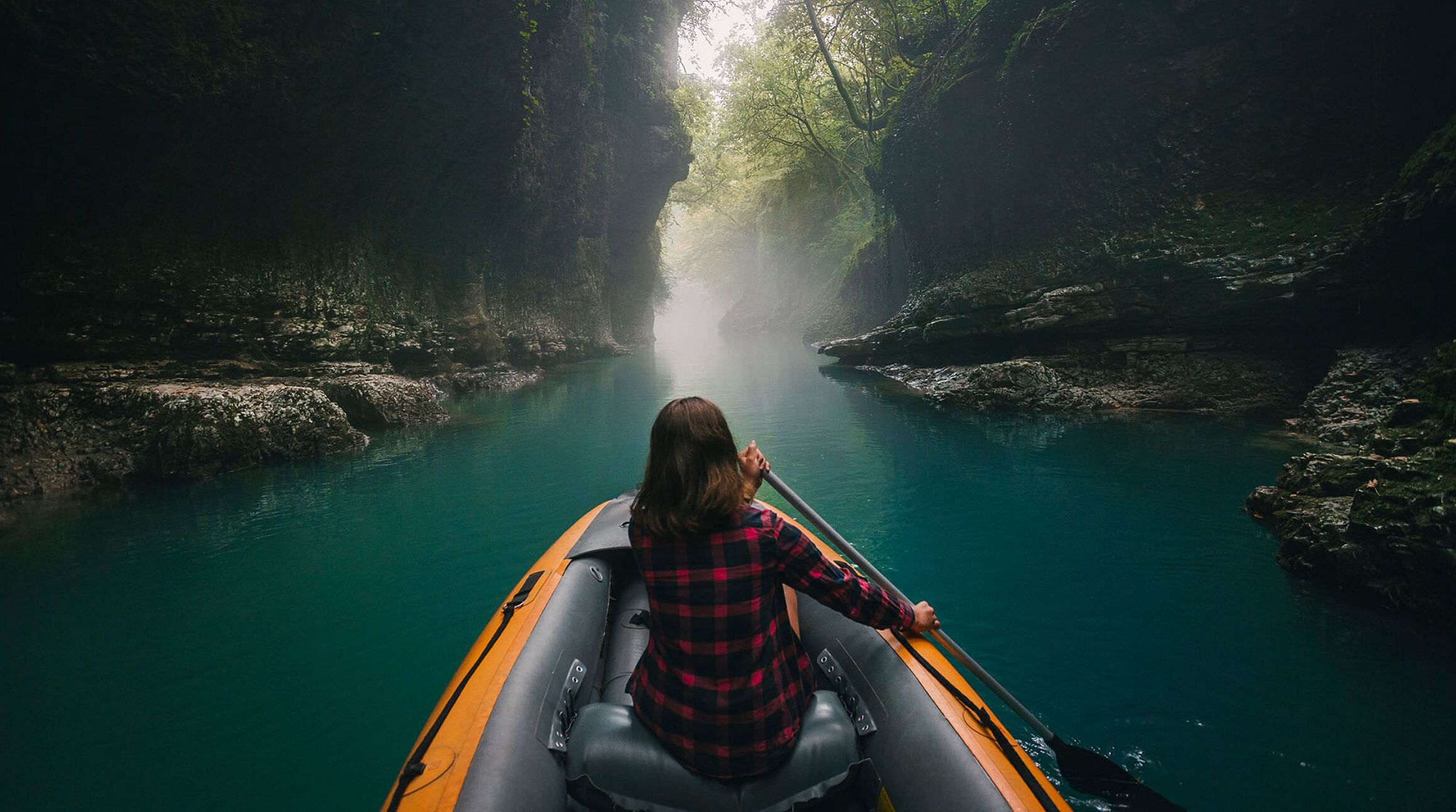 Source: National Parks of Georgia
Martvili Canyon
Located in western Georgia, this gorgeous natural wonder features clear blue-green waters flowing through a series of canyons and waterfalls. You can take a boat tour, walk through the surrounding forests, or simply relax and enjoy the beautiful scenery.
Shatili
Shatili is located in the mountainous Khevsureti region of northern Georgia. It's known for the ancient stone houses that hang over the mountain's edge and offer stunning views of the surrounding landscape. Explore narrow mountain passes and visit incredible historical sites like the ancient Kislow Castle and rock-cut churches.
Zugdidi
This city in western Georgia is only 30 kilometers from the Black Sea. It's surrounded by dense forests and fertile farmland and features beautiful historic buildings like Dadiani Palace and Bagrati Church. It's an ideal base for visiting coastal towns and resorts along the Black Sea.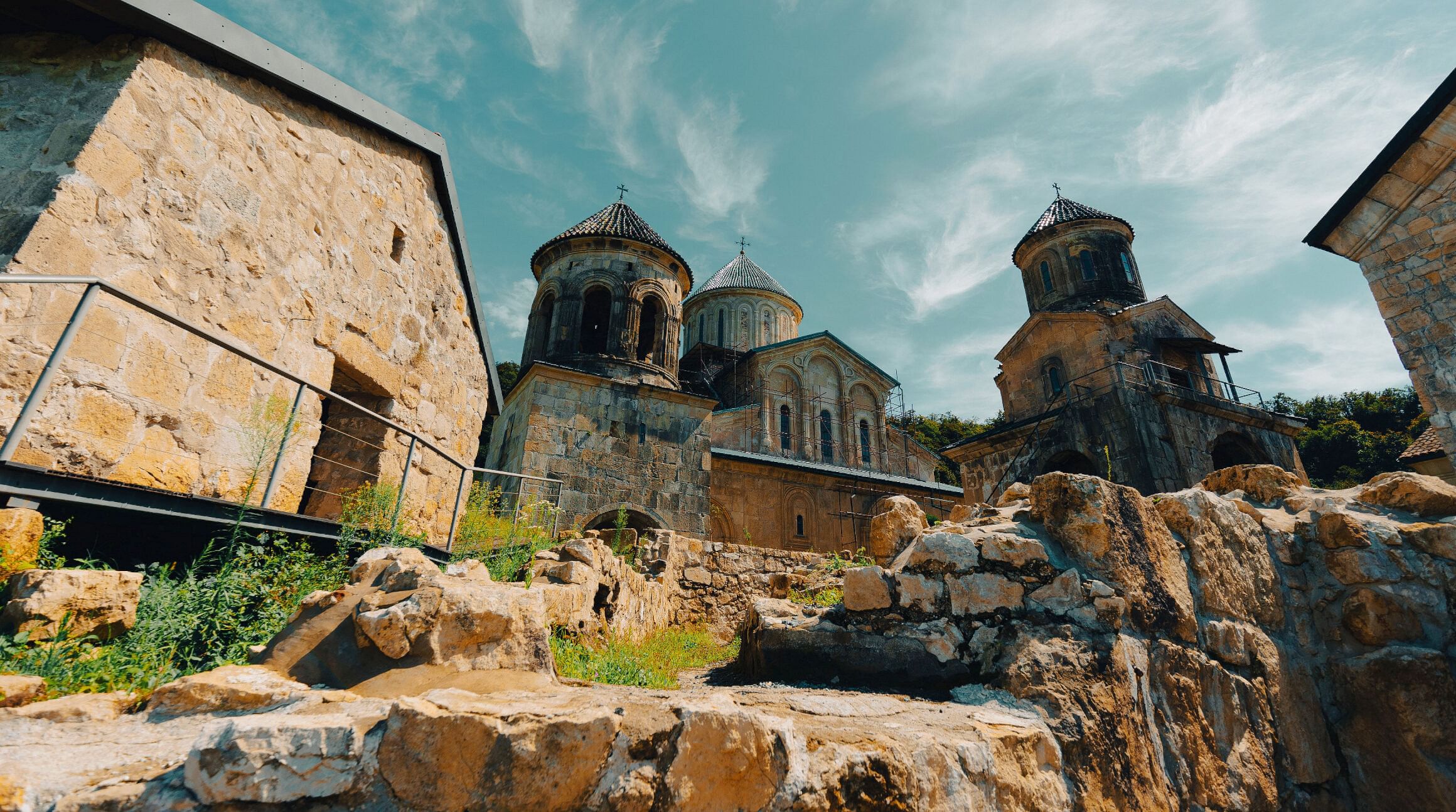 Bucket List Experiences
If you are planning a trip to Georgia, here are some must-try experiences:
Attend a traditional Georgian banquet (sopra) where you can taste delicious local dishes.
Hike the picturesque mountains to Gergeti Trinity Church.
Soak in Borjomi's natural hot springs.
Tour Tbilisi's Old Town, with its colorful sulfur baths and the famous Narikala Fortress.
Ride the cable car that connects Narikala Fortress and Rike Park.
Visit the ancient cave city of Uplistsikhe.
Attend a performance of Georgian polyphonic singing, a unique and hauntingly beautiful musical style.
Add a padlock to the Al Habayeb Bridge in Tbilisi.
Georgia Travel Tips
Before boarding a flight to Georgia, it's a good idea to familiarize yourself with the local language, currency, and transportation options. Here are some tips to help you plan your trip.
Language
The official language of Georgia is Georgian. Though younger generations and tourism professionals speak some English, learning a few basic Georgian phrases is helpful. Here are some to get you started!
Yes: Ki
No: Ara
Hello: Gamarjoba
Goodbye: Nakhvamdis
Please: Tqven minda
Thank you: Madloba
Excuse me: Uk'atsravad
Sorry: Bodishi
How much is this?: Ra ghirs?
Where is...: Sad aris...
I don't understand: Ver gavige
Currency
The official currency of Georgia is the Georgian lari (GEL). ATMs are easy to find in most cities and towns, and credit cards are widely accepted. However, carrying a bit of cash is a good idea as some small businesses may be cash-only.
Plugs and Adaptors
Like most of Europe, Georgia uses type C and F plugs (with two round pins). If you're traveling from outside of Europe, it's best to bring a universal adaptor so you can plug in your devices.
Georgia also operates on a 220V supply voltage and 50Hz. If the standard voltage for your country is different, you'll need to bring a voltage converter as well.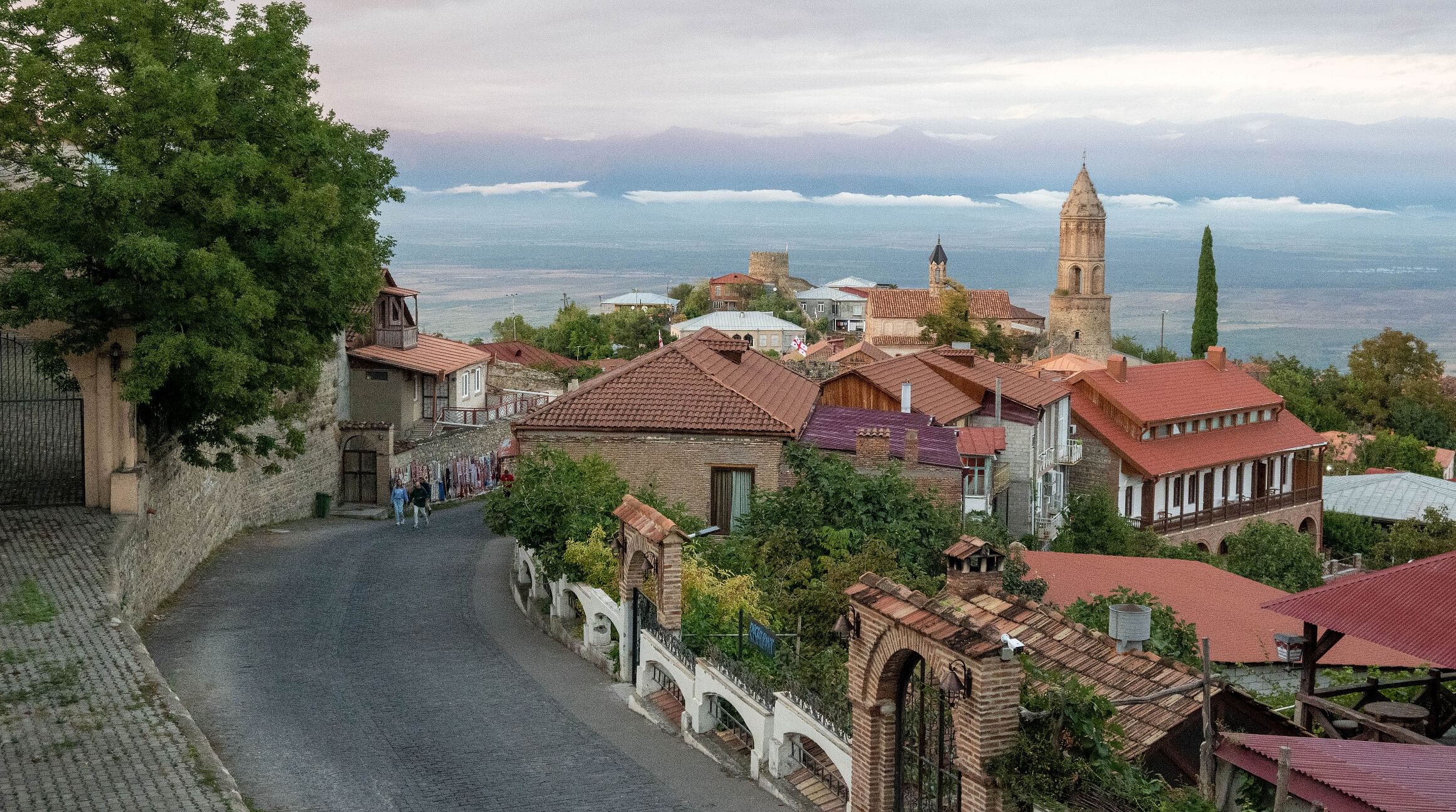 Getting Around
There are several ways to get around Georgia. Here are the most popular.
Taking a Train in Georgia
Trains are one of the easiest ways to travel in Georgia. There are fast and reliable services between major cities and tourist areas, and you can purchase tickets online.
Taking the Metro in Tbilisi
Tbilisi is one of the only cities in Georgia with a metro system, and it's an efficient way to get around the city. You can check public transit routes and schedules via Google Maps.
Taking a Taxi in Georgia
Taxis are widely available across Georgia but can be expensive. A more budget-friendly option is downloading a ride-sharing app. If you're in a remote area where the app doesn't work, your hotel can help you book a car and negotiate a fair price.
Traveling Between Cities
Marshrutka (minibusses) are popular for intercity travel. But if it's within your budget, we recommend using a private driver for your entire journey, especially for long mountain trips.
Georgia eSIM: Stay Connected with Airalo
Stay connected during your trip to Georgia with an eSIM from Airalo. An eSIM is a tiny SIM that's embedded in your device and works 100% digitally. You can download an eSIM plan for your destination and instantly connect to a mobile network. There's no need to find a SIM card vendor, manage multiple SIMs, or worry about roaming fees.
Here are just some of the benefits of using an Airalo eSIM:
Connect to a mobile network within minutes.
Choose from flexible local, regional, and global data plans.
Say goodbye to expensive roaming charges.
Store multiple eSIM data plans on your device.
Need more data? Top up in the Airalo app.
Are you planning a trip to Georgia? Download a Georgia eSIM to stay connected during your travels!