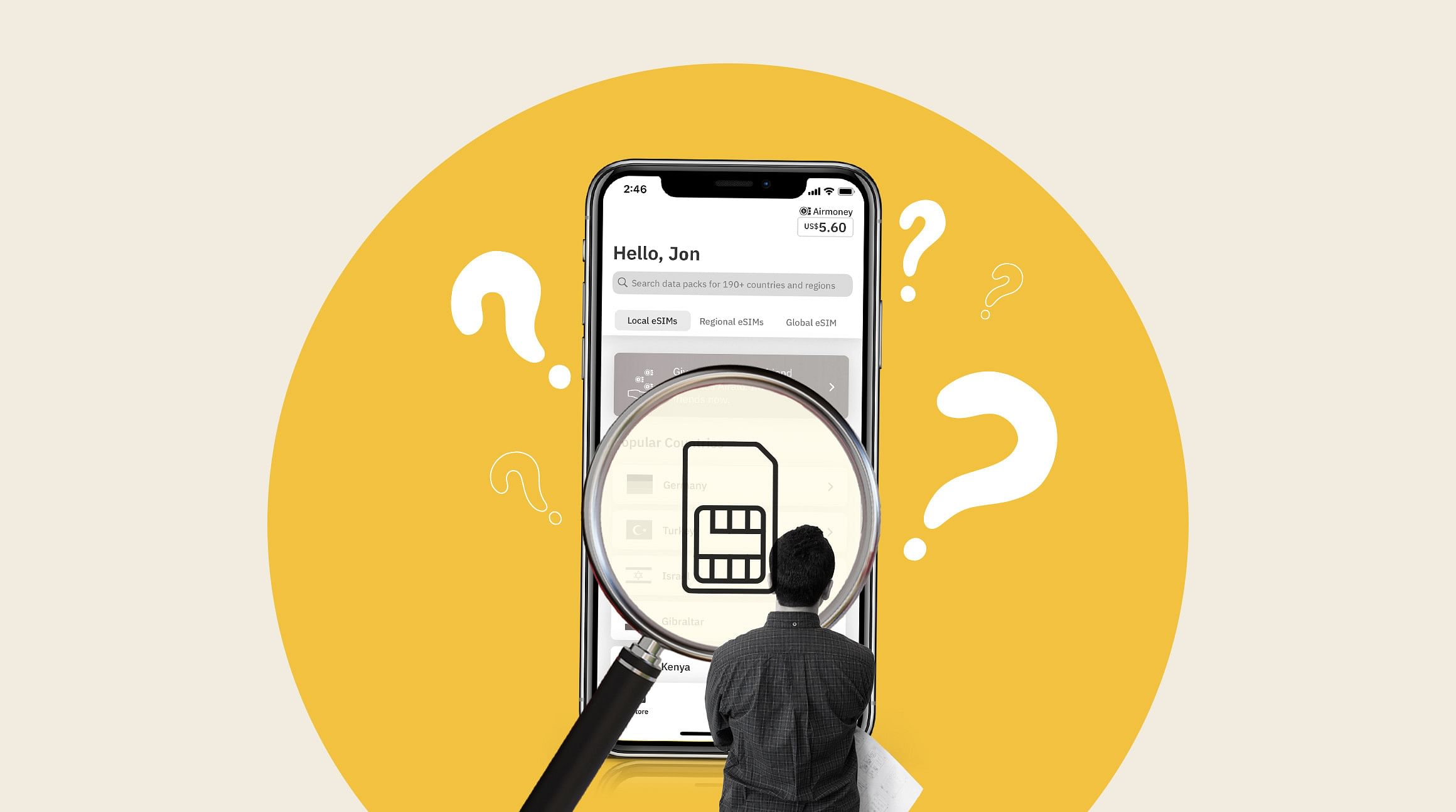 Staying connected while abroad has been a long-standing challenge for travelers. From the challenges of purchasing a local SIM card to domestic carriers happy to charge an arm and a leg for international service, no good solution seemed in sight.
Except there's one. In fact, eSIMs have been around for a few years, but they're just now getting the attention they deserve.
Have you ever wondered just how does an eSIM work? Good news!
Here's everything you need to know about this wonderful technology that simplifies travel and keeps you connected on the go.
What is an eSIM, and Why Does It Matter?
All phones require a SIM card to access mobile data and cell service. In most cases, users must physically insert this delicate piece of hardware into a tray and insert it into their phone. (If you're using an old phone, you may still have to open up the back and slide it into the socket.)
You know the drill. It can get super tedious when you're constantly switching a SIM from phone to phone … or switching from SIM card to SIM card.
In contrast, an eSIM is an embedded SIM card – a tiny chip that's fused directly onto a phone's circuit board. Many newer phones have them along with the traditional SIM tray.
The eSIM has a few advantages over traditional SIM cards. For example:
You can store multiple eSIM data plans: You're not limited to just one plan as with a physical card.
They allow for more powerful phones: An eSIM takes up way less space than a SIM card with its slide-out tray. One of the reasons they've become popular is the opportunity they give manufacturers to increase the size of other components … like the battery.
No more fiddling with hardware components: Thankfully, newer phones no longer require you to pry open the backs, exposing components to the elements. Even better, an eSIM gets rid of the struggle of finding a paperclip that fits into the tray's hole to get it open.
 
How Does an eSIM Work?
If an eSIM is basically a physical SIM card gone digital, then does the eSIM work the same?
We get that question a lot. And the short answer is: Yes.
All eSIM-compatible phones have an option in Settings to add a cellular plan. (Here are the specific instructions for iPhones.) When you purchase a data plan from the Airalo marketplace, you'll be able to install the eSIM directly from the app, through a QR-Code, or by manually inputting your eSIM info. It takes just a few moments and gives you a plan with a certain amount of mobile data for a given time (depending on your package).
You should know:
The data plan is completely separate from your regular carrier: There are no exorbitant international data charges, and you can even keep using your phone number.
The eSIM connects to local networks: eSIMs from Airalo work in 200+ countries, making fast data more accessible than ever.
Airalo is contractless, and you can renew your eSIM data plan at any time: It takes less than five minutes to top up a plan or switch out a plan for another one.
Is Dual SIM the Same as eSIM?
Not necessarily.
Dual SIM simply means that a phone can support multiple SIM cards. However, that doesn't mean the secondary SIM card is an eSIM. Many phones support dual SIM but not an eSIM. They have two physical SIM card slots – you'll be able to spot these in the tray easily.
Other Dual SIM phones support a SIM and an eSIM or even two eSIMs at once.
What Phones Can Use an eSIM?
This list is constantly updating, but you can always consult our list of compatible eSIM devices.
(Here's our take on the 12 best phones that can use eSIM.)
Where Can (and Can't) an eSIM Be Used?
Currently, you can get eSIM plans for over 200+ countries and regions from the Airalo store. eSIMs are generally supported by major network carriers in most European countries, as well as commercial centers such as Canada, Hong Kong, India, Qatar, Singapore, Taiwan, and the US.
There's a good chance that an eSIM data plan will be available wherever you're going.
You can also use an eSIM from your existing operator. In most cases, it would be similar to ordering a replacement for your physical SIM card. You'd need to contact your carrier or, in some cases, go to a physical store, so this would definitely take some time.
Adventure Has No Borders – Neither Does Mobile Data with Airalo
There you have it: Exactly how an eSIM works. Just remember that they're essentially physical SIM cards gone digital. As a chip soldered to your phone's circuit, you'll never lose it. Plus, you'll be able to store more than one. That means you get to enjoy access to local data plans (nearly) wherever you go.
It's a win-win solution for all and is rapidly becoming a mainstream staple for frequent travelers. Explore Airalo's eSIM plans here.