A lot of you have heard of eSIM carriers by now. If you travel often, you likely want to unlock it as soon as possible to get a full signal in the remote areas you visit.
However, most major carriers have yet to fix issues with how their eSIM data plan reacts with certain phones. I know a lot of you own a dual-SIM enabled phone, namely the newer iPhone 11, iPhone XS and XR models. If you have eSIM unlocked with other carriers, you've probably experienced a range of connection problems when traveling abroad.
Even Verizon has resorted to bumping the secondary connection on your dual-SIM phone down to 2G and have warned that activating it can result in several performance issues. Basically, if you travel anywhere outside their local data zone, you don't get the connection quality that was promised by your carrier.
So, how can you achieve eSIM activation and not spend a fortune on an unreliable connection? See how Airalo has you covered literally anywhere you want to go, and how you can effortlessly unleash eSIM technology from any of the latest smartphones.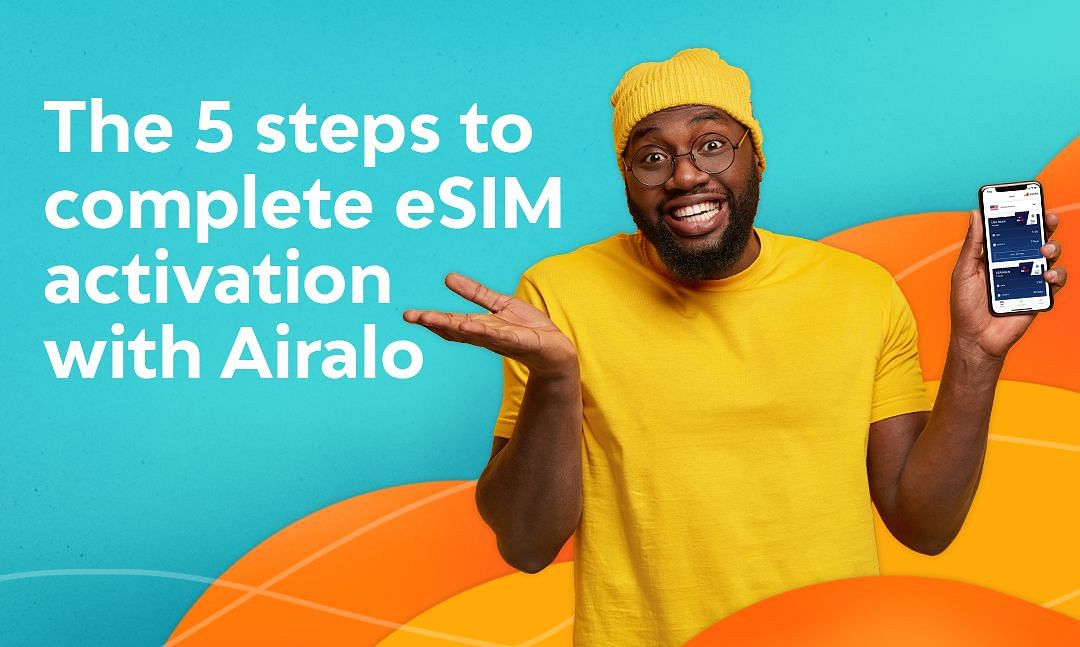 The 5 steps to complete eSIM activation on any phone with Airalo
Ready to go anywhere you want without the signal dropping on your smartphone? Unlock eSIM and use it how it was meant to be experienced. Here's how you can effortlessly activate eSIM on any phone with an Airalo prepaid data plan.
Note: For a complete look at the steps to activate you eSIM, see our newly updated eSIM installation guide.
1. Select a prepaid plan per region or a specific country
Wouldn't it be nice to choose which specific area you want to use eSIM?
Travelers like to roam around to different locations, so it's not convenient when your eSIM carrier restricts which places you can go to. You pay a gigantic fee for a limited connection area – even if you only want to stay a few days – and most travelers are tired of it. With Airalo eSIM, you can effortlessly select a region, get a reliable connection, and pay a fair rate.
Local Country eSIMs
Regional eSIMs
Whether you want to travel to a different country for a while, or just need a limitless connection in a specific area, our data plans offer a solution for anyone.
2. Purchase an eSIM plan
Who doesn't love paying a fair rate on their data plan?
I'm sure that if you travel frequently, you don't want to overpay during your stay. That's why Airalo offers so many ways to connect. You get to choose a plan and rate that's based on how long you decide to stay in a specific location.
Here are some of Airalo's local prepaid rates (rates vary per country):
United States
1GB data – valid 7 days - $3
3GB data – valid 30 days - $11
5GB data – valid 30 days - $16
10GB data – valid 30 days - $26
And Airalo's regional prepaid rates:
Europe:
1GB data – valid 7 days - $5
5GB data – valid 30 days - $20
10GB data – valid 30 days - $37
Asia:
Unlimited data – valid 8 days - $18
Africa:
15 countries - 1GB – valid 30 days - $27
9 countries - 3GB – valid 30 days - $27
Caribbean Islands:
1GB – valid 30 days - $25
World:
20GB – valid 90 days - $40
After you purchase your plan, you'll receive detailed information on how to activate your eSIM with Airalo. Keep in mind that your data plan starts as soon as you activate it and ends on the exact date that's specified on your plan. If you want an extension, you can purchase an additional plan once it expires.
3. Choose which way you'd like to activate
Connecting has never been this easy.
One of the perks of choosing Airalo is that you get to select an eSIM activation method that is most convenient to you. No need to wait for hours for a representative to activate the plan, you get to choose precisely when and how you activate.
There are two easy methods to activate eSIM:
Scan a QR Code
Enter eSIM data plan information into the phone manually
If you're in the middle of transit or packing luggage, you might not have time to mess with the technical settings on your phone. That's why Airalo offers a quick QR code option, which can be scanned directly by modern smartphone cameras. Otherwise, you can enter the data plan information directly into your phone.
4. Activate eSIM with QR code
Don't have time to enter details on your phone?
I know a lot of you may not enjoy diving into the settings of your phone, and you may not have time to if you have a flight to board. You can use the QR scanner on your phone to instantly complete eSIM activation.
You can activate eSIM on the following types of phones with QR codes:
Apple iPhone 11, 11 Pro, 11 Pro Max, XS, XS Max, XR
Google Pixel 3, 3XL, 3A, 3A XL, 4, 4XL
Samsung Galaxy Fold
Motorola Razr 2019
Nuu Mobile X5
Check the full list of eSIM capable phones here.
To activate eSIM with a QR code:
Select the "Settings" app or button on the home screen of your phone.
Tap "Cellular" or "Mobile" in the settings and select "Add a Cellular/Mobile Plan."
Scan the eSIM QR code and enter the 4-digit confirmation code (if applicable.)
After completing the activation, you may also edit the label of the data plan to make identification easier later on.
5. Activate eSIM manually
Have a break and want to enter your activation manually?
Perhaps you have some time to blow at a coffee shop, or the QR scanner isn't working as intended. The other option you have is to enter the eSIM data plan manually.
To activate eSIM directly from the settings:
Select "Settings" on your smartphone's home screen.
Tap on "Cellular or Mobile Data" and then select "Add Cellular Plan."
Tap on "Enter Details Manually," then enter your data plan information in the SM-DP lines and address.
Enter your activation code and confirmation code (if available.)
If you want, relabel the data plan to make it easier to identify.
You can switch between your SIM and eSIM data lines by going back to "Settings" > "Cellular or Mobile Data" > Select your data line > "Turn On This Line."
Benefits of an Airalo eSIM prepaid data plan
I'm sure that the vast majority of you love to find easy ways to save money while traveling, and your mobile phone plan is no exception. How does it sound to use your phone data without paying for what you don't need?
If any of these perks seem useful to you, you'll love using eSIM with Airalo.
Performance consistency: Having your phone bug out in the middle of a critical vacation moment is no fun. Airalo offers you the chance to use eSIM without sacrificing phone performance.
Go anywhere: Whether you decide to traverse a scenic mountainside or watch the waves on a remote beach, you can get complete connectivity with an eSIM data plan.
Flexible data plans: Don't want to pay for data you won't use on your trip? Select a plan that offers just the right amount of data.
Price-sensitive plans: If you're traveling for only a few days, why purchase an expensive data plan that lasts forever? Now you can pay a sensible price for the connectivity you need.
Text, call, or browse: Need to update your Instagram or find a place to stay? Use your phone to keep connected in multiple ways.
Activate eSIM with Airalo, and you'll never experience travel as great as you would with other eSIM carriers.
Experience unlimited eSIM connectivity with Airalo
Your phone is eSIM-compatible, but what's taking carriers so long to offer a dependable data plan?
If our phones have this incredible technology built-in to connect anywhere on the globe, then there's no reason why eSIM carriers can't offer better reception. eSIM is fully capable of keeping people connected in the most desolate reaches of the world. Still, most carriers haven't been able to unleash its full functionality.
With an Airalo eSIM plan, you don't have to waste time searching for viable locations to connect or wait for carriers to catch up with the current technological developments. You get to experience complete global connectivity, the way eSIM was meant to be without paying more for your data plan.
Airalo understands your needs as a traveler to stay connected, no matter where you go. Select an eSIM plan that offers the right amount of data at a sensible price. Browse Airalo's plans today to unlock unlimited eSIM potential and experience complete connectivity freedom.