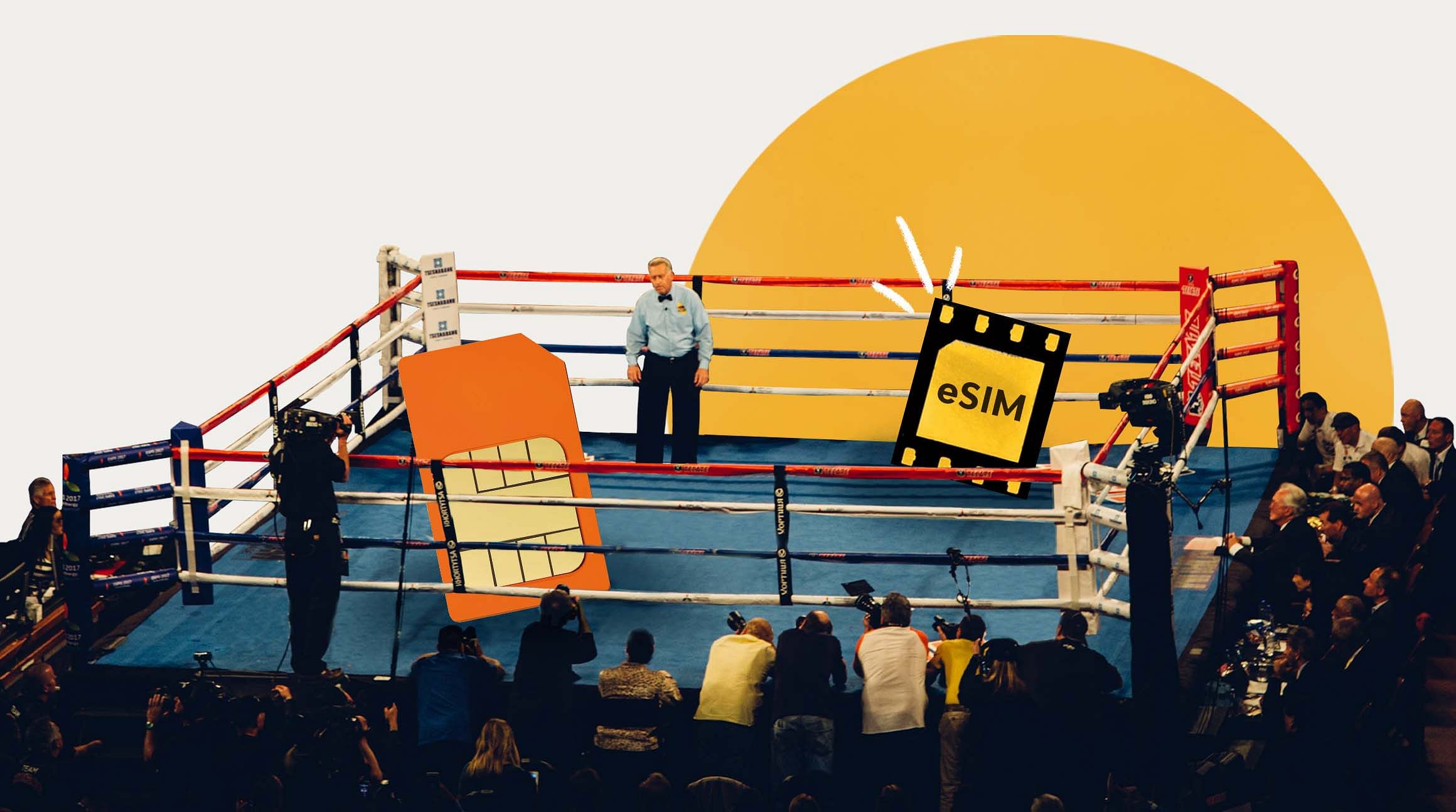 SIM vs eSIM: Which is better?
We know that you've been searching for ways to get better connectivity on the go, and if you travel often, then chances are that you change your providers a lot. Who wouldn't want to find an alternative to purchasing an inefficient track phone plan or finding a Wi-Fi hotspot each time to get an internet connection?
We are always trying to weigh the difference between new technology to find out whether they're worth investing in, and that's likely why you're here. You've heard of eSIM and how it's improving the signal quality for people around the world, so should you purchase a phone with compatibility for eSIM?
Before you decide to go out and buy an expensive new smartphone, we'll discuss the pros and cons of both SIM and eSIM cards.
Which is better for you? – SIM vs. eSIM
Many travelers struggle to find a reliable mobile provider while they're abroad, and even if they find one, they might not need the service for longer than a month.
Some mobile service providers don't yet offer a consistent connection for eSIM-compatible phones, and they're often riddled with performance issues. Likewise, the data amount and expiration date of their prepaid plans don't seem to coincide with the requirements of a traveler.
That's why it's not only a good idea but a necessity to know which is better (SIM vs. eSIM) before you go out and buy an expensive phone.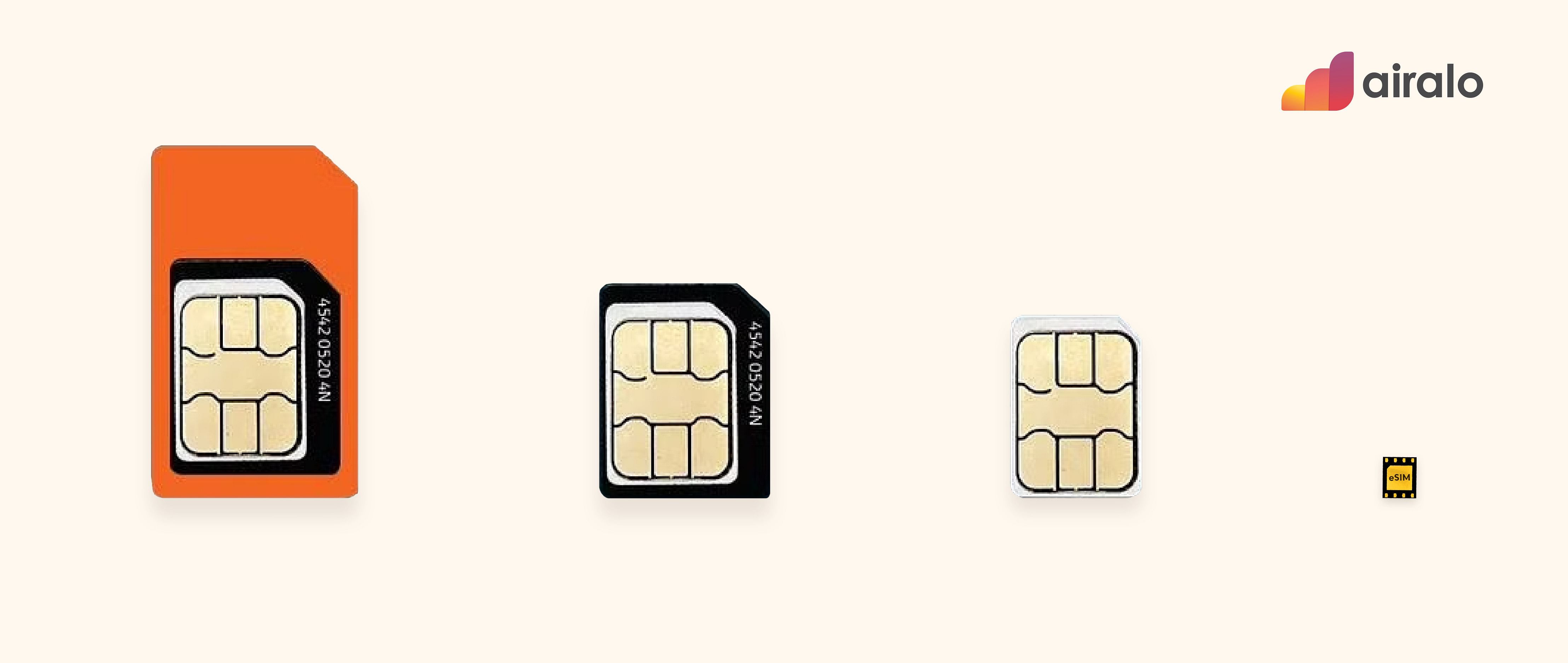 Evolution from SIM to eSIM
The similarities between SIM and eSIM
There's a stigma surrounding SIM vs. eSIM that they're entirely different technologies altogether, and they can't be compared accurately. However, most people would be surprised to know that they have quite a few similarities, such as:
They both connect your phone to your mobile provider's network
They both may be used in many different devices (not just phones)
They both identify your phone and the type of plan is used
They both can be used simultaneously in a dual-SIM phone
They're both technically "SIMs"
Yes, that's right, both are SIMs. However, a SIM card is a chip that is physically installed or removed inside your phone with your carrier's plan. An eSIM (embedded sim) is built-in to your phone and downloads your carrier's plan indirectly.
The pros of SIM cards
Though more travelers may be swayed to use eSIM, there are still some advantages to choosing SIM carriers while visiting a different country.
Here are the positive aspects of SIM cards:
SIM is not a new mobile technology: Major mobile data carriers use SIM for the majority of their data plans. Therefore, SIM technology is revised for better service in local areas.
SIM is removable: Has your phone battery died? No problem, you can swap a SIM card into another unlocked phone with a working battery.
SIM is upgradable: If the manufacturing of the chip for your SIM is outdated or if you want to upgrade your plan, SIM can be brought into your mobile provider for a replacement.SIM in prepaid form is easy to access: Many travelers can easily find a prepaid SIM plan at a local market or convenience store when they're abroad.
The cons of SIM cards
Even though SIM is not new and mobile providers have strived to improve their connection quality, there are still a few drawbacks.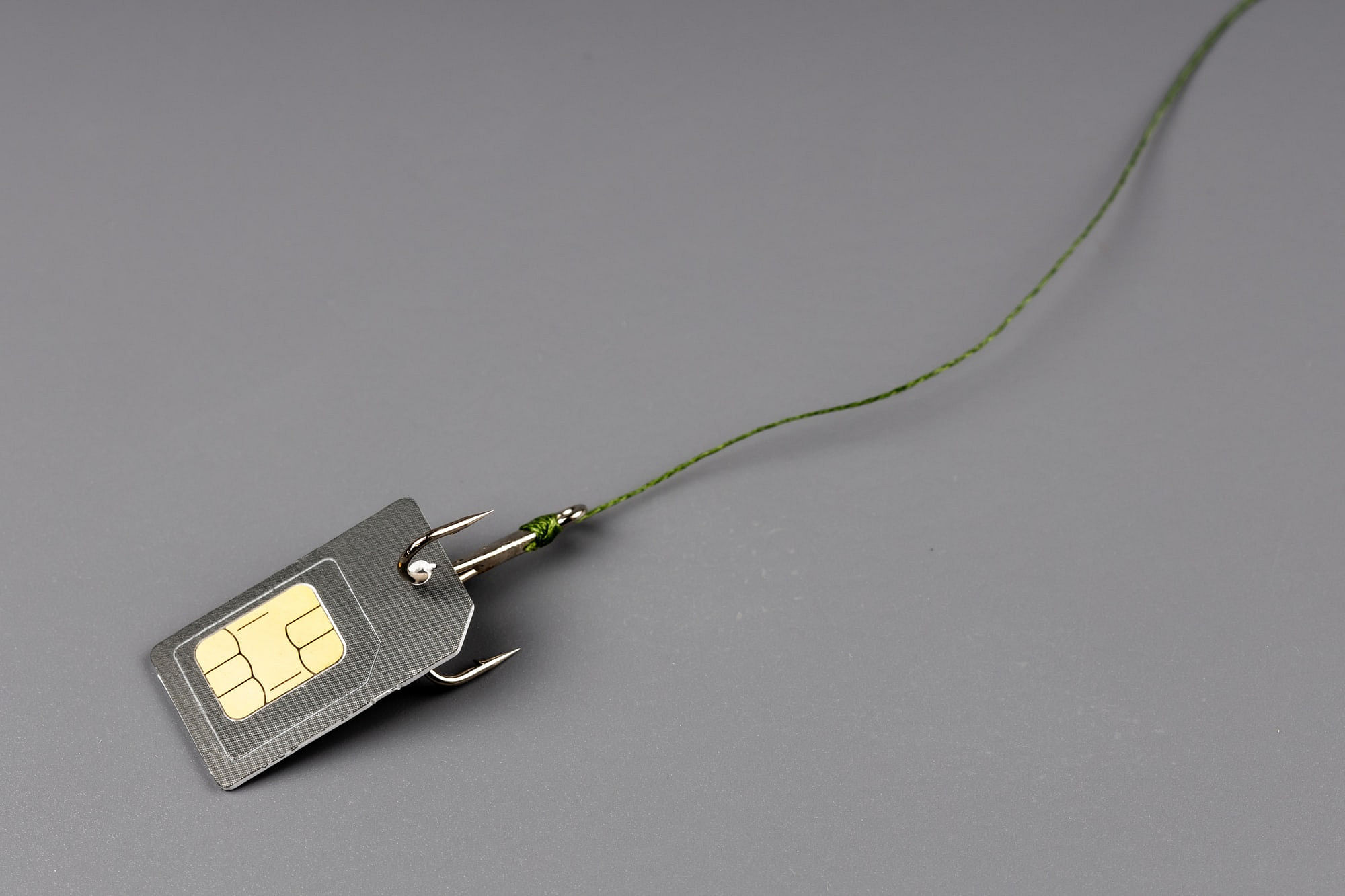 SIM Cards Cons and Problems
Here are the negative aspects of SIM cards:
eSIM can't be physically damaged or lost: Since it's embedded inside phones, you run a lower chance of damaging cards and weakening your signal quality at the least convenient times.
SIMs are limited while eSIMs are not: Phones with dual-SIM technology allow you to switch lines whenever you like. Some phones go beyond the dual-SIM functionality and allow you to download and store as many eSIM options as you like. This is a major benefit to not being restricted by physical cards.
eSIM is small: Since an eSIM is small, it can be fit within new wearable technology such as Apple watches or devices, which may become smaller in size over time.
eSIM can store multiple cellular profiles: There's no limit to storing single cell phone plan information; therefore, it can be used almost anywhere in the world.
SIMs are easier to hack: Hackers must pivot through a billing-process security feature and the cloud to intrude into your phone details while roaming with an eSIM. SIMs can be hacked if captured physically.
SIMs can be harder to locate: Network providers can control eSIMs over the air, which makes your location easier to find in case your phone becomes lost or stolen.
The Pros of eSIMs
Here are some of the notable advantages of an eSIM.
eSIMs are convenient: You can download them ANYWHERE you have a network connection.
eSIMs are market competitive: They are priced the same as any traditional SIM card.
eSIMs are easy to install and operate: It takes just a couple of minutes to download and install, and you're good to go.
The cons of eSIMs
Although eSIM may seem flawless at a glance, there are still a few disadvantages to using eSIM.
Here are the negative aspects of eSIM cards:
eSIM isn't available for older phones: Since it's relatively new, eSIM is not compatible with older phone models, and you may have to pay for an expensive new phone.
eSIM is harder to transfer data: Instead of popping the card out of a damaged phone, you have to download your data from the cloud to get your contacts, message, and other media back.
Determining if you need a new smartphone to support eSIM
Why should you buy a new phone for eSIM?
If you're a traveler who enjoys taking vacations to remote locations or different countries, you've likely spent years trying to find a provider that offers reliable coverage. What exactly can you expect to change with eSIM?
Visit over 190+ countries: Wouldn't it be nice to visit any location without wondering whether you'll be able to have access to coverage in any country? If you choose Airalo, you can get an eSIM data plan that works in a vast expanse of locations.
Flexible data plans: Don't want to pay for data you can't possibly use up before your trip ends? eSIM prepaid plans are flexible and offer an affordable amount of data for any vacation.
Spend less on coverage: Based on how much you usually spend to get limited and inconsistent coverage; you save a considerable sum of money when switching to an eSIM plan.
Connection consistency: Want to take your phone anywhere without a nearby Wi-Fi hotspot? Airalo partners with local telcos around the world to bring you the best coverage at local-based rates.
Text, call or browse: You can still use your main SIM line to make personal calls, while you can switch to an eSIM to browse the web.
Which devices support eSIM?
If you're looking to see if your device supports eSIM, please consult our compatible list.
SIM vs. eSIM – Which will you choose for your next trip abroad?
Don't want to purchase a new phone to use an eSIM?
Here's something you should consider if you're having doubts. Cell phone technology is expanding out of our capacity to build cell phone towers and meet the rising demand for global connectivity. Mobile phone customers are tired of paying for data that they can't get in remote locations or outside their coverage areas. Worse still, people pay for expensive roaming abroad to get connected.
Now imagine that you're abroad, sifting through a sea of overcrowded hotspots or Wi-Fi locations to get your connectivity? What if you could carry your mobile phone with you anywhere in the world without switching your provider? eSIM aims to revolutionize the way we connect on a global level.
Sure, you could rent a pocket Wi-Fi device or buy a temporary SIM from a local market to avoid roaming fees, but that also takes up a lot of valuable time and resources to do. Why continue to inconvenience yourself when you can get complete global coverage with only your phone?
Airalo understands that you want to strongly consider the benefits of mobile technology before you spend hundreds of dollars on a new phone. Visit Airalo today to learn more about compatible eSIM phones and available data plans for your global connectivity needs.