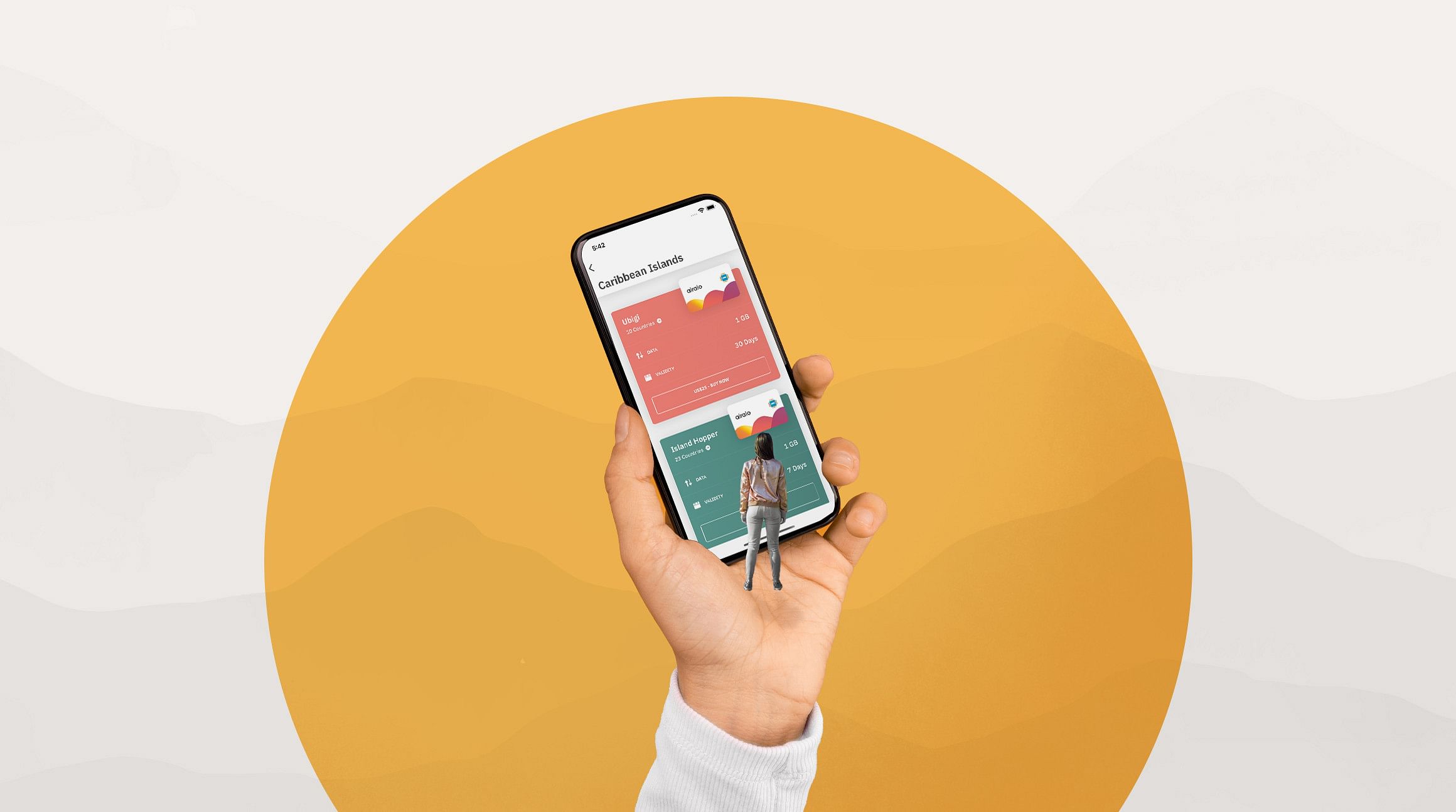 You've done your research and are ready to make the switch to eSIM technology. Great choice! eSIMs offer a convenient and affordable way to stay connected while you travel. If you aren't sure where to begin, you've come to the right place. We've compiled everything you need to know to get started.
In this guide you'll learn:
Where to Get an eSIM
Most carriers have had eSIM data plans available for a while now, but there hasn't been a significant improvement in how well they keep their customers connected. Even reputable companies like Verizon have cited performance and compatibility issues with their dual-SIM phones.
With Airalo, getting connected is as simple as purchasing, downloading, and activating a prepaid eSIM plan. We partner with local telecom providers around the world to make sure you get the best service and most affordable prices. That means no more dropped calls, weak signals, or outrageous roaming charges.
We offer prepaid data plans for hundreds of countries and regions around the world. To get an Airalo eSIM:
Visit the Airalo website or download our app (available on the App Store and Google Play Store)
Select the country or region you'll be visiting
Pick a plan with the right data limit and validity period for your travels
How to Install an eSIM
Now you're ready to install your eSIM. Phones that support eSIM have built-in technology that makes it easy to install and activate an eSIM data plan. There's no need to add or switch physical SIM cards to get started — you just need a phone that is unlocked and eSIM-capable.
Once you've purchased your Airalo eSIM, we'll send you an email with the steps to install it on your device. We've also revamped our eSIM installation guide to give you an additional resource.
There are three ways to install an Airalo eSIM on your device:
Direct Installation
Open the Airalo app and navigate to "My eSIMs"
Select "Details"
Select "Install eSIM/Access Data"
Select "Install eSIM" at the bottom of your screen to start the installation
Scan QR Code
Navigate to "Settings" on your home screen
Select "Cellular/Mobile"
Select "Add a Cellular/Mobile Plan"
Scan the eSIM QR code that was provided to you
Enter a 4-digit confirmation code (if applicable)
Manual Installation
Navigate to "Settings" on your home screen
Select "Cellular/Mobile"
Select "Add a Cellular/Mobile Plan"
Select "Enter Details Manually"
Enter the SM-DP, address, and activation code (you can find these in your purchase confirmation details)
Enter a 4-digit confirmation code (if applicable)
How to Connect to the Internet
Depending on the Airalo eSIM you choose, your eSIM will activate immediately upon installation or as soon as you connect to a new network at your destination. Not sure which one applies to you? Your activation policy will tell you.
Once you land, go to your device settings and select your eSIM for cellular data. Be sure to turn off "Allow Cellular Data Switching" to avoid charges on your home line. And, voilà — you'll be able to connect to the internet!
Troubleshooting Your Internet Connection
If you're having trouble connecting or getting a signal, you might need to adjust a few settings on your phone:
Go to your device settings and make sure your roaming switch is turned on. If it's switched off, your phone won't switch to your eSIM while you're traveling. To connect, switch it on.
Check your installation instructions to see if your eSIM requires an APN. If it does, follow the instructions to update your APN settings.
Make sure you have enough signal bars for 3G or 4G/LTE. If you're in a functional coverage area and have tried all other fixes, you may need to restart your phone (turn it off, wait 30 seconds, and turn it back on) to connect.
How to Make a Call
Smartphones with Dual SIM technology allow you to use an eSIM and physical SIM card simultaneously. This makes it easy for you to use eSIM data to connect to the internet and your physical SIM to send or receive calls. 
Here's how to switch between two SIMs on an iPhone with iOS 12.1 or later:
You need an iPhone XS, iPhone XS Max, iPhone XR or later
Your phone must be unlocked or have plans from the same carrier 
Go to your mobile and cellular plan settings and choose the default line for calls and messages that aren't stored in your contacts
Whenever you want to switch between lines, go to "Cellular/Mobile Data" in your settings and select "Turn On This Line"
How to Deactivate or Remove an eSIM
You can store multiple eSIMs on your phone (even after their validity has expired), making it easy to switch between networks. However, if you would prefer to delete or temporarily disable an eSIM, you can do so in your device's settings. 
How to Delete an eSIM
To delete an eSIM:
Navigate to your device's settings
Select "Cellular/Mobile"
Select your eSIM line
Select "Remove Mobile Data Plan" (it may say "Remove eSIM" or "Delete Mobile Plan" depending on your device)
How to Disable an eSIM
To temporarily disable an eSIM:
Navigate to your device's settings
Select "Cellular/Mobile"
Select your eSIM line
You should see an option to turn the line on or off. Turn it off to temporarily disable it.
You can re-enable it at a later time
Looks like you're ready to begin your eSIM adventure! We're always here to help — visit our Help Center to find more tips and tricks for using your Airalo eSIM.