If you're trying to find ways to improve your mobile connection quality, but just don't know how to without constantly changing mobile carriers, then worry no more.
I know a lot of you love to save money on travel expenses, and it's no secret that mobile carriers charge you an arm and a leg for poor signal quality. One minute you're on a remote mountain-top snapping a selfie for your Instagram, and before you can blink, an outrageous data charge ends up on your bill.
I'm pretty sure that a vast majority of people can't wait to experience the power of complete connectivity freedom.
The votes are in – out of all ACSI (American Custom Satisfaction Index) industries combined, mobile service providers rated 75 out of 100 in satisfaction. That is a somewhat low rating, especially since over 5 billion people across the globe depend on mobile technology to connect.
So, what is an eSIM, and how is it breaking the limitations of signal quality around the world? Let's dive into the details of this remarkable cellphone technology.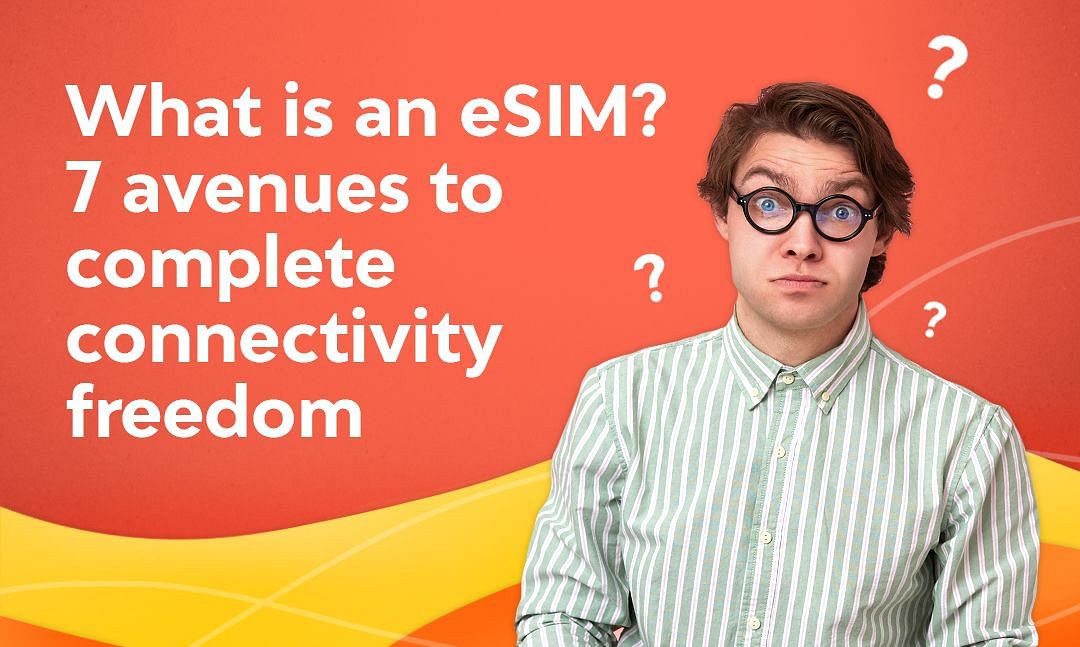 What is an eSIM? 7 avenues to complete connectivity freedom
Before discussing all the advantages of eSIM, I want to examine one of the existing components of wireless connectivity and weigh its performance.
All mobile carriers use a SIM card (subscriber identity module) to authenticate your identity on their network. Without a SIM, you can't use the signal from any of their cellphone towers.
However, several obstacles interfere with the connection between SIM cards and cellphone towers, and the problem is amplified if you're visiting remote locations or driving for miles.
SIM and eSIM cards function the same way when identifying you on a data carrier's network. Both allow you to send texts and calls on your phone. However, your data plan information is directly downloaded into an eSIM, unlike a SIM card that is physically installed with stored information. Many phones allow you to store several eSIMs, although, you can only use a single plan at a time. How does this affect the future of global connectivity? Here are several ways an eSIM data plan can completely change your lifestyle.
1.  Stay connected on the go
Want to quickly purchase and activate an eSIM data plan?
You don't have to purchase a SIM card locally each time you travel outside the country. Instead, you can quickly go to Airalo.com or open our app and buy a data plan. It's convenient to travelers since you can activate your eSIM no matter where you are.
●        Instantly load media and apps
●        Improved GPS-location detection
●        Effortless eSIM activation
Traveling alone is already risky; why make matters worse by bringing along a phone without a reliable signal? Now we can keep in touch with family or friends and update them on our whereabouts.
2. Connect in over 130+ countries
Want to stay connected in almost any location in the world?
eSIMs are available in over 130+ countries, and they can be bought directly from Airalo. That means you can keep in touch with family or friends no matter where you go in the world. We even have region-specific eSIMs which provide coverage for multiple countries in an area.
●        Experience complete connectivity in over 130+ countries
●        Get data coverage for several countries in a region
●        Stay connected in any location you visit
Most eSIM data plans don't offer you as many choices as to which locations you'd like to visit. With an eSIM data plan, you can take your adventures to almost any country in the world without becoming disconnected.
3. No need for pocket Wi-Fi devices
Why rent a pocket Wi-Fi device when an eSIM data plan is so much easier?
Pocket Wi-Fi devices need to be charged and carried around to each location you go to, and they don't always offer a reliable connection. With an eSIM data plan, you don't have to visit Wi-Fi hotspots each time you need to connect.
●        Get local-based rates
●        Effortless local network connection in any location
Airalo works with local telephone companies to offer travelers real, local rates. Since your eSIMs are based locally, connecting to open networks is fast and fuss-free.
4. No more expensive roaming charges
What's worse than having the time of your life, only to pay for it later in data overcharges?
Isn't it just lovely when you're in the middle of a phone call, and suddenly discover a roaming signal after hanging up? eSIM carriers don't hold you back with location-based data plans; they let you travel anywhere in the country without additional fees.
●        Unrestricted mobile coverage area
●        Make calls without interruption or delays
●        Avoid outrageous roaming charges
For many travelers, the freedom to move outside the boundaries of a mobile carrier plan is a complete necessity. Start using eSIMs to find your travel data freedom.
5. Keep your existing phone number
Tired of switching your phone number each time you move around the country?
If you're one to travel often, I'm sure you've grown used to the routine of passing out your phone number each time you leave an area. With an eSIM data plan, you can keep your phone number and continue to use two-factor authentication pins to check bank accounts while you're abroad.
●        Keep your contact number (dual-SIM compatible phone only)
●        Get quality signal anywhere in the world
●        Limitless data usage
Although you could buy more of those clunky and often outdated travel phones whenever you use up the data, you just don't get the same quality of service. Get all the features you want, wherever you want, by switching to eSIM carriers.
6. Get location-based rates
Want the same rates as you're charged at home?
If you're like me, you probably don't understand why mobile phone carriers charge the same ridiculous rates, even when the signal quality is horrible. Thankfully, eSIM carriers offer competitive prices based on the location you sign up, and you won't be hit with overwhelming roaming charges.
●        Pay the same as you would locally
●        Get better signal speed and quality than local vendors
●        No need to shop around for better rates
Most mobile phone companies falsely advertise the connection quality in your area, and many refuse to put up addition towers to compensate. Don't wait until the stone-age to get the best mobile coverage available, and switch to an eSIM data plan.
7. Leave the world a better place
Did you know that eSIM technology is more environmentally friendly than SIM cards?
The carbon footprint for the plastic material used to create a single standard SIM card amounts to 20g-50g.If you enjoy protecting the world just as much as you love traveling, you'll love the fact that embedded sim technology reduces environmental impact.
●        Arrives in the size of a credit card
●        The envelope and paper insert add only 10g-15g of carbon dioxide emission
●        The entire CO2 footprint for the creation of one eSIM card is only 21g in total
Think about how much excess material and waste goes into the production of a million SIM cards. A change in the industry could make a tremendous difference in reducing global emissions impact.
How is eSIM changing the way we globally connect?
For once, wouldn't it be nice to experience travel without any limitation? You'd never have to worry about losing your way in an extraordinary rainforest or finding a cheap getaway at a breathtaking oceanside resort.
If any of these lifestyle situations sounds familiar to you, you'll love an eSIM data plan.
●        You're a free spirit: There's nothing you enjoy more than experiencing life without limits, and you thrive off the adventure.
●       You move often: The thought of living in one place forever bothers and bores you to no end, so you prefer to switch things up.
●        You travel for work: Being away from home for extended periods of time is lonely, and you want to keep in touch with your family or friends.
●        You need to break away: A stressful life can dull one's senses, and you often plan spontaneous vacations to recharge.
●        You're tired of paying too much: The signal in your location is horrendous, and so is the price you pay for your mobile service plan.
With the power of eSIM technology, the possibilities are endless.
Break free with the power of eSIM technology
How is eSIM impacting travelers around the globe?
Most of the limitations we once knew about travel are becoming obsolete. Imagine never having to worry whether you'll have service in an isolated location or buying a temporary track phone each time you leave the country.
You don't have time to waste on dropped calls and inferior data plans. Why continue to pay irrational service fees when you could have consistent signal everywhere you go?
Worth it? We think so. Try your first eSIM with Airalo today to select an eSIM carrier plan that will forever quench your thirst for complete connectivity freedom.