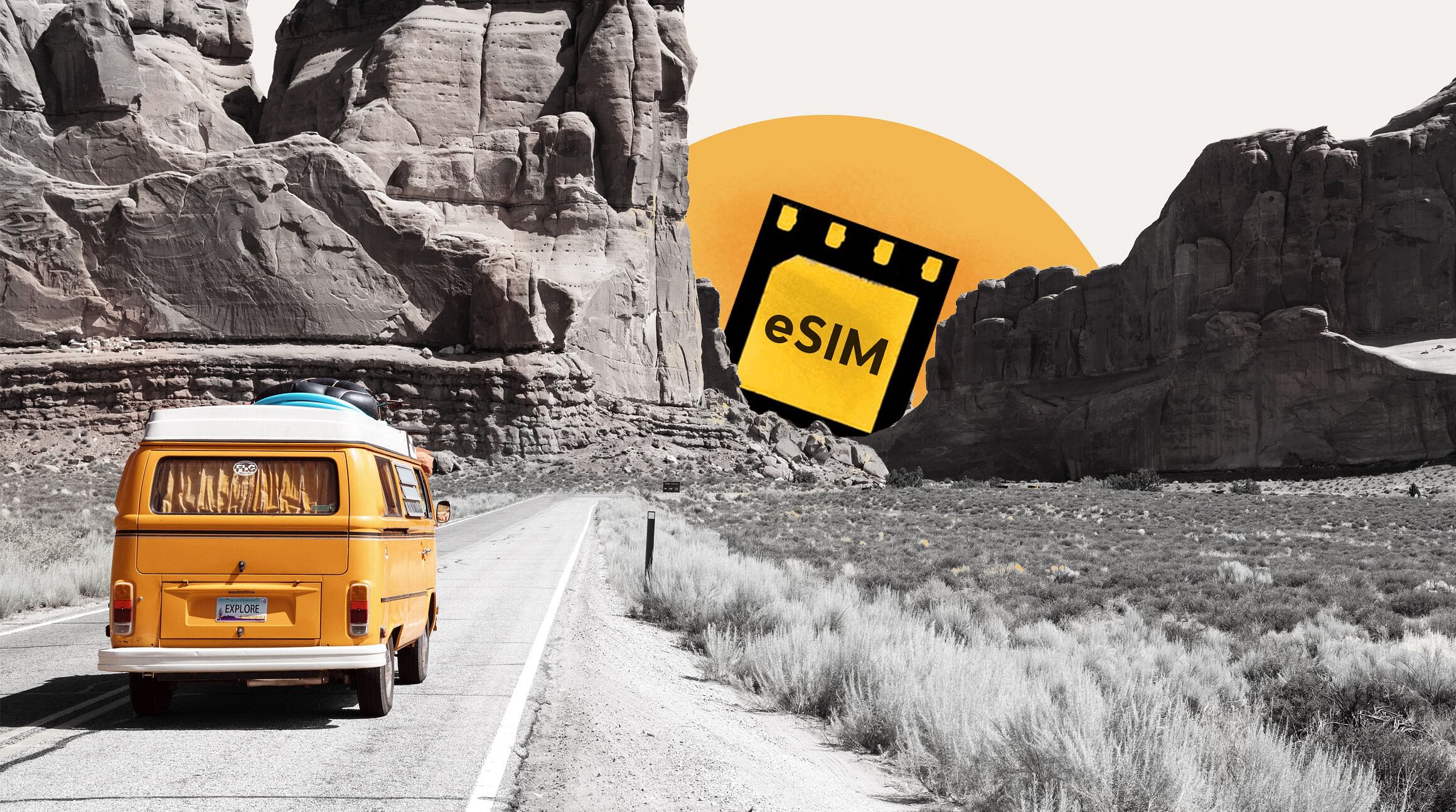 Airalo enables travelers to connect easily in 200+ worldwide with eSIMs. Unlike traditional SIM cards, you can install an eSIM (also known as an embedded card or digital SIM) directly onto your device. There's no need to go to a store and buy a physical SIM to connect to a network.
In this article, we'll discuss the advantages of travel eSIMs, the phones that support them, and ways to activate them for smooth travel. We'll also explore the difference between traditional SIM cards and eSIMs.
You'll learn the following:
What Is the Difference Between a Physical SIM Card and an eSIM?
Although eSIMs have been on the market for several years, they're considered a new technology for many people. The eSIM is embedded in your device and can be activated by purchasing and installing an eSIM plan.
To connect a physical SIM card to the Internet, you must insert it into your phone. As for the eSIM, it's considered virtual and can be activated with the click of a button. Without the need for a physical card, you have greater flexibility in moving between eSIMs on your device. 
However, eSIMs are still unavailable on all phones, so you'll have to ensure your phone supports this innovative technology. You can find a list of eSIM-compatible devices here.
Learn more about the difference between physical SIM cards and eSIMs.
Advantages of Using an eSIM for Travel
There's no doubt that eSIMs facilitate communication. All you have to do is get an eSIM plan from a provider like Airalo, follow the steps to install your eSIM and connect to a local network. No need to leave home (or the airport) to connect through your phone.
This is one of many reasons eSIMs are an ideal solution for travelers, allowing them to stay connected no matter where they go. Another benefit: Replacing physical SIM cards with eSIMs may also contribute to building phones in more compact sizes. eSIMs are much smaller than a physical SIM and don't need a tray, meaning they take up less space in your device.
Here are other advantages of using an eSIM instead of a physical SIM, especially when traveling:
1. Peace of mind: With an eSIM, you don't need to switch to a physical SIM when traveling to different countries. Instead, you can download a new eSIM remotely and start using it immediately.
2. Flexibility: eSIM allows you to easily switch between different calling or data plans depending on the country, giving you more options to find what works best for you.
3. Lower costs: eSIM plans are usually more affordable than international roaming prices. And you won't get surprise fees.
4. More secure and no risk of losing your SIM: Because it works virtually, you don't have to worry about your eSIM being lost or stolen. 
5. Keep your number: If you're traveling internationally and have an eSIM, you can keep your number and use it abroad with the same phone. This can be a great way to avoid the hassle of getting a new number while traveling.
6. Regional SIM:  Instead of changing SIM cards as you travel, you can purchase a regional or even global eSIM to cover everywhere you plan to visit.
7. Better for the environment: eSIMs eliminate the need for physical SIM cards, which are often thrown away after use and contribute to waste and pollution. In addition, chips can be purchased and updated remotely, reducing the need for packaging and transportation.
8. Stay connected: It can be challenging to stay connected when you travel, especially if you're unfamiliar with local service providers. With eSIMs, staying connected while traveling gets a whole lot easier. Users can keep a traditional SIM in their device and virtually change carriers once they reach their destination.  
9. Save time: It's easy to activate an eSIM remotely, which means you can connect to the Internet as soon as you arrive at your destination. This is a huge time-saving feature, as you don't have to waste time searching for a local SIM card vendor.
How Do I Get an eSIM?
Now that you've learned the advantages of traveling with an eSIM, how can you install one on your phone?
You can set up and purchase an eSIM on your phone from the Airalo website or app (iOS | Android). Once you've chosen the eSIM that suits your needs, simply follow the steps to set it up and activate it on your device. Keep in mind that activations vary depending on the type of phone you have, and your phone must be unlocked and eSIM-compatible. 
In short, here's how to get an eSIM:
What Devices Work With an eSIM?
Many new smartphones feature the ability to use eSIMs. Remember that the steps to activate an eSIM may differ according to the type of device.
There are two easy ways to check if your phone supports SIM cards:
For more information, you can also browse the following:
An eSIM helps travelers save money on international travel by providing a cheaper, digital, and more flexible way to stay connected and say goodbye to high roaming charges.
Are you planning a trip abroad? Choose an eSIM from Airalo to stay connected while you're away.