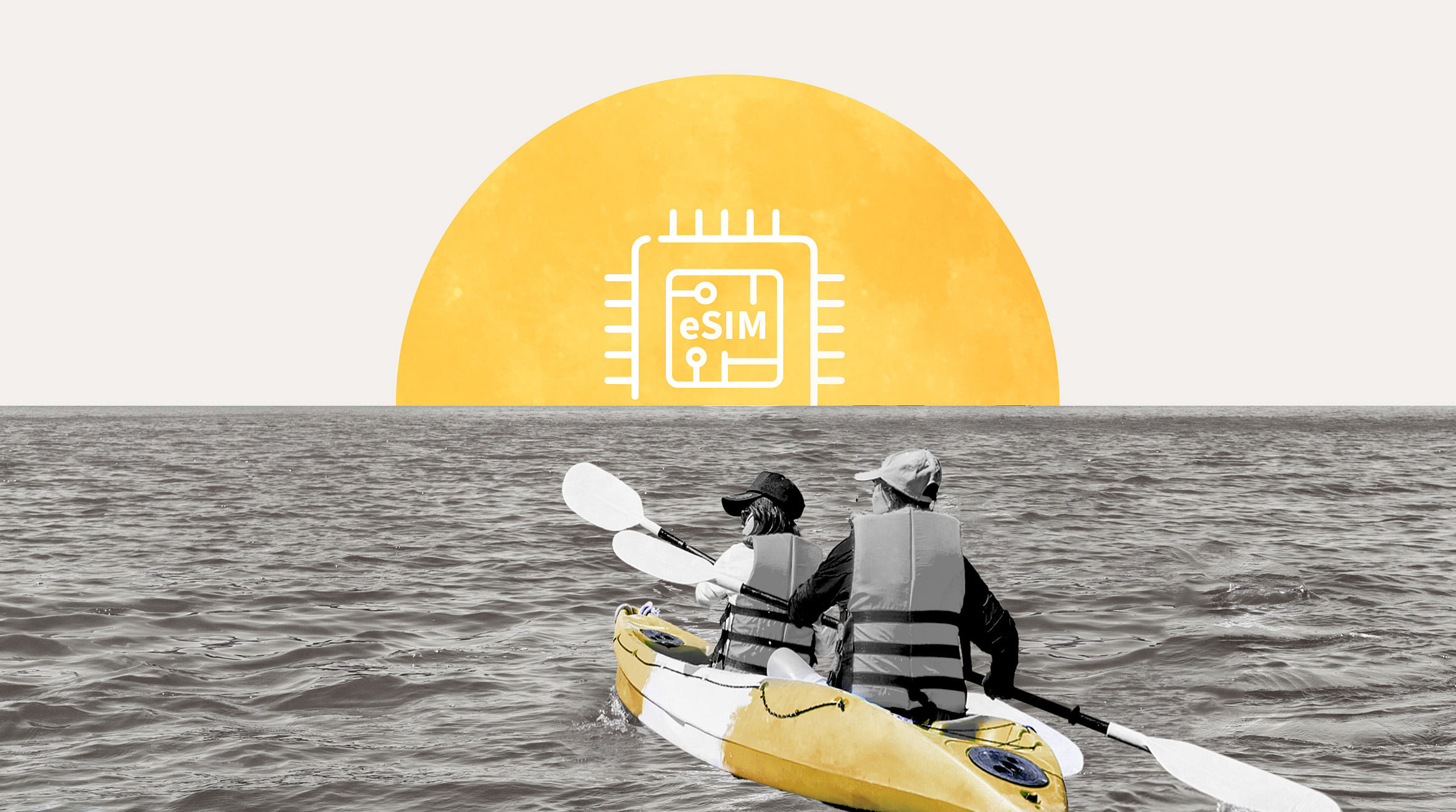 Using an eSIM is the best way to stay connected when you travel. With an eSIM from Airalo, you can download a data plan, install it on your device, and instantly connect to a mobile network at your destination. And you can do it all from your smartphone!
In this article, we'll cover some of our favorite tips to make the most of your Airalo eSIM. We have plenty to share, from tracking and topping up your data to managing multiple eSIMs and earning Airmoney for referrals. Take notes and follow these tips to maximize your eSIM experience.
1. Review Your Plan Details
It's a good idea to review your plan details before you travel. Knowing what your Airalo eSIM package includes will help you prepare for your trip and stay connected while abroad. To review your eSIM plan, log in to the Airalo app, tap "My eSIMs," and select the eSIM you've purchased for your destination.
Here are some of the plan details you'll want to keep in mind: 
Data: How much data comes with the eSIM (e.g., 1GB, 3GB, 5GB, etc.).
Validity Period: How long you can use the eSIM (e.g., 7 days, 15 days, 30 days, etc.).
Price: How much it costs (e.g., $5, $10, $15, etc.).
Location: The countries and regions where you can use the eSIM.
Network: The network(s) you can connect to and their speeds (e.g., 4G, LTE, 5G).
Plan Type: Whether your plan is data-only or has a calling feature.
Activation Policy: When your eSIM's validity period begins. Some plans activate immediately upon installation, while others start when you connect to a supported network at your destination. 
eKYC: Some countries and regions require you to submit and verify travel documents before downloading a data plan. Don't wait until the last minute — It's best to do this before your departure!
Top-Up Option: If you can purchase a top-up package for the eSIM. If you run low, a top-up is an easy way to add data or days to your eSIM plan.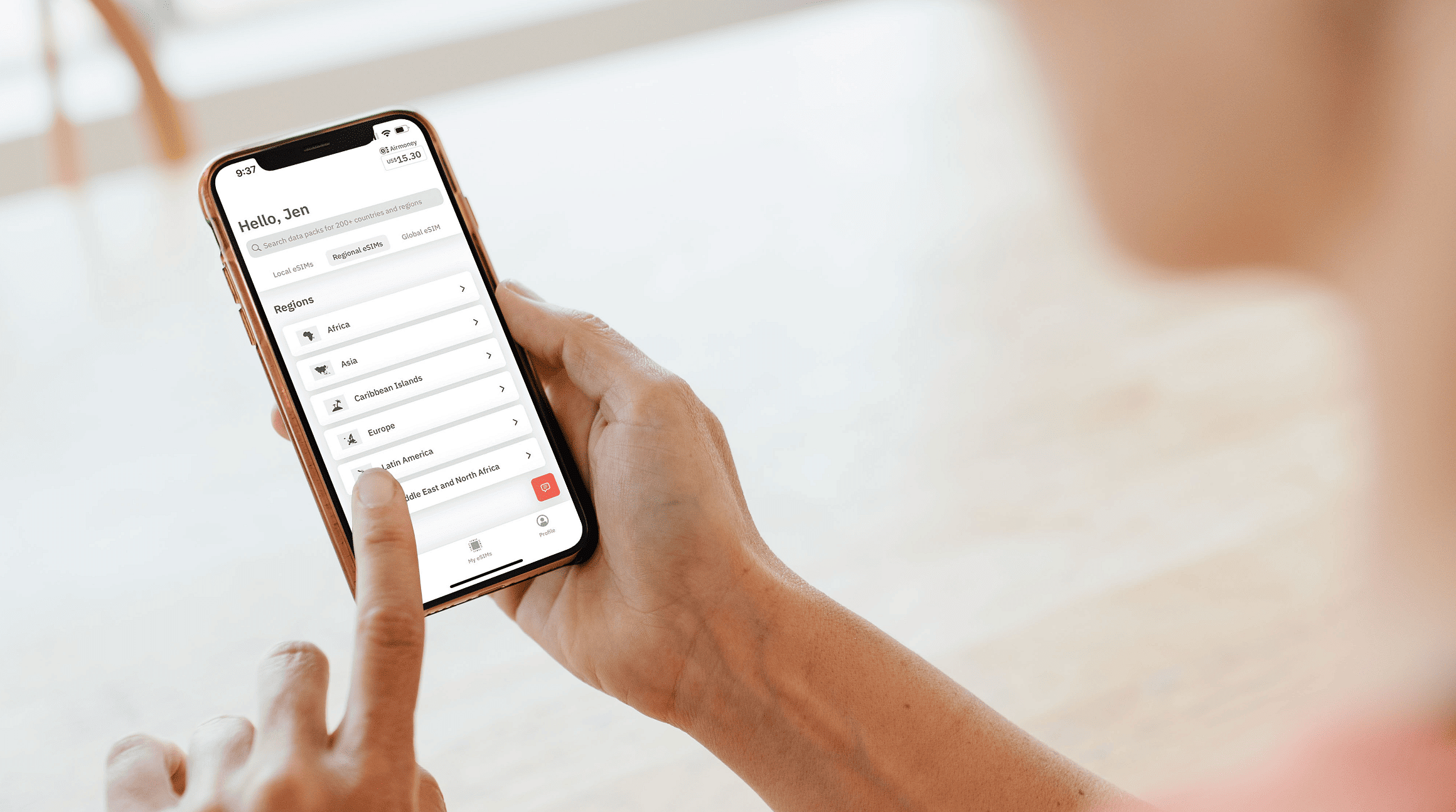 2. Try a Regional eSIM Plan
If you're off to multiple destinations, consider a regional eSIM plan. While a local plan will provide coverage for a single country, a regional plan will give you coverage across multiple countries in a region (e.g., Europe, Asia, Latin America). With a regional eSIM plan, you don't need to worry about purchasing a new eSIM for each destination. Instead, you can stay connected with a single eSIM throughout your trip. 
Here's a list of Airalo's regional eSIMs:
To see which countries are included, select the eSIM and scroll down to "Supported Countries." This will give you a list of countries where you'll have coverage.
3. Customize Your eSIM Label(s)
When you install your eSIM, you'll get a prompt to label your eSIM line. We recommend choosing a label to help you quickly identify your eSIM plan (e.g., Canada eSIM or Europe eSIM). This will be useful when you select a line for voice and text, cellular data, and your contacts. If you change your mind, don't worry — you can edit them anytime. 
Here's how to customize your eSIM label on iOS:
Go to your phone Settings.
Tap Cellular or Mobile Data.
Tap your eSIM plan (usually your "Secondary" line).
Enter a custom label and Save.
And how to customize your eSIM label on Android:
Go to your phone Settings.
Tap Network & Internet or Connections.
Tap SIM Card.
Tap your eSIM plan. 
Enter a custom label and Save.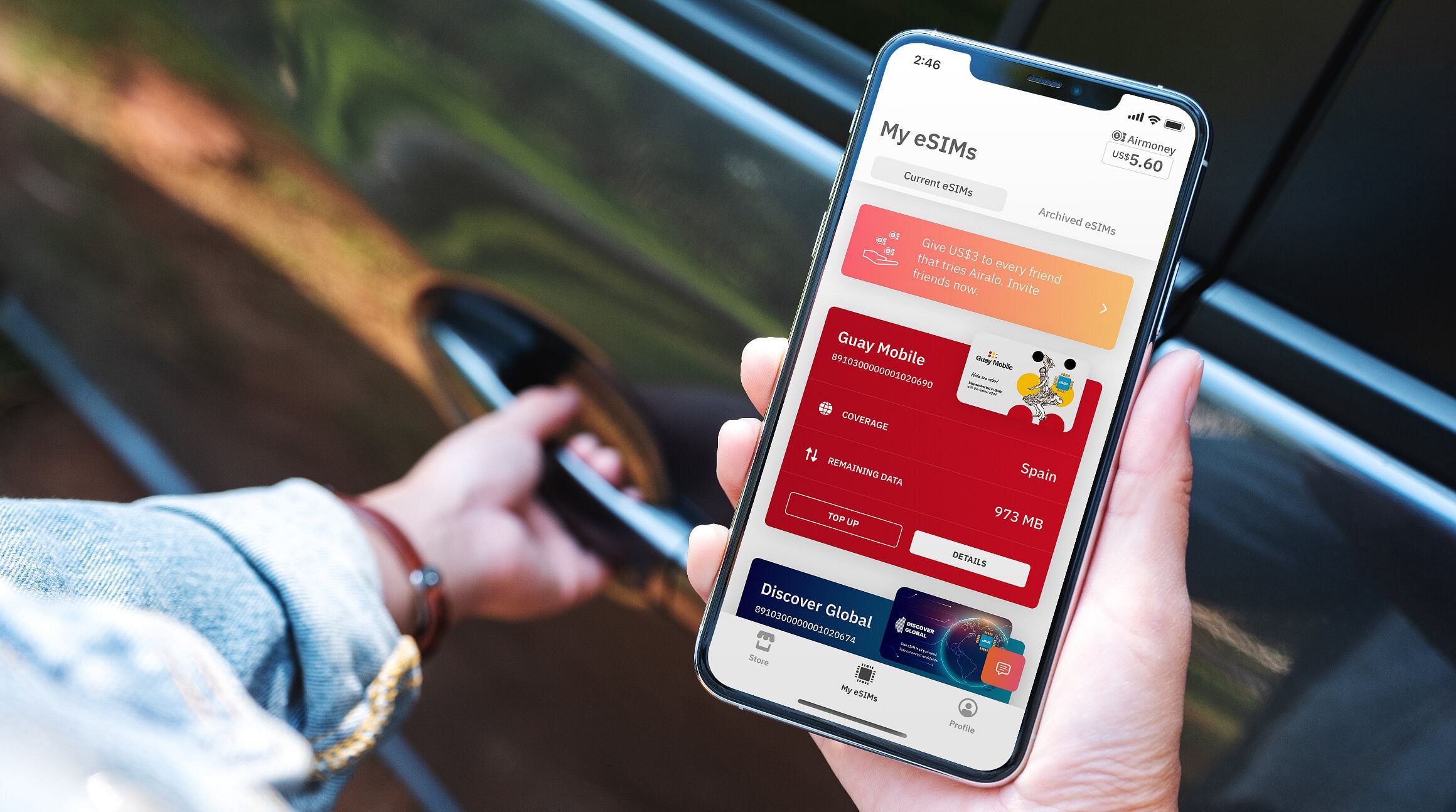 4. Store Multiple eSIMs on Your Phone
Most devices will allow you to download and store multiple eSIM plans. Your phone stores these as eSIM "profiles" (or lines) that you can turn on and off as needed. This makes it easy to connect to local networks when you travel or switch between mobile plans at home (e.g., using one plan for calls and texts and another for data).
Here are a few benefits of having multiple eSIMs on your phone when you travel:
Easily switch eSIM data plans on or off, depending on your location.
eSIM plans are stored digitally on your device. You don't need to keep track of physical SIM cards as you travel.
Keep your primary number active for calls, texts, and two-factor authentication notifications.
Install multiple eSIMs for multi-country trips (or purchase a regional or global eSIM to simplify your coverage).
5. Track Your Data Usage
Use the Airalo iOS widget to track your data usage from your home screen. Widgets make it easy for you to view information about an app without opening it. You can glance at your home screen and immediately know how much data is left on your eSIM plan.
If you have an iPhone, you can add the Airalo widget to your home screen. Here's how:
Press and hold any app icon and tap Edit Home Screen.
Tap the + in the top left corner to add a widget. 
Scroll and tap the Airalo app.
Choose from small, medium, and large widgets and tap Add Widget.
Choose the eSIM you want to track with a long press and tap Edit Widget.
Now, you can see your eSIM data usage without opening the Airalo app. When your data runs low, Siri will show the widget at the top of your "Smart Stack" to remind you to top up.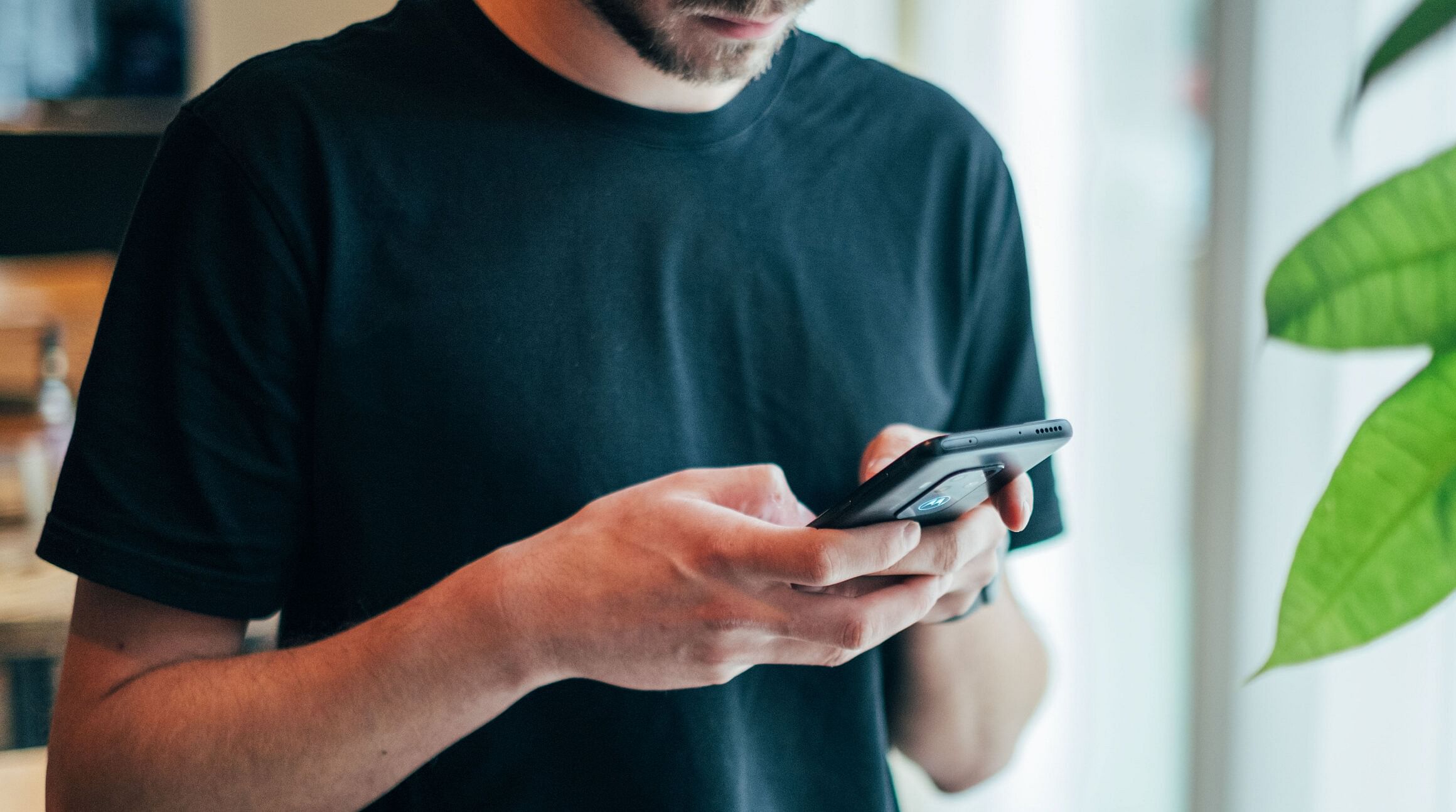 6. Turn on Push Notifications
You can also turn on push notifications for the Airalo app to alert you when you're running low on data or your validity period is close to expiring. Don't worry — we won't spam your phone! You'll receive the following notifications as a reminder to top up:
25% data remaining
10% data remaining
3 days until your eSIM expires
1 day until your eSIM expires
Here's how to set up Airalo push notifications on iPhone:
Go to Settings.
Tap Notifications.
Select the Airalo app.
Turn on Allow Notifications and choose your alert style.
And how to set up Airalo push notifications on Android:
Go to Settings.
Tap Notifications > App Settings.
In the dropdown menu, tap All Apps.
Tap the Airalo app.
Turn notifications on.
7. Top Up Your Plan
If you run low on eSIM data, Airalo makes it super simple to add more. Many Airalo eSIMs have a top-up option, allowing you to purchase additional data while on the go. Here's how it works:
Login to your Airalo account.
Go to My eSIMs.
Tap the eSIM you want to top up.
Tap Top Up.
Select a top-up package.
If you don't see a top-up button or it doesn't work, your eSIM doesn't have a top-up option. But don't worry — you can easily download another eSIM package to stay connected.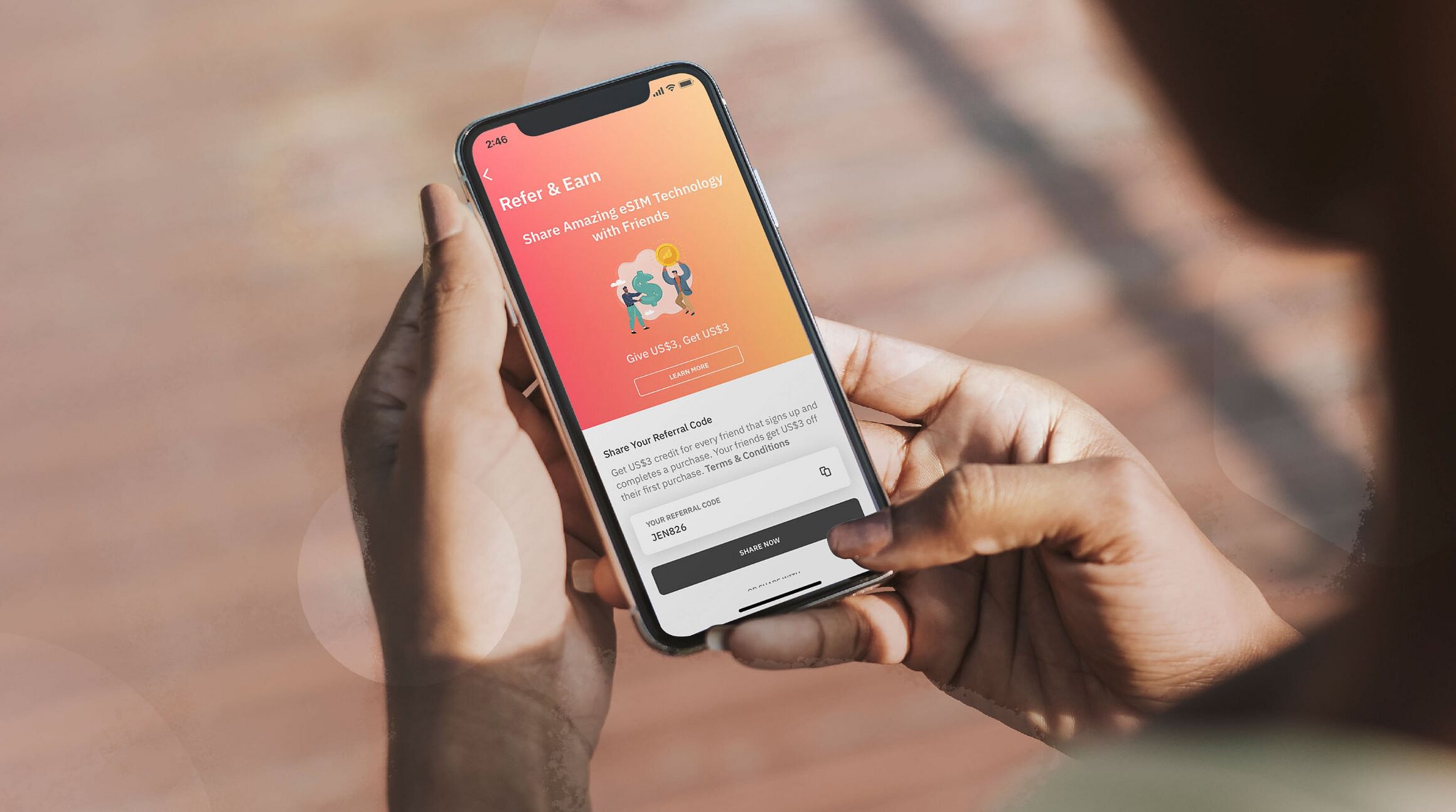 8. Refer a Friend
Share Airalo with your friends and family to earn Airmoney! Through the Airalo Referral Program, you can give your friends US$4 off their first eSIM purchase and earn US$3 Airmoney credit for each successful referral. Here's how it works:
Access your referral code: Go to your Airalo profile and select Refer & Earn to get your unique referral code. 
Share it with friends: Copy your referral code to your device's clipboard or tap Share Now to send it via Whatsapp, Telegram, Twitter, and more.
Your friend gets US$3 off: They can enter your referral code when they sign up or at checkout, and the discount will be applied to their first purchase.
You get US$3 Airmoney credit: When they complete their first purchase, you'll get US$3 Airmoney. You can keep track of your referral rewards in your profile's Refer & Earn section.
Use your free credit: You can use your earned Airmoney credits for any Airalo eSIM or top-up package. Choose the Airmoney payment method at checkout to redeem your credits.
9. Set Up an eSIM Hotspot
You can set up an eSIM hotspot to share your eSIM data with other devices like a laptop or tablet. This can come in handy if you need to send a document for work or log in to a video conference and don't have access to secure Wi-Fi. However, hot-spotting uses a fair amount of data and battery power, so try not to keep your tethering time short. 
You can tether data to another device via Wi-Fi, Bluetooth, or USB. The most common way is to set up a personal hotspot to share your cellular connection. It will appear under the list of Wi-Fi networks for your other device. And your phone will generate a password so you can manage who has access.
You're all set to make the most of your Airalo eSIM! Browse the Airalo store to find eSIMs for 200+ countries and regions worldwide.