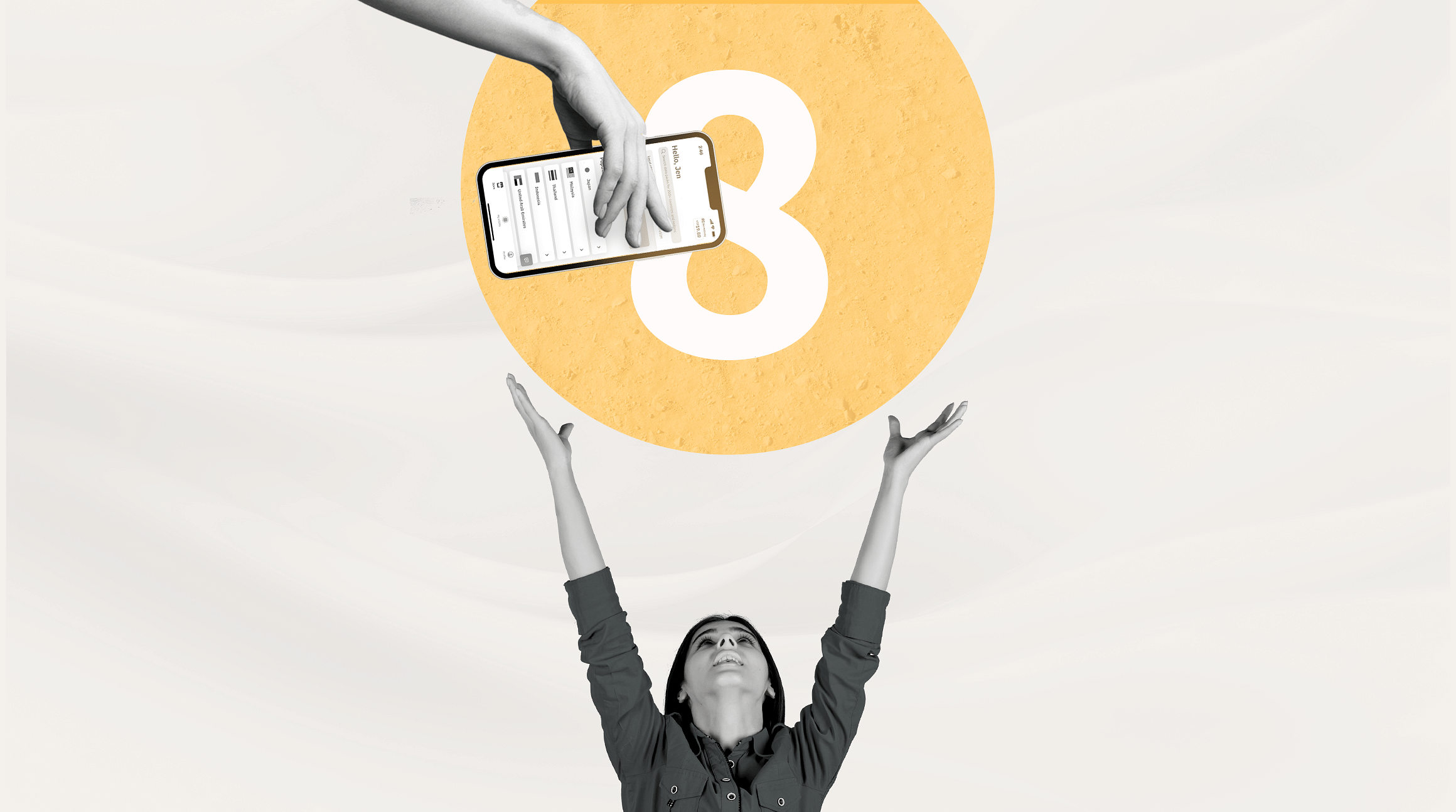 We're on a mission to make it easier and more affordable for travelers to stay connected worldwide. Part of that promise includes delivering new app features that enhance your eSIM experience. Here, we'll explore eight features that make it easier than ever to stay connected when you travel. The best part? Many started out as suggestions from users like you!
1. Access 200+ eSIMs
You can purchase and install eSIMs for 200+ countries and regions right from the Airalo app. This makes it easy to switch up your eSIM as you travel. Open the app, search for the next country or region on your itinerary, and choose an eSIM for your trip. It's that easy!
Here are a few things to keep in mind when choosing an eSIM for your trip:
Location: You can choose from local (single country), regional, and global eSIMs. 
Data: The amount of data the eSIM comes with (e.g., 1GB, 3GB, 5GB).
Call and Text: Some plans also come with call and text credits, making it easy to contact local businesses while you travel. 
Validity Period: This refers to how long you can use the eSIM (e.g., 7 days, 15 days, 30 days) before it expires.
Remember that you'll need a stable Wi-Fi connection to install a new eSIM. If you're mid-trip, it's best to download and install an eSIM from your hotel room, at a co-working space, or anywhere with a secure and stable network.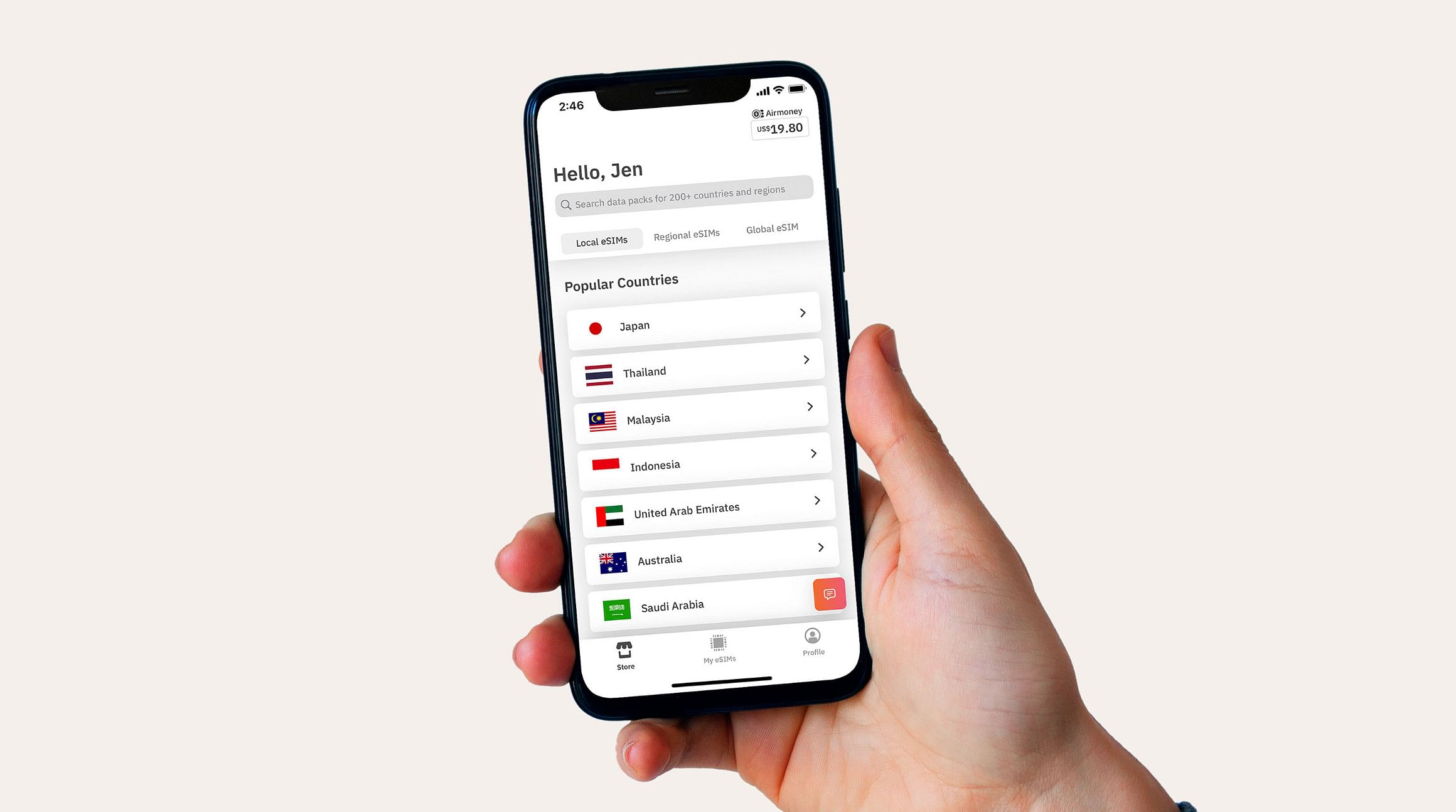 2. Track Your Data
We've all been there: You arrive at your destination, are about to book a ride, and realize you've run out of data. That's why we've made it easy to track and top up your eSIM in the Airalo app.
First up — tracking your eSIM data. You can see how much eSIM data you have left in the "My eSIMs" section of the Airalo app:
Open the Airalo app and log in to your account.
Tap My eSIMs and select the eSIM you want to track.
View the Data Usage section.
If you have an iPhone, you can use the Airalo iOS widget to track your data usage from your home screen (without even opening the app!). Here's how to set up the widget on your device:
Press and hold any app icon and tap Edit Home Screen.
Tap the + in the top left corner to add a widget to your home screen.
Scroll and tap on the Airalo app. 
Choose the widget size you prefer and tap Add Widget.
Choose the eSIM you want to track with a long press and tap Edit Widget. 
Now, you can see your eSIM data usage at a glance. When your data runs low, Siri will show the widget at the top of your "Smart Stack" to remind you to top up.
You can also turn on Airalo push notifications to get alerts if your data is running low or your eSIM is close to expiring. 
Here's how to set up push notifications on iPhone:
Go to Settings.
Tap Notifications.
Select the Airalo app.
Turn on Allow Notifications and choose your alert style.
And how to set up push notifications on Android:
Go to Settings.
Tap Notifications > App Settings.
In the dropdown menu, tap All Apps.
Tap the Airalo app.
Turn notifications on.
3. Top Up Your eSIM
If you do run out of data or your eSIM expires, no need to worry! Most Airalo eSIMs are rechargeable, and you can top them up in the app. Here's how:
Log in to your Airalo account.
Go to My eSIMs.
Tap the eSIM you want to top up.
Tap Top Up.
Select a top-up package.
If your eSIM doesn't have a top-up option (you can check your plan details to find out), you can still stay connected. Rather than purchase a top-up, you'll have to download another eSIM onto your device. Luckily, this only takes a few minutes — you'll be back online in no time!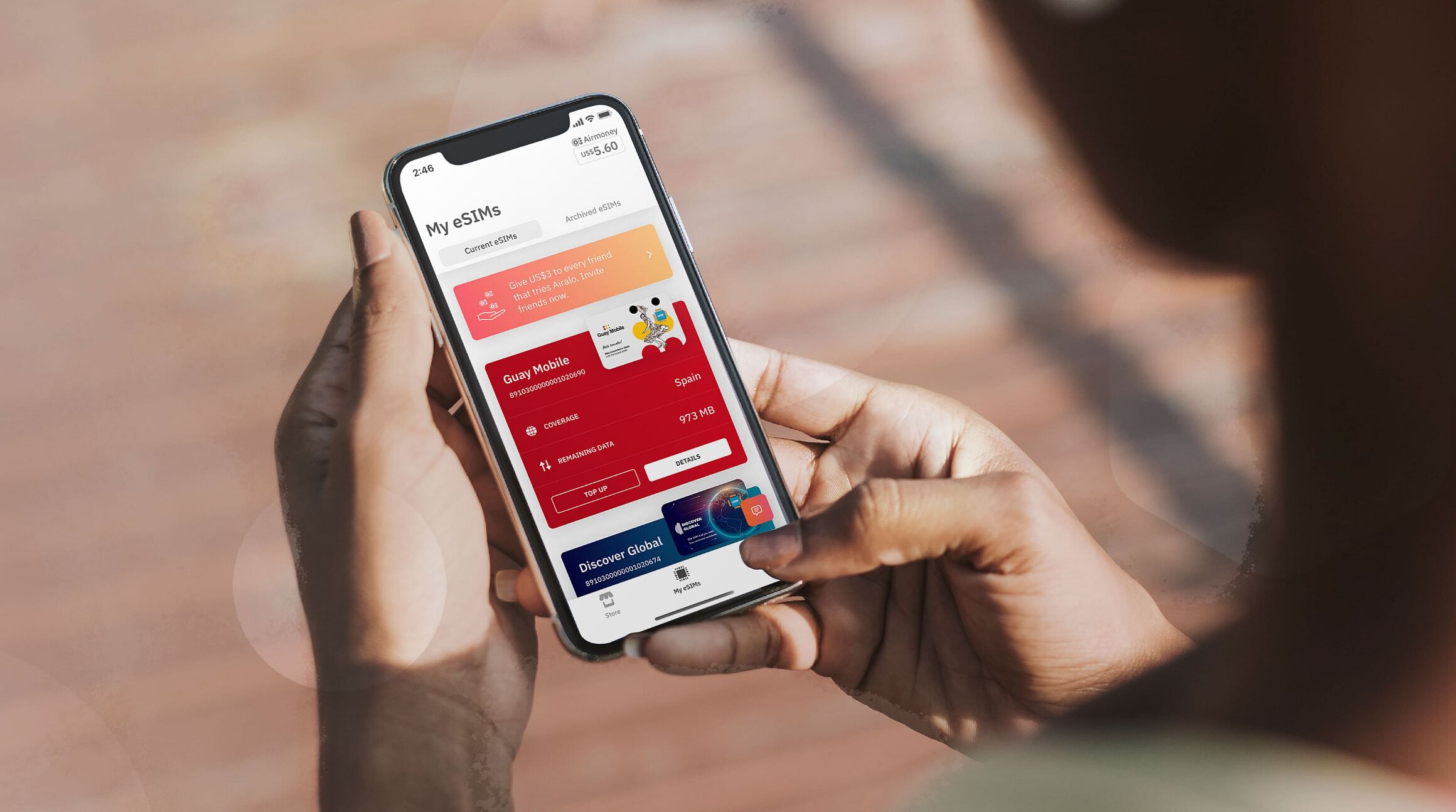 4. Refer a Friend
You can also access and share your referral code in the Airalo app. The best part? You'll earn US$3 Airmoney for every successful referral! Here's how the Airalo Referral Program works.
Step 1: Access Your Referral Code. Tap your profile in the Airalo app and select Refer & Earn to get your referral code. 
Step 2: Share Your Referral Code with Friends. Copy your referral code or tap Share Now to send it via SMS, Whatsapp, email, or social media.
Step 3: Your Friend Gets US$3 Off. They can use your referral code to get US$3 off their first Airalo eSIM purchase.
Step 4: You Get US$3 Airmoney Credit. We'll give you US$3 Airmoney credit when they complete their purchase. You can use your credit towards your next Airalo eSIM or top-up package.
5. Browse in Dark Mode
If you prefer using dark mode, you're in luck! We've made it possible for you to browse the Airalo app in light and dark modes. Head to your device's settings and switch on dark mode to give your eyes a break and extend your smartphone's battery life.
Here's how to turn on dark mode on your iPhone:
Go to Settings.
Tap Display & Brightness.
Select Dark to turn on Dark Mode.
And how to turn on dark mode on an Android device:
Go to Settings.
Tap Display.
Turn on Dark Mode (some devices will call it Dark Theme or Night Mode).
6. Use Offline Mode 
Suppose you've installed an eSIM, arrive at your destination, and can't remember how to turn on your eSIM line. We've got you covered! 
Offline mode allows you to open the app and read step-by-step instructions to access your eSIM data — no internet required. Simply follow the steps and connect to a supported network to get online.
Remember, our Support team is here to help anytime you need extra assistance. You can reach them 24/7 via chat (more on this below) or email at [email protected].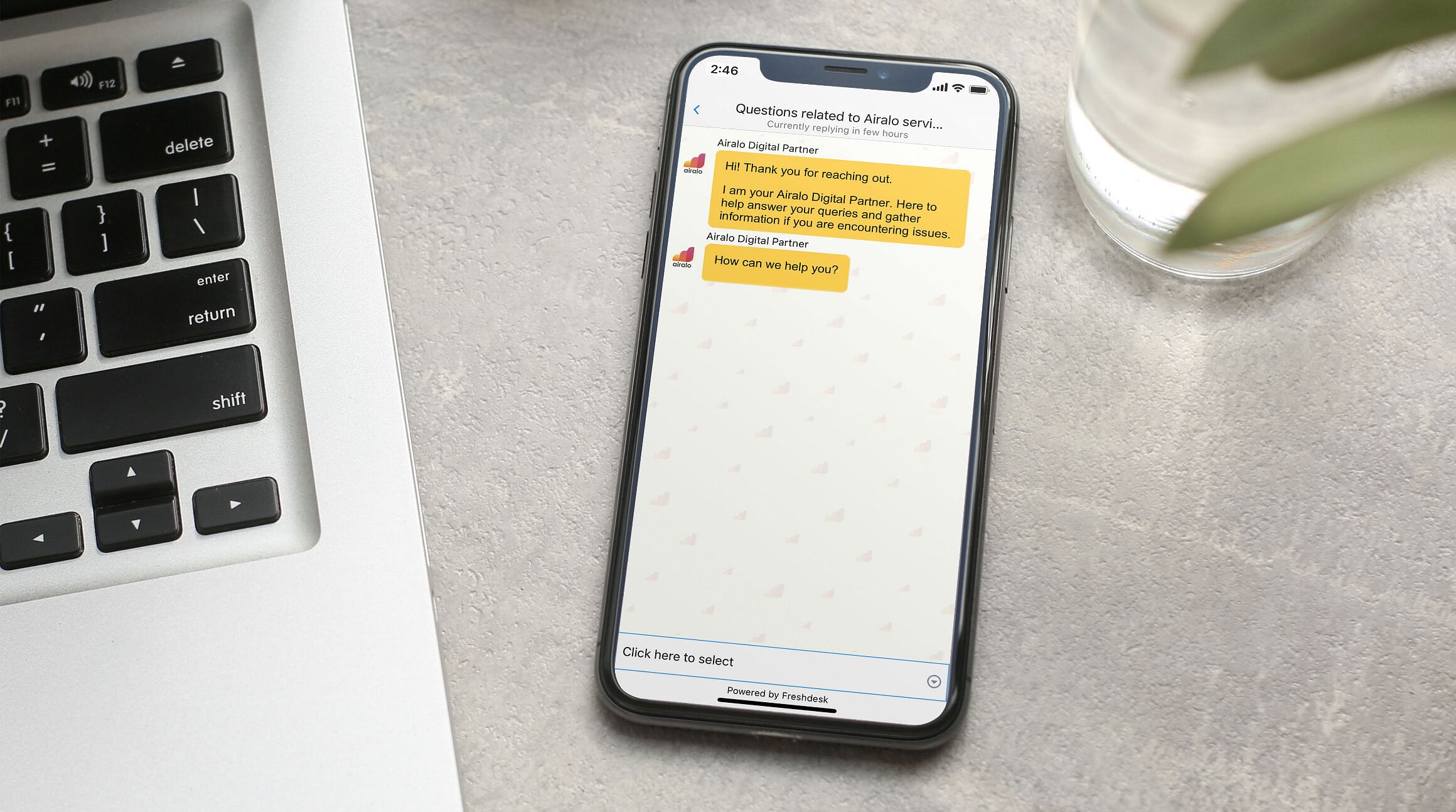 7. Get 24/7 Support 
Did you know you can connect with our Support team 24/7, right from the Airalo app? You've got to be ready for anything when you travel — and we're here to lend a hand. Whether you're new to eSIMs or a long-time user, we're always happy to help!
Here's how to reach us and find help documents in the Airalo app:
Tap the Chat icon in the bottom right corner to start a conversation with a member of our Support team.
Tap Profile, then Help Center to find step-by-step instructions for getting started, installing, and managing eSIMs.
Tap Profile, then Contact Us to reach our Support team by email.
8. Earn Cashback Rewards
We launched the Airalo Loyalty Program to reward travelers (like you!) for sticking with us and using eSIMs to stay connected. Here's how it works.
There are four membership levels: Traveler, Silver Traveler, Gold Traveler, and Platinum Traveler. Every Airalo user starts as a Traveler and can purchase more eSIMs to level up. At each level, you'll earn a higher cashback reward. And you can apply that cashback to your next eSIM purchase!
| | | |
| --- | --- | --- |
| Membership Level | Total eSIM Purchases | Cashback Reward |
| Traveler | US$0 | 5% |
| Silver Traveler | US$20 | 6% |
| Gold Traveler | US$70 | 7% |
| Platinum Traveler | US$200 | 10% |
Sounds good, right? Create an Airalo account or log in to your existing account to discover your membership level and start earning rewards!
When you ask, we listen! Many of these features were requested by our users and implemented by our incredible Product team. Ready to see them in action? Download the Airalo app in the App Store or Google Play Store.